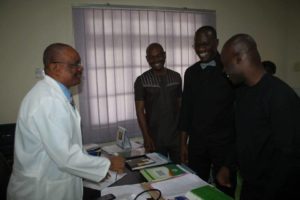 In response to an emergency call at the St.Luke's Hospital, Anua the Honourable Commissioner for Information and Strategy, Mr. Charles Udoh stormed the hospital where he offered to intervene in the medical expenses of Baby Nyenime Uwem Peter who was born without an outlet in his anus.
The baby was rushed to the hospital facility three days ago due to low Apgar score following a cesarean section.
History has it that the baby was being delivered by a traditional birth assistant before complications caused the mother to be rushed to the hospital. On examination, the baby was noticed with an imperforate anus and was referred to Teaching Hospital but unfortunately, the doctors are on strike. The mother couldn't make it through the operation.
The baby was unable to pass his first stool (meconium) and could not tolerate oral feeds and as such the abdomen was markedly distended with prominent veins. Some of the abdominal content was expelled voluntarily from the mouth by the baby who was in need of urgent surgical attention.

However, the Commissioner Mr Udoh who visited the hospital on Thursday made it clear that Governor Udom Emmanuel valued the life and survival of all Akwa Ibomites and has inspired his commissioners and aides through the Dakkada philosophy to always reach out and help those in need.
Mr. Udoh who was accompanied by the media aides to the Governor Essien Ndueso and Aniekeme Finbarr donated cash support for the immediate surgical operation on the baby.
Nkereuwem's father had absconded shortly after the baby's mother gave up the ghost.