The annual event serves as a platform for showcasing Jeep's off-road parts and one-offs
Every Easter, thousands of Jeep fans line up at Moab, Utah to attend the Easter Jeep Safari, where they not only get to test the limits of their off-roaders but also catch a glimpse of the weird and wonderful concept trucks that Jeep showcases at the event. Here's a list of vehicles the iconic brand will be bringing to this year's fest.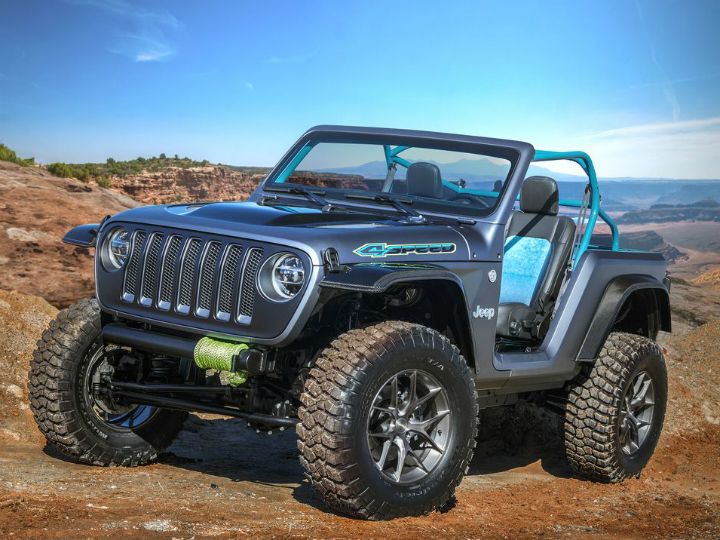 This Wrangler gets a carbon-fibre bonnet, 'high-clearance' carbon-fibre wheel arches and rear tub, and perforated aluminium panels which helps it shed a lot of weight. Jeep says the total weight loss stands at a staggering 430kg. Even the wheelbase has been shortened by 559mm (22 inches). The raked windshield, enlarged door openings and custom roll cage give it a sense of purpose while the whole thing sits 50mm (two inches) above the ground on stock springs. The 4SPEED is powered by the Wrangler's new 2.0-litre, turbocharged 4-cylinder diesel motor paired to an 8-speed auto 'box.
Jeep Sandstorm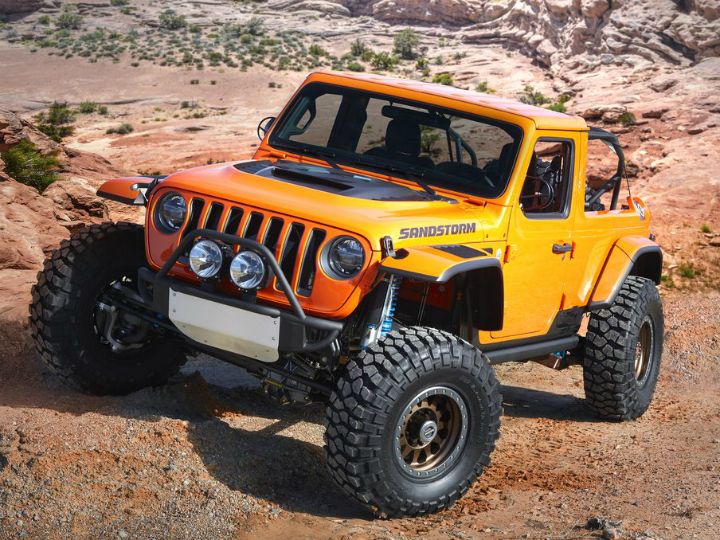 Jeep says the Sandstrom is "all about blitzing long, sandy straightaways while still being capable of handling the daily driving duties." The Baja-inspired Sandstorm gets some serious off-roading kit – a carbon bonnet, vented wheel arches, modified rock rails, an on-board air compressor, racing fuel filler, auxiliary lights and tube bumpers.
The suspension setup comprises of a heavy-duty four-link suspension at the front and a trailing arm four-link at the rear that offer 355mm (14 inches) and 457mm (18 inches) of wheel travel at the front and rear respectively thanks to an extended wheelbase. Powering it is a beast of a motor – a 6.4-litre V8 with Mopar performance catalogue mated to a 6-speed manual 'box.
Jeep Wagoneer Roadtrip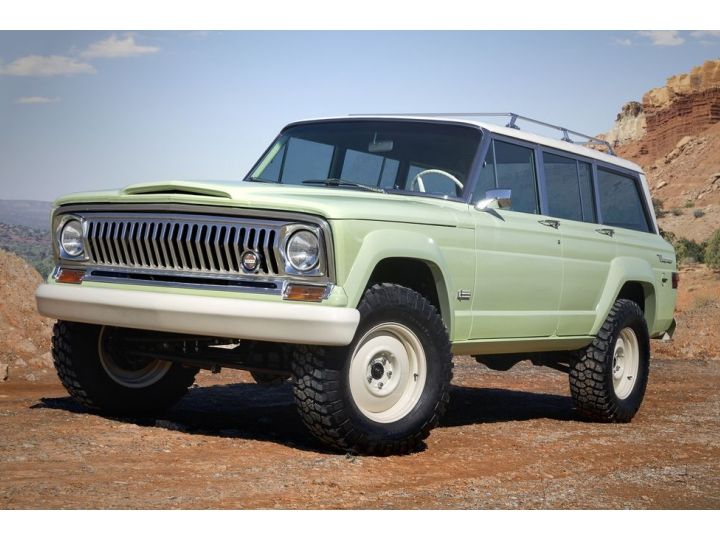 Although it looks like a restored Wagoneer, this essentially is a heavily modified chassis borrowed from the Wrangler draped in a classic body. The changes include extending the wheelbase by 127mm (5 inches), reshaped wheel wells, integrated rock rails and custom bumpers. It also gets Dana 44 axles, four-link coil spring suspension, 17-inch wheels with 33-inch tyres and a modern 5.7-litre V8 mated to a 4-speed automatic.
Nacho Jeep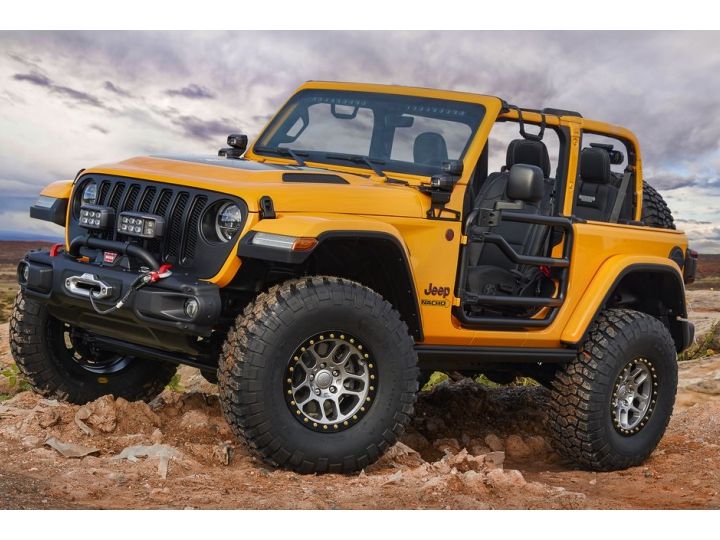 The Nacho Jeep showcases Jeep Performance Parts' (JPP) catalogue. The beefed-up Wrangler Rubicon features plenty of LED auxiliary lights. And if those weren't enough, it also gets a military-inspired rear scouting light that indicates trail conditions – red is stopped, amber is 2kmph to 5kmph, green is 5kmph to 40kmph. The 127mm (2-inch) lift kit makes room for massive 37-inch tyres. The usual set of additions such as rock rails, tube doors and upgraded bumpers complete the look of the Nacho. Full points for guessing how it got its name.
Jeep Jeepster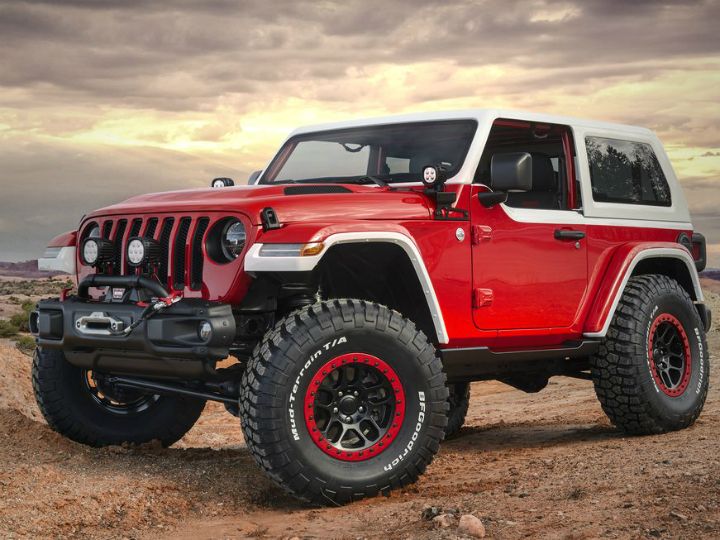 This Jeep is inspired by the iconic 1966 Jeepster. Hence, this Wrangler Rubicon features the same two-tone red-and-white paint job seen on the original. The roof has been chopped by 127mm (2 inches) while the rear window has been raked forward for the classic Jeepster look. It also features various parts from the Jeep Performance Parts catalogue such as lights and a lift kit that enhances its off-road capability.
Jeep B-Ute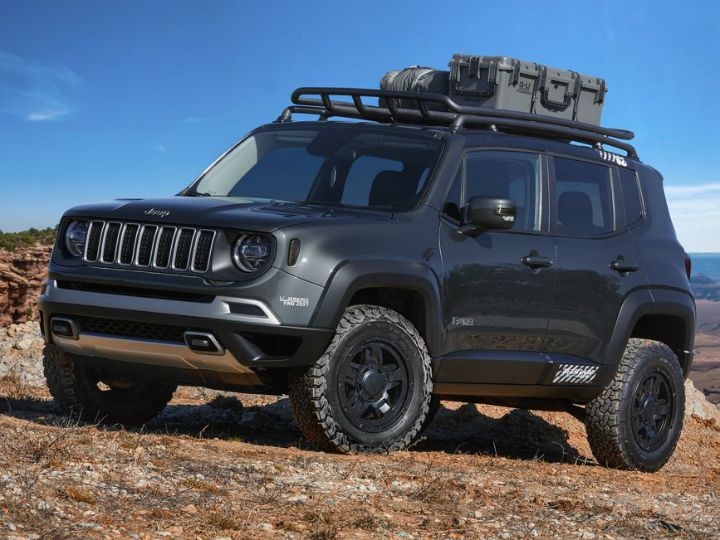 The B-Ute is a parts special based on the India-bound Renegade. It features a 1.5-inch (38mm) lift kit, roof rack, rock rails and 17-inch wheels shod with BFGoodrich T/A Baja Champion tyres. On the inside, it gets custom trimmed seats, carbonite finishing on the gear lever, speaker and vent surrounds and Mopar mats. Powering the B-Ute is a 2.4-litre Tigershark petrol motor mated to a 9-speed auto 'box.
Jeep J-Wagon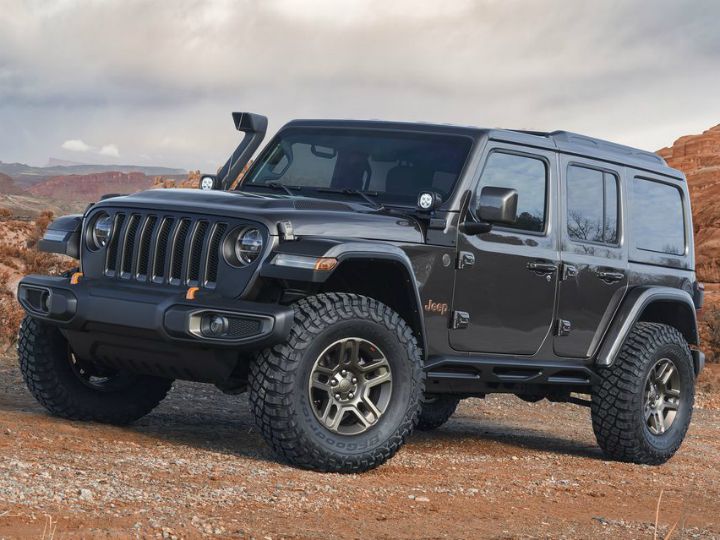 Yes, we've saved the best for last. The Jeep J-Wagon features modifications that we believe will appeal to Jeep customers and fans in India. Well, if it does, call up your dealer and demand for these parts now. The J-Wagon is based on a four-door Wrangler Sahara and features upgrades that make it at home both on the street as well as on the trail. It gets a JPP custom bonnet with cutout for a snorkel to ensure clean air intake, 5-inch LED auxiliary lights to illuminate the trail and 17-inch wheels wrapped in 35-inch tyres that should get you out of any sticky situations. The paint shade, called Warm Neutral Gray, gives it a stealthy look too, don't you think?
Source: .zigwheels