0
0
One Mr. Dignity Lazarus has been arrested for allegedly defrauding over 300 persons in Akwa Ibom State over employment in the newly launched airline Ibom Air.
Mr. Lazarus, who posed as the Special Assistant to the Governor on employment matters, is said to have fraudulently collected between 100,000 and 250,000 from his victims to help them secure a job with Ibom Air.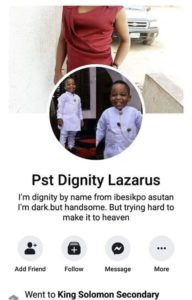 Men of the Nigerian Police Force, Akwa Ibom State also recovered Items from the suspect, which include: Completed forms of Ibom Air application letters, several passport photographs, a laptop used in printing the fake forms, several signed recommendation letters from the office of the governor, and two Android devices.
The suspet is said to be in his mid 30s, and married with two kids, is providing the police with useful information which will help in unraveling the antics of fraudsters in the state.