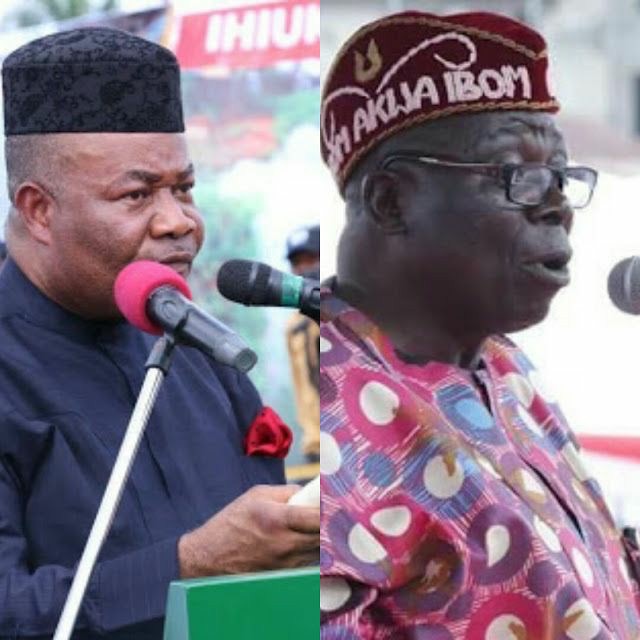 By Emma Akpabio
A stroll down the memory lane of political activities in Akwa Ibom State, reveals that the era of candidates not loosing sleep after party primaries are gradually becoming history. No research is needed to very this, as party Candidates now work round the clock to persuade, convince and even "confuse" the electorates to think towards their direction.
Let us get it straight, it has become a tradition to play "politics" with politics. In Ikot Ekpene Senatorial District, the 2019 dance to the Senate might or won't be likened to a masquerade dance. Neither will it be likened to a dance with a snuff in one hand – it shall be a serious dance, but bloodless (we pray). Those who are not adept at taking "dances" serious and those who manipulated against zoning in 2015 will have another opportunity to test their popularity.
Unlike the previous election year, where the Senatorial position was treaded on the platter of frivolities, smacking of equity and fairness thereto, 2019 will be a very different year. Many will have things from the underside of expectation, and we shall hear people say "Oboi, if I were told, I wouldn't believe it!"
With the conclusions of party primaries, the Peoples Democratic Party- PDP and the All Progressive Congress – APC, have unanimously fronted a one time deputy Governor of Akwa Ibom State – Obong Chris Ekpenyong and the immediate past Governor of Akwa Ibom State – Senator Godswill Akpabio, respectively, in the contest of who represents the people of the area in the Senate.
To be realistic, many have mocked, cajoled ridiculed and even made monkey of the PDP candidate. A lot of people are still wondering how Engr Chris Ekpenyong will withstand the Almighty Godswill Akpabio. Many do this, without asking the plans of God.
Lets stop and think!
Who ever believed that Godswill Akpabio will floor Dr Udoma Ekarika (the son in-law of Obong Attah) to become the Governor of Akwa Ibom State. Who ever believed that Mr Udom Emmanuel will come into circular politics in 2013 and become the Governor in 2015 against all odds and forces. Who ever believed that a minority zone in Nigeria would produce the President even before the powerful South East. Who ever believed that Donald will beat Clinton to become the President of USA. God's thoughts are not our thoughts. Who ever believed that Godswill Akpabio after all he said about APC will ever joined the APC. "God does not choose the perfect, but he perfects the chosen!".
Ikot Ekpene Senatorial district has four federal Constituencies. Conventionally, 2015 was the turn for Abak/Etim Ekpo/ Ika/ Federal Constituency to produce the Senator, but the people were tricked with Deputy Governorship slot and the position moved to Ikot Ekpene Federal Constituency. Ikot Ekpene Senatorial district unanimously sent Senator Akpabio to the red Chamber as a compensation for making Akwa Ibom popular.
The big question begging for answer is " How will Senator Akpabio be reelected under APC, when the majority of the people in that district are core PDP members?"
Let's do the Analysis!
Bearing in mind that for 8years as a Governor, Oruk Anam LGA, the vote basket of the district had nothing tangible to show. For 8years, Ukanafunfun had no Government presence, the only project executed at Abak federal Constituency was the road from Abak through Etim Ekpo to Azumini/Ika. Chris Ekpenyong was the deputy Governor when the only access road to Obot Akara was constructed. The "Afaha Zone" of Essien Udim are begging for access roads, when they had opportunity for 8years. INI and Ikono are just having a taste of road under Gov Udom's administration. Where would APC in Ikot Ekpene Senatorial District get votes from? Who are the king makers in APC?
Tribal sentiments aside, I am not trying to be comparative, but It is always painful to me, when I wake up as an Annang man to the reality that our elders had no succession plans. Which young man under the age of 45years in Annang land, can match the likes of Onofiok Luke, Senator Obong Bassey Albert or even Ini Ememobong? These are great guys nurtured to ascend the hill top mansion in our state, any time, any day.
Sorry to mention names, but whenever I remember that excellent brains, highly profiled personalities like Ubokobong Umoh of Ukanafun, Dr Emma Udosen of Abak, Bar Patrick Umoh of Obot Akara amongst others, who defected out of loyalty, were again denied opportunities to test their popularity at the general elections, I weep for the future of my Land (Annang).
A man that couldn't help his tribe when he had much powers, can not salvage their sufferings with the limited authority at his disposals.
However, it is my Ernest prayer that 2019 would be a turning point at which the youths shall begin to wake up to the crisis of thier marginalisation. It should equally be known that such propensity could be precluded if we allow the usual syndromes of clientelism (Man – Know -Man), nepotism and sycophancy which has come to characterise us, to prevail. These have been disastrous venoms secreted in the political climate of Ikot Ekpene Senatorial District, and the most affected have been the youths.
It's not bad to be loyal, but you may never grow above your boss, if you don't disagree at times.
Godswill Akpabio wouldn't have been an excellent Governor of Akwa Ibom State, if he never stepped on the toes of his boss (Governor Attah) to pursue his dreams.
2019 Elections results will be a shocker to many
BE WISE!