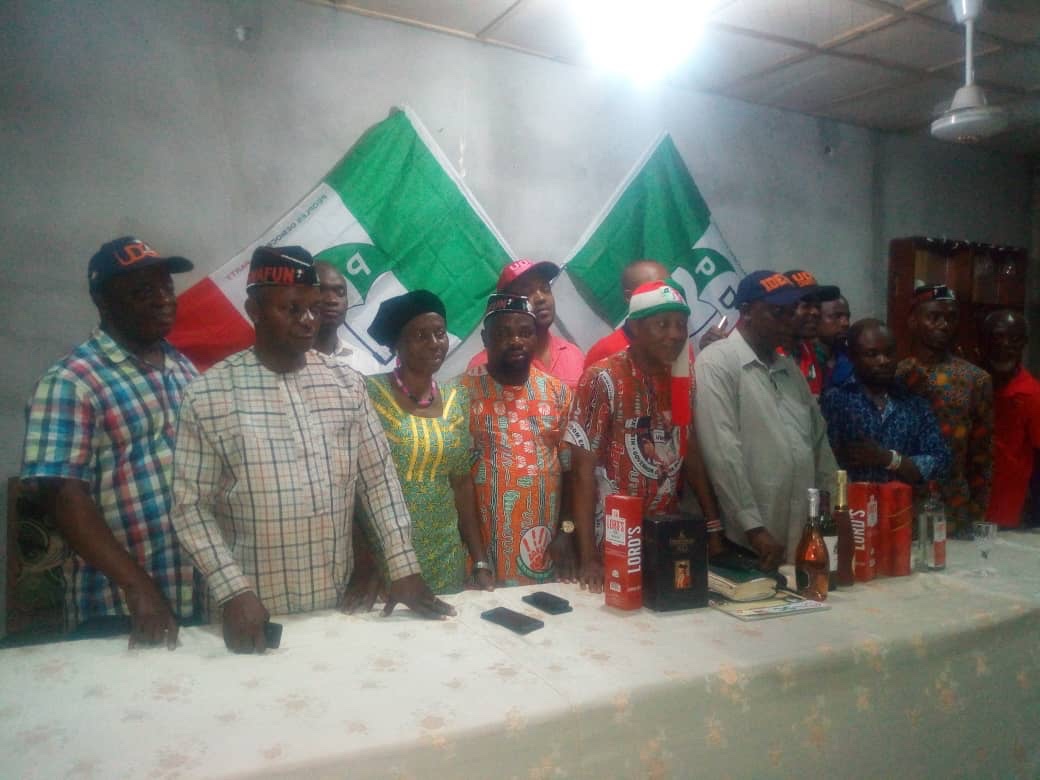 ***Reaffirms Support For The Party, Gov. Emmanuel
By: Oku Udoetor, Kendi Jumbo and Endurance Johnson
The Leadership of the Peoples Democratic Party, PDP, Ukanafun Chapter has described as baseless and unfounded the rumor recently peddled by the opposition elements that some of her party officials had defected to the APC.
Debunking the rumour today during a solidarity meeting with the Chapter Chairman, the party reaffirmed that the executive members of the party from ward to chapter levels remain intact and in good faith with the PDP, maintaining that the party is like a religion in the state and the local government in particular.
They, however warned the opposition and it media hirelings to desist forthwith from misleading the public as the local government is a no-go-area for the opposition.
Speaking, the Chapter Chairman, Mr Magnus Akpan flanked by the eleven (11) Ward Chairmen of the area, said such rumor could only emanate from a desperate and defeated mind, who's carried away by the formidability and strength of the party.
He said that those who claimed to have defected during the APC's rally in the area were already members of the APC who, according to him, are men of questionable character having allegedly involved in one criminal activity ranging from murder, cultism or the other.
He said: "we want to use this medium to reaffirm that all the executive members of the PDP from Chapter to Ward levels are intact with the party and have however have no plans whatsoever to leave the party. It should be stated, categorically here that those who claimed to have defected yesterday were already members of the opposition APC and as such rendered their acclaimed defection invalid and or a mere play to the gallery.
" Let me also state here that those are persons with one character deformity or the other ranging from murder cases, cultism, etc.
Some of which cases are still lingering in the court of law, as we speak. PDP doesn't and wouldn't want to identify with such characters".
The party's helmsman urged the public to discountenance such rumor as it is but a ploy to misinform, missile and misdirect the minds of the people from the truth.
Magnus, however, used the medium to salute with satisfaction the developmental strides of the Governor in the state particularly for footing the party in good State.
He commended the stakeholders of Ukanafun especially the commissioner for local government and Chieftaincy affairs, Hon. Udo Ekpenyong amongst others for always supporting the activities and better welfare of the party as well as that of the people of the area.
Corroborating the position of the chapter Chairman, the Ward Chair-of-Chairs, Mr Sunday Nelson said: " As you can see here, the ward Chairmen representing the eleven wards of Ukanafun are intact with the party. We have no plans to defect; no retreat, no surrender, PDP all the way!
"As for those who reported that we have defected, I think that is in their dreams".