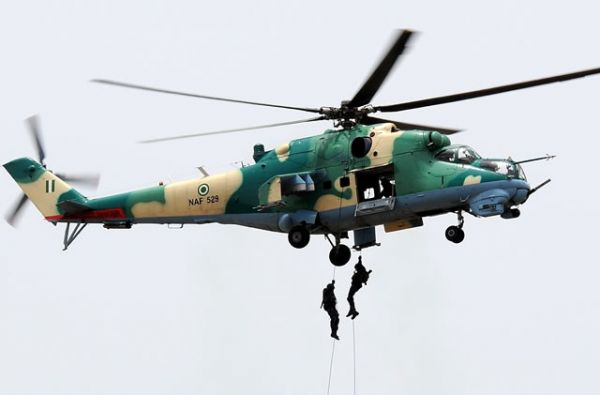 Chief of Air Force, Air Marshall Sadiq Abubakar, has promised to send four attacking and one training aircraft in Enugu to tackle security problems in South East.
Air Marshall Abubakar disclosed this during a groundbreaking and foundation laying ceremony of Air Force ground training command, GTC, complex headquarters in Enugu, yesterday. He disclosed that the purpose of Air Force training command complex in Enugu was to reposition the Nigerian Air Force to tackle insurgency in the country.
Commending Governor Ifeanyi Ugwuanyi for his effort at restoring peace and unity in the state, he pointed out that the establishment of training complex would add value to the security of life and property in the country.
Abubakar said that the Force had planned to increase the recruitment of officers from 1,000 personnel per year to 1500 personnel in every six months. He also lauded the Federal Government for increasing the number of aircrafts from 15 to 18 aircraft and promised to use it to beef up the security issues in the country.
Governor Ifeanyi Ugwuanyi, during the foundation laying ceremony, lauded the Nigerian Air Force for establishing Air Force training ground complex in Enugu. Gov Ugwuanyi pledged to give the Air Force all the necessary support needed to ensure that the ground training headquarters in Enugu works out so as to add value to fighting crime.
Earlier in an opening remark, the ground commanding officer, Vice Air Marshal, Samson Akpasha, disclosed that the ground training complex in Enugu is one of the six training commands established to implement local ground training policies and technical ground training for Nigerian Air Force.
Akpasha also disclosed that the command has trained over 1,000 regiment personnel including 450 special force personnel with battlefield inaction and extraction capacity within one year which has been instrumental in the reduction of insurgency in the country. He also said the Air Force had transited into a highly professional and disciplined force through capacity building initiative for efficiency and timely employment of Airpower in response to insecurity in the country.
Earlier, when Abubakar paid him a courtesy visit, Gov Ugwuanyi appealed to the Nigerian Air Force to allow the state government take over the force's piece of land located near the Akanu Ibiam International Airport, Enugu to be used by an indigenous airline, Air Peace Limited for the establishment of a world standard aircraft maintenance facility in the state. Ugwuanyi stated that the request was "in line with the state government's aspiration to create an Aviation Hub that would support the policies of the Federal Government towards the development of the aviation sector."
The governor disclosed that the appeal was sequel to an earlier request to the Nigerian Air Force by his administration, adding that the state government had promised to give the Force "an alternative piece of land of equal or even larger size in Enugu in exchange."
Emphasising the importance of the proposed aircraft maintenance facility towards the economic development of the state and the country at large, Gov. Ugwuanyi stressed that "in granting this request, the NAF would be making yet another outstanding contribution to the development of the nation's aviation sector." (Vanguard)
Source News Express