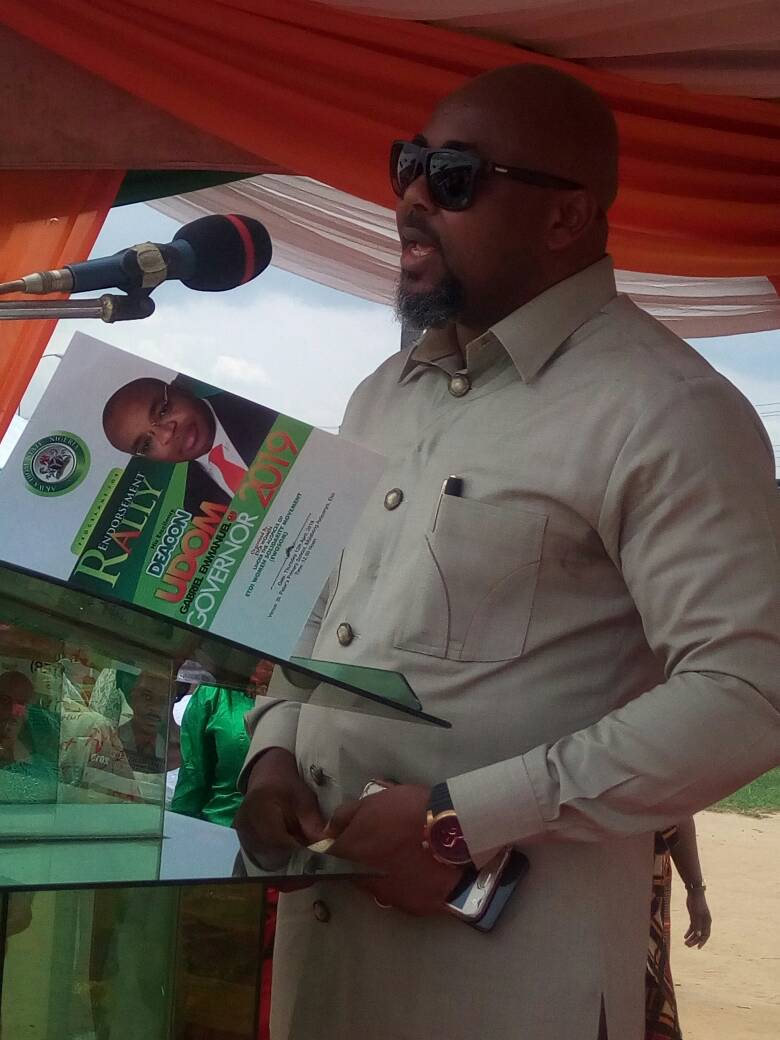 By Umoh-Obong Kingsley/9jaecho
Women of Etoi Clan in Uyo Local Government area of Akwa Ibom State, under the auspices of Etoi Women Solidarity Movement (EWOSOM), have thrown their weight behind the Governor of the state, Mr Udom Emmanuel, and endorsed him for a second term in office.
Speaking at the event held at the St Peter's Primary School, Mbiabong Etoi, on Thursday, the President and National Coordinator of EWOSOM, Mrs Ekaette Ebong Bassey, noted that the endorsement was inspired by the excellent performance of Governor especially for the good people of Uyo LGA.
"We are very pleased with what the Governor has done in Uyo. His projects have been very impactful across the Local Government. That is why we have come out to say that truly, this is a man we cannot afford to lose at a time like this".
In her welcome address, Mrs Ekaette Ebong commended Gov Emmanuel for his tremendous and concerted efforts in successfully changing the socio-economic and political landscape of Akwa Ibom State for the betterment of all coupled with the appointment of credible sons and daughters of Etoi into positions of responsibilities.
She acknowledged the laudable projects executed by the Governor in Etoi Clan to include Construction of Anua-Mbak-Ishiet Road; Uyo Regional Market, Mbiabong Etoi/Ifa Ikot Okpon; Underground drainage in Itiam Etoi; and construction of Internal Road networks in Shelter Afrique, Mbiabong Etoi (Paulinus Urua Street, Ubong Obot Street, Sampson Akpan Lane, Afaha Road).
Other projects she said, include Commissioning of a block of classrooms, library and the Special Education Centre in Mbiabong Ikot Akpan; Construction of Ifa Atai-Mbak-Idu Road; Timba Market, Ifa Ikot Okpon; and Motor Park, Mbiabong Etoi.
Mrs Ebong pledged that Etoi women will not rest on their oars in mobilising and sensitizing the entire women folk from all nooks and crannies of Etoi Clan to duly register with the Independent National Electoral Commission (INEC), get their voters cards and vote for Governor Emmanuel and all Peoples Democratic Party (PDP) candidates during the 2019 general elections.
In his goodwill message, the member representing Uyo State Constituency at the Akwa Ibom State House of Assembly (AKHA), Rt. Hon. Monday Eyo Okon, lauded the Etoi women in their resolve to endorse the state Governor, Mr Udom Emmanuel, for second term in office.
The Lawmaker noted that it was the first time in the history of Uyo that women were this organised, and expressed appreciation to them for particularly welcoming the improvements the Governor has brought in the socio-economic well-being of women in the state.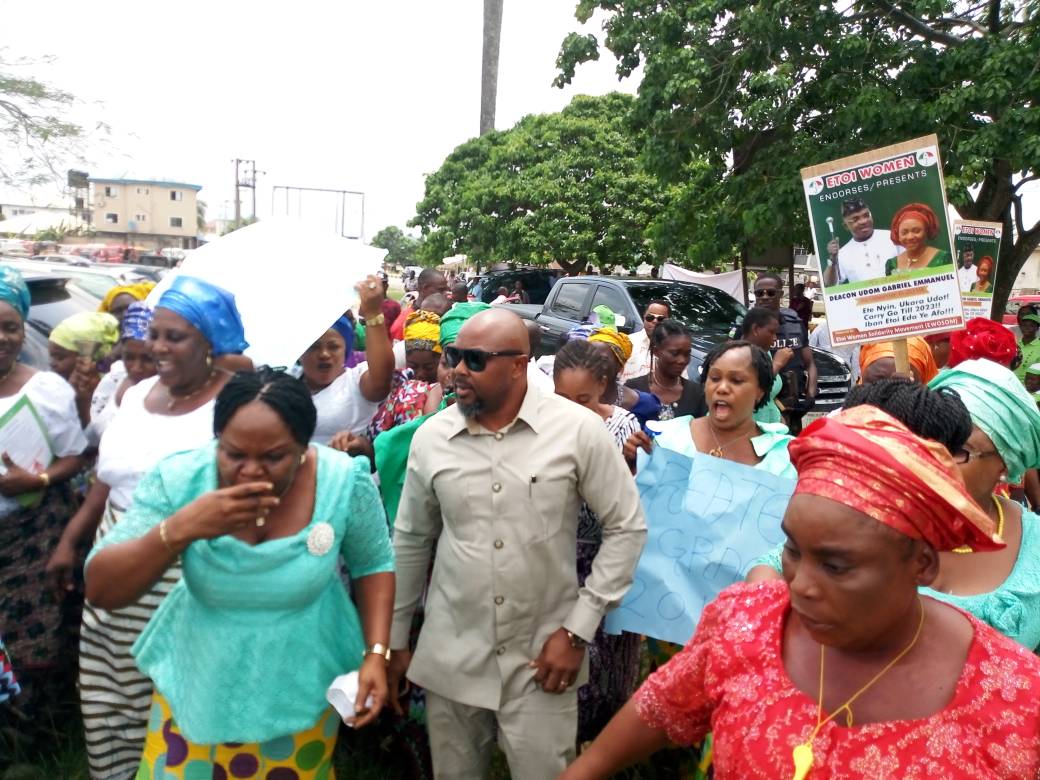 Murray, as Monday Eyo is fondly called, used the occasion to sensitise the women to go out en mass and participate in the ongoing voters registration exercise so that their endorsement on the Governor will not be in vain. "Etoi women have resolved that they will come out en mass to vote and return Governor Emmanuel to office for second term come 2019. But I want to appeal to you all to go out and participate in the ongoing voters card registration exercise because without your voter's card, it would be difficult to return the Governor for second term as you won't be eligible to vote."
He charged aspirants of political offices particularly the State House of Assembly, to shun hate speeches and propaganda because only God can appoint.
"We have a single agenda which is to endorse and return the State Governor, Mr Udom Emmanuel, to office for second term come 2019. Let us not play a do-or-die politics but brotherly politics. Channel all aspirations into one basket – Udom Emmanuel – who is the leader of the party, and we are all loyalists to the party."
Chairman of the occasion and Chairman of Local Government Service Commission, Sir Val Attah, noted that Hon. Monday Eyo is the first lawmaker in the history of Uyo Local Government, to empower his constituents particularly the women, and warned other aspirants to back out of the game if they are not up to the task.
Dignitaries who graced the event were the Commissioner for Information and Strategy, Mr Charles Udoh, represented by his wife, Regina; State PDP Chairman, Obong Paul Ekpo; Uyo House of Assembly aspirants, Anietie Ekah and Jimaimah Essien; Uyo LGA Vice Chairman, Amb Ukai Udeme Emmanuel; traditional rulers; and various women groups in Etoi.