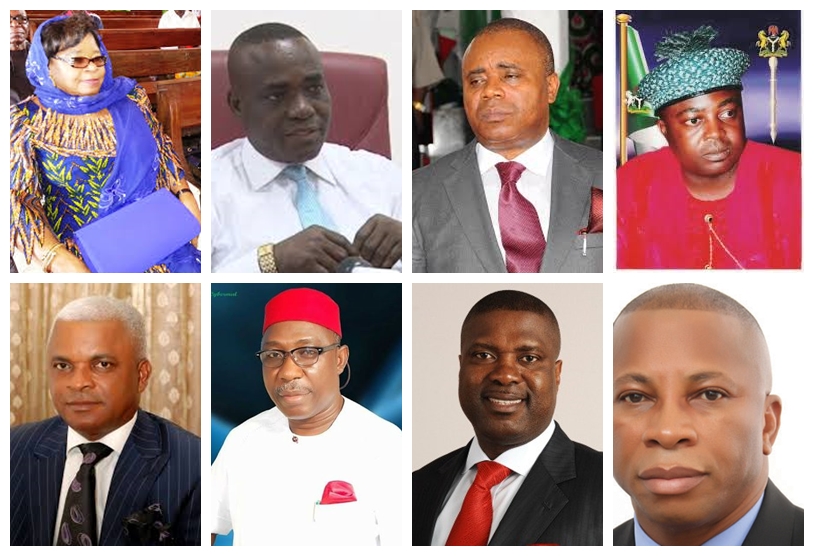 All these APC members President Buhari gave appointments to, what have they done for their party members? They can't even fund their party in the State let alone empowering the people. If you go to where APC members are meeting, you will think it's a burial venue of a one day old child. Let's take a look at them and what they have done for the people so far. I took out time to investigate this. 
1. Obong Nsima Ekere……. Fake contract papers, 20k monthly stipends to anyone that can abuse Udom Emmanuel, encouraging activism.
Senator Nelson Effiong…This one escaped with the people's mandate. He was sighted with 5 bags of rice at Christmas. He has tried sef.
2. Sen. Ita Enang……… Raising money for Radio stations in Akwa Ibom State monthly. All talk, no show.
3. Mr. Umanah Okon Umanah…….. Election finish him cash, his supporters are back to PDP. Nothing
4. Hon Abom TONY Esu…….. Ubok Okpo, grammer, Nothing
5. Rt.Hon. Emma Bassey……….Who is this one? Nothing
6. Hon Eseme Sunday Eyibo……He just collected appointment. Buhari has not paid him yet, maybe till after a year. Nothing for now.
7. Obong Rita Akpan……………….. Hahahahahaha, Mama, Mama, Nothing
8. Dr Maurice Ebong……………….. Nothing
9. Elder Gabriel Akpan……………… Nothing
10. Francis EKPENYONG……………Nothing
11. Chief EDET Mkpubre……………Nothing
12. Engr Akpan Okon………………..Nothing
13. Patty Etete…………………………., this one go share useless broadcast on whatsapp, no show, Nothing
14. Mrs Ofonmbuk C Akpabio……Nothing
15. Rt.Hon. EMMA EKPENYONG….., owo nkara, Nothing
16. Rt.Hon. Dan Akpan………………Nothing
17. Hon. Patty Etete Ineme…………Nothing
18. Engr. Perry Ntuk…………………..Nothing
19. Mrs Esther U Ekarika……………Nothing
20. Helen Effiong Esq…………………Nothing
21. Dr. Effiong Etuk……………………Nothing
22. Dr. John Harry……………………Nothing
23. Dr. Bernard Udoh………………..Nothing
24. Dr. Udoma Bob Ekarika……….., very useless since Attah's time, Nothing
25. Dr. Emem Wills………………….fine politician, wrong moves, Nothing to show
26. Justina John Akpan…………….Nothing
27.  Alice EKPENYONG…………….. Nothing
28. Sen. JJ Udoedeghe……………..Udo dey try small but mostly, gra gra nte owo Uyo, Nothing
29. Okon Nya………………………….. Nothing
30.  Edet Useh………………………… Nothing
31. Uwem Udoma………………..Since he left PDP, he has been infected by the wrong virus, now useless. No show
32. Samuel Frank…………….All the NDDC  roads this one supervised has collapsed like Nelson Mandela n Uko Eshiet. As for empowerment, no show. Excuses through out
33. Ita Awak………………Poverty had dealt with this one. He's on Poverty Alleviation Programme. He came on a courtesy call to the Governor, a try etok.
34. Prof Etok Ekanem………….This one lives on hand outs from Nsima. Even at that, e no buy pure water give person. Nothing.
35. Bishop Sam Akpan.………pure scam, plenty concept, collects his cash quietly and returns to the bethel. AKPF supporters eba ke mbiong. Esuk ebre esit.
36. Johnny Ufot………You won't know this one. Nothing
37. AJU………His 2015 poster is still there at Oron road by Shelter. Comedian.
38. Akpan Micah Umoh……….PA to Nsima Ekere on fake contracts. He doesn't give either. Nothing.
Abeg, my APC people add the rest. Like Buhari, dey have nothing to show. 
POWERED BY EKPURIKPU AKWA IBOM