By Ekemini Simon
Paramount Rulers in Akwa Ibom State have condemned the recent attempt by Akwa Ibom State sons and daughters to disturb the prevailing peace and tranquillity which the State has enjoyed over the years.
The Akwa Ibom Monarchs made their feelings known today in a press statement after the Akwa Ibom State Council of Chiefs meeting held in Uyo.
The Traditional Fathers noted that it is their considered opinion that politics should not be regarded or played as a matter of life and death owing to the fact that after politics and attendant struggle for positions, Akwa Ibom State will ever remain.
They advised politicians as well as fathers of them all, to eschew bitterness, brigandry, acrimony, bad blood and ill feelings toward one another.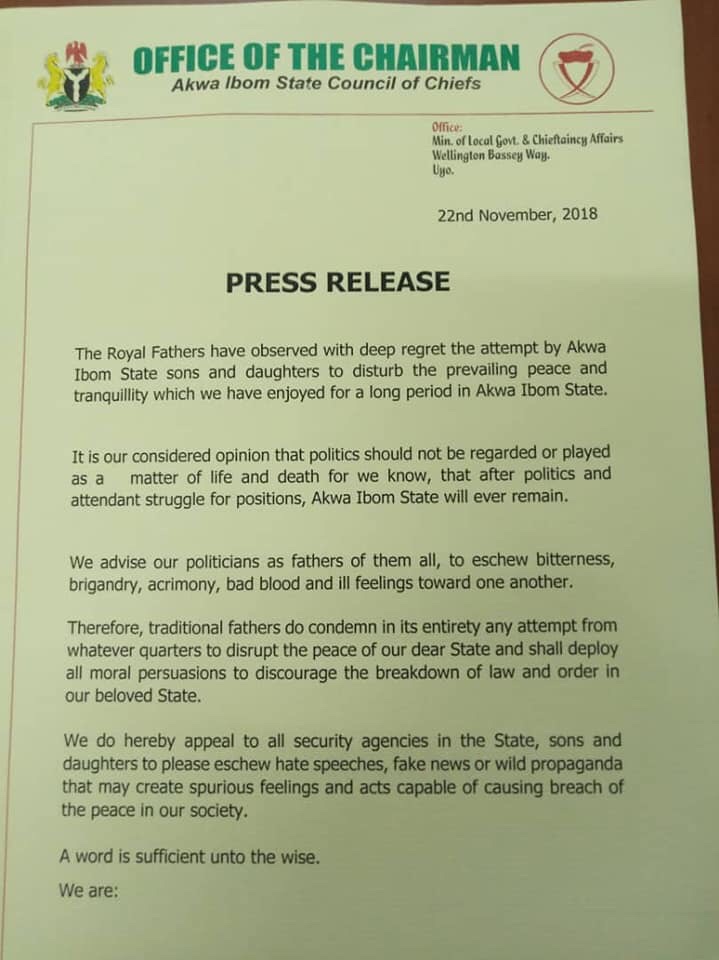 The Press statement adds " traditional fathers do condemn in its entirety any attempt from whatever quarters to disrupt the peace of our dear State and shall deploy all moral persuasions to discourage the breakdown of law and order in our beloved State.
" We do hereby appeal to all security agencies in the State, sons and daughters to please eschew hate speeches, fake news or wild propaganda that may create spurious feelings and acts capable of causing breach of the peace in our society. A word is sufficient unto the wise."