The Ikono Chapter of the People's Democratic Party, has suspended the Leader of the Ikono Legislative Council, Hon. Samuel Udoh, from the party, with Immediate effect. Mr Udo was found to have indulged in anti-party activities, specifically contravening section 57(3) of the party's constitution.
In a communique issued on Thursday 21st of May 2020, it was disclosed that Mr Samuel Udo suspended three members of the Ikono Legislative Council on the floor of the house following, and acting on, the directives of Hon. Victor Udofia, the immediate past representative of Ikono State Constituency in the House of Assembly, who also happens to be his former boss.
It noted that this action constituted an embarrassment to the ward and PDP, considering that Hon. Victor Udofia had defected to the APC towards the end of his tenure at the House of Assembly and has remained there till date.
According to the letter, other actions leading up to his suspension included the fact that he conspired with the opposition party during the last election to cause the PDP some setbacks.
And that after being cautioned for this ignoble conduct, Mr Udo still persisted with his unholy alliance with the opposition leading up to the inexplicable decision to illegitimately suspend bonafide and loyal members of the party without due process.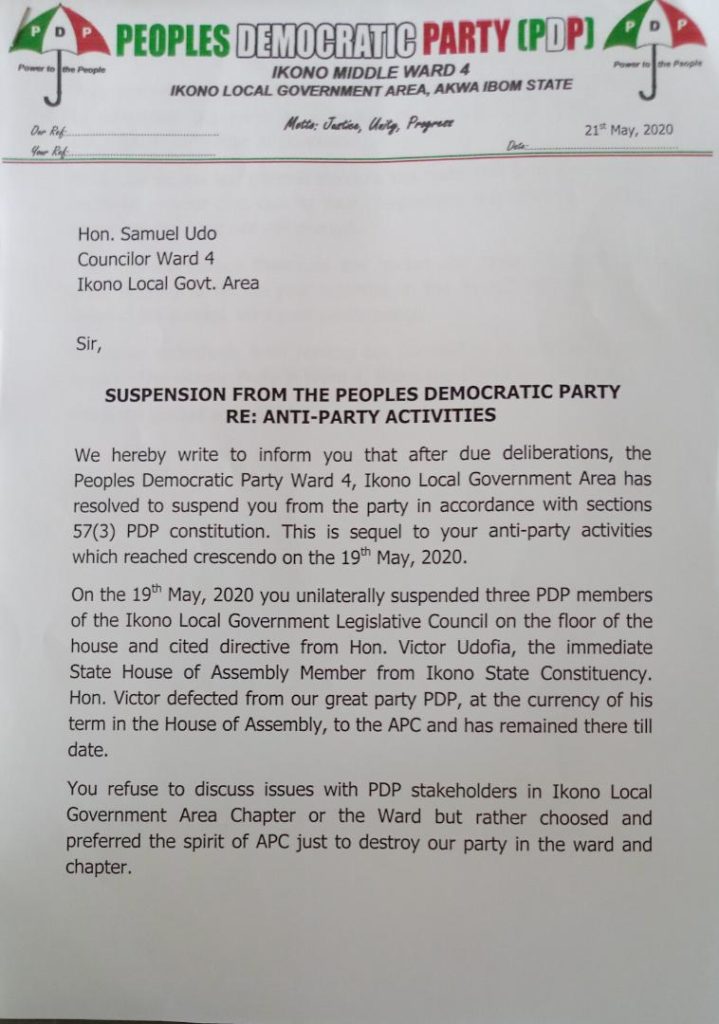 The letter also revealed Hon. Udo had failed to give account of his performance during a ward briefing for two and half years, neither has he held discussions with the relevant party stakeholders.
It summarily advised Hon. Udo to cease to hold forth or parade himself as a member of the PDP in Ikono.