A former member of Akwa Ibom State House of Assembly who represented the people of Mkpat Enin for 2 terms and currently serving as Governor Udom Emmanuel's Special Adviser on Legislative/Political Affairs, Barrister Ekong Sampson will open a series of discourse on 19 years of Nigeria's Democracy on Tuesday, 22nd May 2018.
Organized by Coalition of Online Publishers Akwa Ibom State (COOPA) and tagged 'DEMOCRACY DAY Tweet Series', to highlight development and spotlight personalities, captains of Industries, Politicians, State and Nation Builders as they discuss achievements in their fields and proffer suggestions to further better the polity and citizens of Nigeria. The initiative will feature series of interview sessions with stakeholders in various industries, discussing topics centered around the theme; '19 Years of Democracy in Nigeria : Past & Prospects…Akwa Ibom State in focus' with Mr Ekong Sampson taking the lead.
Barrister Ekong Sampson studied Law at the University of Lagos, his potentials were first spotted when he was appointed a legislative aide in 1999 by Senator Udoma Udo Udoma, a position he held until 2003, when he was appointed the chairman of Mkpat Enin Caretaker Committee. Before then, he had emerged the PDP chairmanship candidate in Mkpat Enin in 2002 and by 2004 during the local government elections, was elected into office and emerged the Head of Council for Mkpat Enin in an electoral college.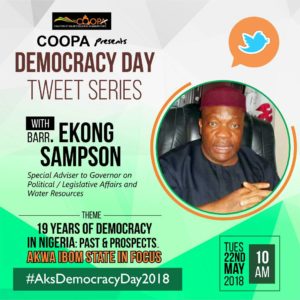 In 2007 and 2011, Mr Ekong Sampson served as the member representing Mkpat Enin State constituency in the State House of Assembly under the PDP platform. A grassroots politician and great mobilizer, his people call him "Ononkpoinam" of Mkpat Enin, due to his political strides and trailblazing record of achievements in his chosen career.
On the assumption of office in 2015, Governor Emmanuel appointed him the commissioner for Rural Development. He currently serves as the Special Adviser, Political/Legislative Affairs and Water Resources.
Mr. Ekong will share his wealth of experience by analysing Nigeria's democracy with members of the coalition of new media practitioners in the state, whom in their numbers, will employ the use of social media channels (Twitter, Facebook and Instagram).
The general public can participate by making posts using the hashtags #DemocracyAt19 and #AksDemocracyDay2018 for questions and contributions.
Nelson NseAbasi