…as Police intensifies effort to uncover their sponsors
By Emma Akpabio
A Magistrate Court Sitting in Uyo – Akwa Ibom State Capital on Thursday, April 16, 2020 made an order for the remand of one Paul Umoh, Moses Ukpong and Emmanuella Udoetuk in Federal Correctional Centre for an initial period of 14days, pending the transmission of the case file to the Director of public Prosecution.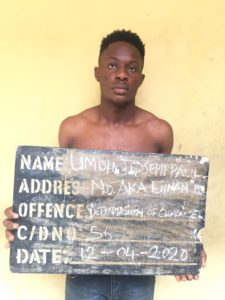 Following a petition filed by the prosecution Counsel on behalf of the Akwa Ibom State Commissioner for Information – Sir Charles Udoh, Commissioner for Economic planning and Ibom Deep Seaport- Hon. Akan Okon, SSA to the Governor on Multilateral and donor Agency, Deacon Ndiana-Abasi Udom and Ms Edidiong Akpan, the accused persons were arraigned on a three count Charge of criminal conspiracy, criminal defamation of character and unlawful financial transaction using the proceeds of crime with intent to commit an offense.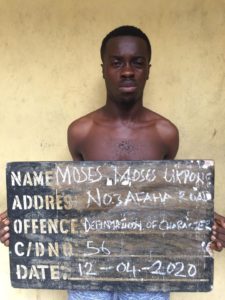 Delivering her Judgement, the Chief Magistrate observed that while counts 1 and 3 were within the jurisdiction of the magistrate court, count 2 which borders on an offense under the Advanced fee fraud and other related offenses under Act, Laws of the federation of Nigeria, is under the jurisdiction of the federal high court. Consequently, the accused persons have since been moved to the federal Correctional Centre, Uyo, where they will spend the next 14 days .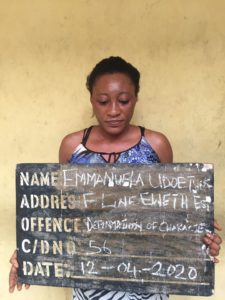 It would be recalled that the accused persons were recently arrested by the police for their roles in the publication of defamatory materials on various social media platforms against the plaintiffs. However, it is gathered that the police are still on the trail of their sponsors including one Mfoniso Etofia whose name has featured prominently in the confessional Statements of the accused persons and other incriminating materials so far uncovered.
On his part, Barr Ekemini Udim who was in court to hold brief for the complainants during press time, described criminal defamation of character as a serious offense in Law. The legal luminary added that the accused persons if finally found guilty, stand the risk of being convicted and sentenced to various years of imprisonment.
"It is hoped that their prosecution will send a clear message to others who may have chosen to make a career in the blackmail of others" Barr Udim opined.