Enobong Uwah on a rescue Mission
Yesterday, August 10, 2020, nature had its way as the fire burnt down the house belonging to Mrs. Bessie Asuquo Benjamin, a widow of Atan Offot Village, Uyo Local Government Area of Akwa Ibom State. The woman who is over 80 years of age resides in a part of the building and earns her daily bread from the rents payable to her by tenants occupying the other parts of the building.
The fire which started at about 8pm razed on till about 10 pm last night, I saw the pictures of the incident, one Sirvic reported the incidence to me at the Village Square, a platform of well meaning Akwa Ibom Citizens who are concerned about humanity.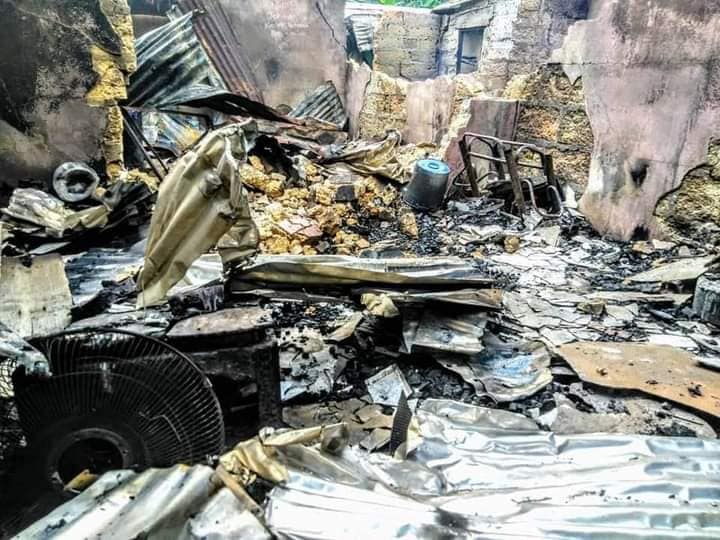 But I'm not here to share or propagate the sad incidence, which by now should have been heard by all. I am here rather to express gratitude to the #Uwah's. This afternoon at exactly 1:04 pm, I got a message from Mr Enobong Hammer Uwah, the Leading and Pioneer Public Affairs Ambassador in the state who in his usual manner asked; Is there anything we can do for that woman? And I answered, Let's go and visit her first and assess the level of damage and then we can decide what can be done.
Since it's not a day for long speeches, I am pleased to report that:
1. Mr Enobong Uwah, in the company of his younger brother, Mr Ime Uwah, visited the site of the incidence;
2. That he met with the woman and has instructed that reconstruction work should commence on the site tomorrow under the supervision of his brother, Mr Ime Uwah;
3. That he has given financial assistance to the woman to cushion the effect of the incidence and to help her acquire some of her immediate needs like clothes, food and drugs.
In no time, the woman will return to her house, this time, new and neat and as it is, will receive the constant touch of love from the Uwahs.
This 12 hours intervention is a testament to the holy write that though weeping may endure for a night, Joy will always come in the morning. Indeed, nature may have it's way and sometimes impart sorrows but Humanity will always win where there are willing hands and minds like Sir Enobonģ Uwah!
God bless you, Sir!
THIS IS PUBLIC AFFAIRS!