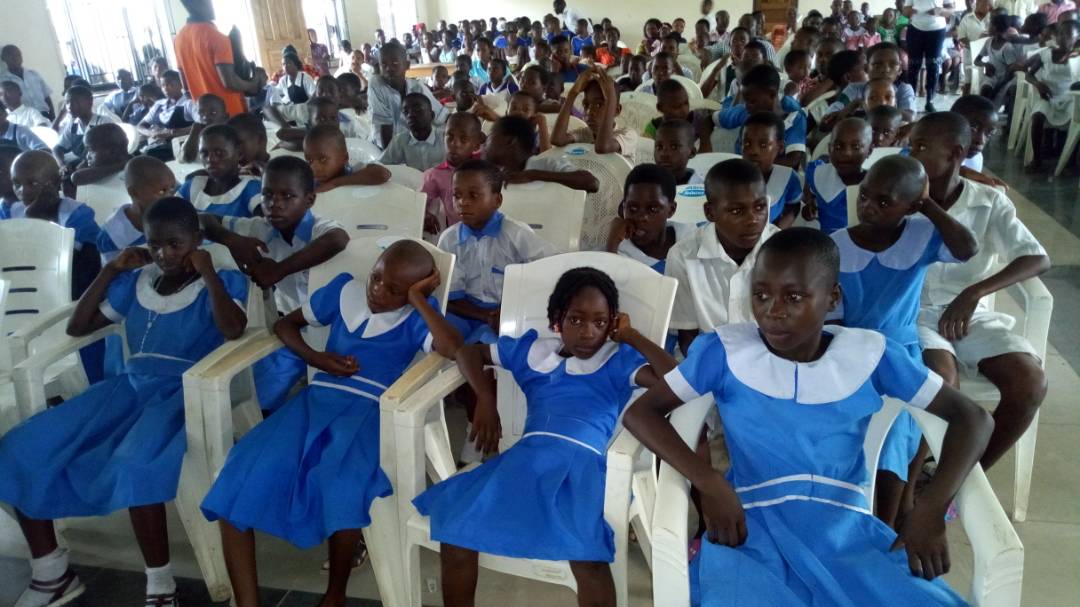 By Umoh-Obong Kingsley|
Governor Udom Emmanuel of Akwa Ibom State has continually been described with various inscriptions including education-friendly, passionate, children-loving, and a future-making leader particularly in the educational sector of the state following his commitment to continuously provide the needed support to institutions of learning to enable them turn out graduates who will respond to the demands of the 21st century society.
The Senior Special Assistant to the Governor on Marketing and Brand Management, Mr Sam Edoho, commended the Governor for his choice of aides who, according to him, work round the clock to interpret his vision, especially the qualitative, free and compulsory education policy.
He gave the commendation while delivering his speech during the Okobo School Children Easter Concert, an event organised by the Special Assistant to the Governor on Projects Monitoring, Mr Raphael Anwanakak, to celebrate the Easter period with school children of Okobo LGA, held at the Okobo Development Council on Tuesday.
Mr Sam Edoho congratulated the Governor's aide for fishing leaders of tomorrow, which is in line with the Gov Emmanuel's vision for qualitative, free and fair education in the state.
Mr Raphael Anwanakak, in his welcome remarks, expressed delight with the turn up of the students for the event, which he said, is a new direction to education in Akwa Ibom State as a whole and Okobo Local Government in particular, saying that without education, there is no future.
"A close look at the number of students that trooped to the event will see innovation and creativity in them. They have the intellectual and everything they need to excel in their academic pursuit, but are not opportuned to have access to relevant educational materials, hence his gesture to expose all Akwa Ibom sons and daughters to education."
He charged the school children to take good advantage of the quality, free and compulsory education policy of the Governor, and assured them that their future is bright.
In his goodwill message, the Special Assistant to the Governor on Media, Mr Essien Ndueso, commended the students for showcasing their talents which is a clear indication that the Governor's effort for qualitative, free and compulsory education is not in vain, and urged them to be studious in their academic pursuits and be good ambassadors of their societies, saying that Governor Emmanuel believes that education is the bedrock of development.
Okobo Local Government Chairman, Hon. Ubuo Effiong Obuo, thanked Mr Anwanakak for the initiative, saying "This has never happened before in the history of Okobo LGA. It is unprecedented."
He charged the students to shun truancy, attend class, concentrate and focus in their education in order to be good ambassadors of themselves, schools, families and the society.
Educational materials such as books, AKEES pencils, pens, mathematical tool sets, school sandals and bags, food items, drinks etc were given to the participants.
Highpoints of the event which was also graced by the Senior Special Assistant to the Governor on Education Monitoring, Mrs Idongesit Etiebiet, as Special Guest, included cultural dance by public primary schools; debate between St. Vincent Secondary School, Oti Oro and National High School, Odobo with the topic "Boy Child Education is Better Than Girl Child Education"; and Essay Competition by Methodist Secondary School, Offi and Community School, Ekeya on the topic "The Importance of Permanent Voters Cards Registration."