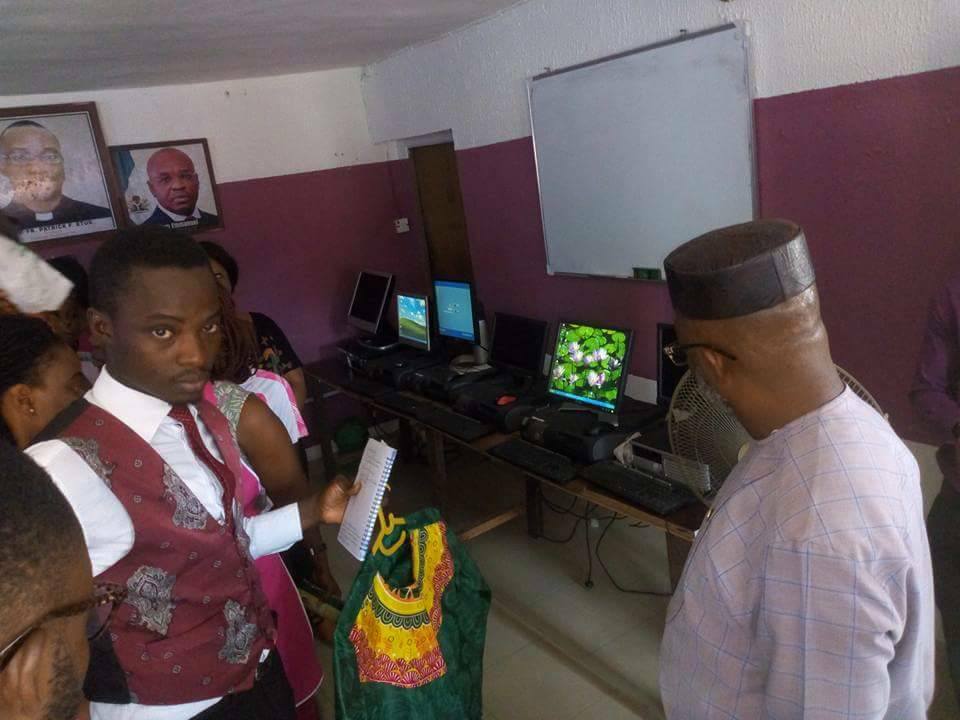 ***inaugurates new AKEES common facility
The Senior Special Assistant to the Governor on Technical Matters and Due Process, Elder Ufot Ebong, has reiterated the Commitment of Governor Udom Emmanuel to promoting entrepreneurship and job creation for youths in the State.
The Governor's Aide made this known, yesterday, at the official opening of a new common facility of Frank rose Foundation in partnership with Akwa Ibom Enterprise and Employment Scheme (AKEES) and National Youth Service Corps (NYSC).
Speaking shortly after Commissioning the Centre, Elder Ebong said AKEES was established, primarily to reawaken the spirit of enterprise among youths in the State and urged youngsters to take advantage of the Scheme, to better themselves.
Speaking further, the Technical and Due Process Boss revealed that there were speculations that, over 20 million youths would be unemployed in Nigeria come 2020, but however added that the trainees are at the advantaged position due to the skills they have acquired, which he said will enable them to create wealth for themselves.
"What we did was, instead of training people for two or three months, which they will later forget the things they learnt, because they may not be able to afford the machines, we had to set up Common Facilities, so after your training, you can go back and use them. We have such facilities across the State.
"From what I have seen, the government will support you, to add more value and create more financial freedom for yourselves. By now, some of your mates are on Facebook, blaming Government, but you people are here to create wealth for yourselves. I really commend you for thinking outside the box", Ebong maintained.
In his welcome address, Executive Director of Frankrose Foundation, Mr Fortune Etuk commended the Governor's Aide for finding out time to Commission the Centre, adding that Ebong has successfully interpreted the Governor's dreams for thousands of youths in the State, through AKEES.
"We are very grateful to you, for finding time out of your busy schedule to visit Frankrose today. I want to take a moment to really commend you for always creating time for us. I remember the other day I came with some corps members, sometimes when I come to your place, even when you are busy, you still create time for us", he said.
While commending the State Government, led by Governor Udom Emmanuel for its dire interest in youth development, Mr Etuk, said that the Foundation has been a strong partnership with AKEES for over two years, stressing that the Centre's vision of providing basic skills to the Youths, would not have been successful, but for the support of AKEES.
Mr Etuk, however, solicited for more support from the government to meet up with the increasing number of trainees, pointing out that the development has heightened the cost of operations for the Foundation.
On his part, Head of Operations of the Foundation, Mr Jeffery Guobadia, who revealed that they have trained over 1000 youths in various skills since inception, said the Centre is currently partnering with the National Youth Service Corps (NYSC) in the State, due to the exquisite facilities at the Centre and thanked the Akwa Ibom State Government, for its support and encouragement, through AKEES.
"Majority of persons here are corps members. NYSC has also deemed it fit to also use this place for training, because of the facilities and encouragement that AKEES and Government have given to this start-ups", he said.
Highpoints of the event was an inspection of various facilities at the Centre and cash donation by the Governor's Aide.