…Congregants To Report Perpetrators To Government Agencies
The Wife of the Chairman of Ikono Local Government Councils, Mrs Ekaette Columba, has passed a strong message against indiscriminate rape cases to Christ's believers and advised victims of such act in the area to report perpetrators of the earth-shaking heinous crime to Government enforcement agencies.
Mrs Columba who was joined by reputed women of Ikono, dropped the hint today, Sunday at the St Francis Catholic Church, Nung Udoe Itak, as they lent voices together against indecent behaviours and admonished members of the Church to teach their wards on the right value to life, where to visit, how to dress acceptably and the right person to associate and mingle with in life.
Speaking further, the Ikono First Lady said, "A few days ago, Ikono women had a protest march against rape in Ikono middle, but today, we decided to pass the same message to Ediene-Itak natives using this Church as our venue. I totally frown at the recent statistics of about 799 alarming rape cases in the State; and I will equally like to discourage parents who often send their minors to watch movies in the neighborhood, because rapists are worst than animals in the bush".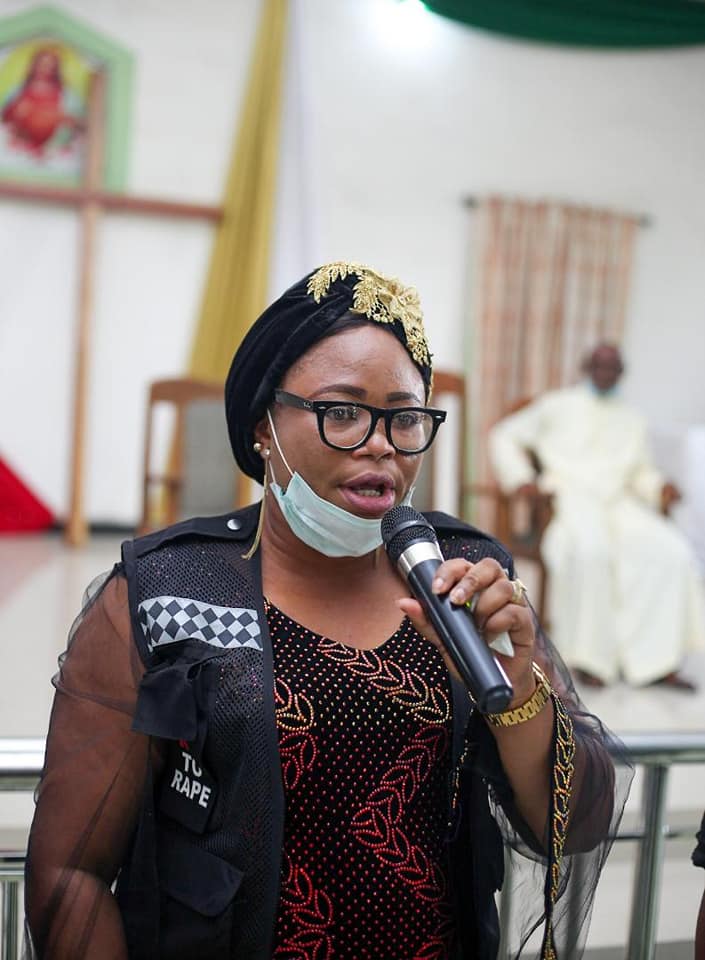 She described rape as a terrible form of forceful sexual penetration that causes emotional blackmail, pains and humiliation, while calling on actors of the devilish act to desist forthwith or face the wrath of the law from State Government.
According to her, "It is our collective duty to sensitize you as a way of protecting our children who might be going through hard times without our knowledge in the area. Rape is sinful and against God's commandment; Ikono women are rising to say 'enough is enough'. We are lamenting this inglorious act of fathers forcing girl children for sex, while uncles go after their nieces. This war is not going to be business as usual" she warned.
While lauding the First Lady, Dr (Mrs) Martha Udom Emmanuel for the timely mobilization of women on the campaign against rape, the chairman's wife applauded Her Excellency's unwavering passion and enabling desire to stem the evil menace in the society, and reassured the Church members of her unalloyed commitment in joining forces with her till these satanic players are brought to book.
Corroborating her message, a former Two-Term Transition Committee Chairman of Ikono and Member, Akwa Ibom State Technical Education Board, Obonganwan (Hon) Lovina Umoh Effah asserted, "recently, a Village Head in Ibesikpo Local Government Area was apprehended on rape against a minor, not to talk about other incessant practices in town. And let me tell you to avoid similar occurrence in Ikono as I charge all couples to love one another and protect their children.
Earlier, in a homily delivered on the title, PERSECUTION, drawn from Matthew 10:22-36 and Jeremiah 10:20 respectively, the Priest of Saint Thomas Parish, Itak, who is also in-charge of Nung Udoe Itak Station, Very (Rev) Father John Peter Udo JP, registered his grievance and admonished congregants to desist from any heinous crime tantamount to damaging the hard-earned reputation of members, stating that anyone who lives a cautious life, would have averted future danger indirectly.
The cleric who recently celebrated his 39 years of priesthood, appreciated the Executive Chairman of Ikono, Hon Itoro Columba, in his divine wisdom to release the wife and other good women of Ikono to stage a peaceful protest against sexual harassment on our girl child at different communities, adding that "it's also the Church's responsibility to be involved in the happenings in the society by assisting Government to stem the disastrous practice".
The cleric further harped on the need for security personnel and other related enforcement agencies, to ensure that they work assiduously in order to maintain law and order, with a charge on them to crack down on rapists and all forms of gender-based violence within and outside the Church environment.
Highpoints of the Church Service was special prayer for the women, donation of cash for Church growth from the women led by the Ikono First Lady, blessings to worshippers, among others.
Other prominent women who participated in the service were the Council Secretary, Obonganwan (Mrs) Ofon Mike Akpan; the Councillor Representating Ward 11, Hon (Mrs) Emem George; Ikono PDP Chapter Women Leader, Obonganwan (Mrs) Idorenyin Akpan; Former PDP Chapter Women Leader, Mrs Margret Nya; Ward 9 PDP Vice Chairperson, Mrs Edu Emayek Umo, among others.