The wife of Akwa Ibom State governor, Her Excellency Dr. Mrs. Martha Udom Emmanuel , has told female youths in the state to brace up for leadership as they would have to lead someday.
She says female youths must shun the get-rich-quick syndrome and unhealthy competition, and imbibe the right virtues of contentment, self-discipline and dignity.
Dr. Emmanuel spoke Wednesday, at the Banquet Hall of Government House, when she hosted the leadership of Female Youths in the state which comprise of the youth council and the youth caucus.
The governor's wife said the dangerous trends of promiscuity, nudity and obscene language being bandied on social media by youths were not encouraging, stating that they must henceforth become the change agents in the society.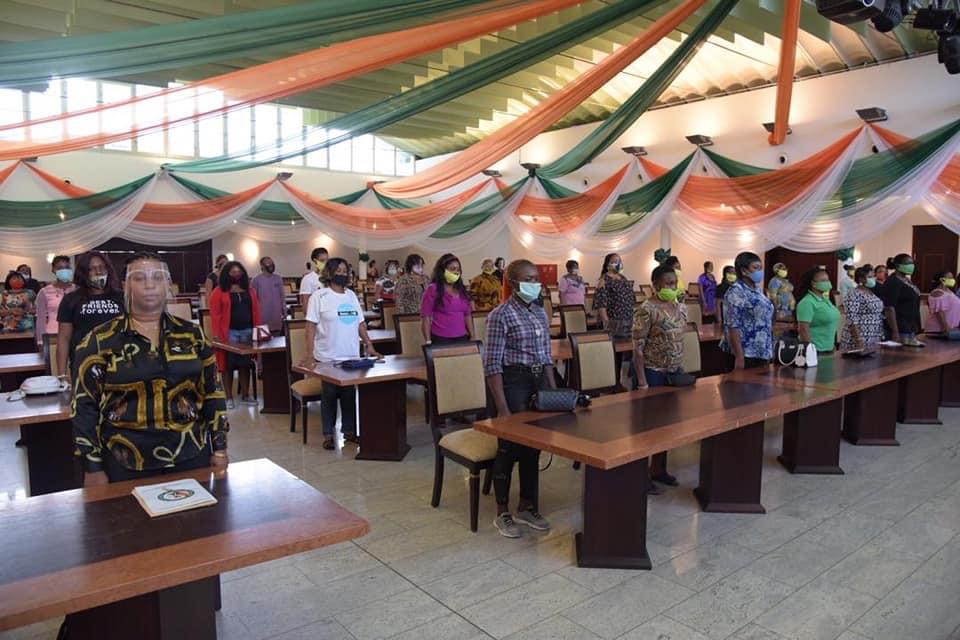 "As female youths, you must understand that you're the future mothers of this state. What we are doing is to groom and prepare you for leadership when the time comes. But we would not achieve this, if your character is questionable; as future mothers and leaders, you must be well cultured in dressing, attitude and speaking. Be upright, harness your talents, potentials and channel your youthful energy into positive ventures," Dr. Emmanuel advised.
Speaking further, the first lady charged the female youths to bridge the gap of mentorship that currently exist, pointing out that they must go beyond political engagements to imparting their knowledge on the younger generation of women.
"I want you all present here to become mentors to our female children in your respective communities. By so doing you will be building a virile society that is anchored on sound morals and etiquettes. Become good ambassadors by your actions and endeavour to leave indelible
marks for posterity sake," she remarked.
While thanking the group for their unwavering support for the administration, the wife of the State Chief Executive called for a sustained working relationship, assuring that they will henceforth be called upon to serve as role models to female students during her visitation to secondary schools.
Earlier, the state Commissioner for Youth and Sports, Sir Monday Uko in his remark thanked the governor's wife for granting the group audience despite her tight engagements, saying it shows her love for the group.
He maintained that the governor's wife has been a source of inspiration to not just the female youths but the entire Akwa Ibom
youths, noting that with her mentorship, greater heights await the youths.
Similarly, the Senior Special Assistant to the Governor on Youth Matters, Comrade Aniefiok Wilson Iwaudofia while speaking, alluded to the fact that the entirety of Akwa Ibom youths have fared better under this administration.
In his words, "In the history of youth politics in the state, we've never had a group of female youth but the gender friendly Governor in the person of Mr. Udom Emmanuel and wife, came in and provided a platform for all female youths to excel, this is highly appreciated and commendable. "
8th July, 2020