Aniekeme Finbarr
Never has it been recorded in recent political history that a group of people so helplessly depended on Only God for a smooth and peaceful elections like the people of Akwa Ibom State did in the just concluded general elections.
It all began when the State Governor, Udom Emmanuel declared his re-election campaign slogan to be "Only God". Political analysts said it was an empty slogan devoid of any tangible political message. Very many people dismissed it as a cheap strategy to curry political favour or an unnecessary display of religiousity, considering that 99 percent of Akwa Ibom indigenes are christians.
With the defection of Senator Godswill Akpabio from the PDP to the APC, all was set for showdown, the pundits predicted a two horse race with a likelihood of a swerve in the direction of the uncommon defector. The tone was set not just for a mere election, but a bloody civil war.
At a burial ceremony in Aguobu-Owa, Ezeagu Local Government area of Enugu State Enugu, Senator Akpabio said "the impending 2019 general election in the state would be a full scale war, and boasted his new party would win". He said the takeover of the state by the All Progressives Congress (APC) in 2019 would be as total as the 1940 invasion of Poland by the German dictator, Adolf Hitler, that "in 2019 Warsaw shall see war and war shall see Warsaw" (See Thisday Newspaper, 21st August, 2018).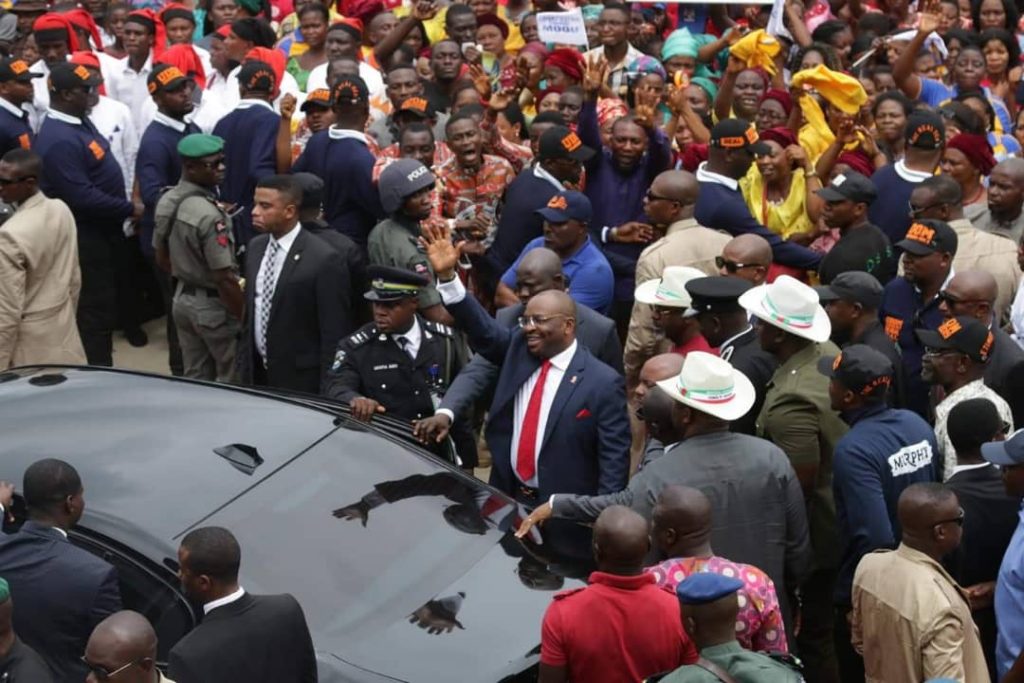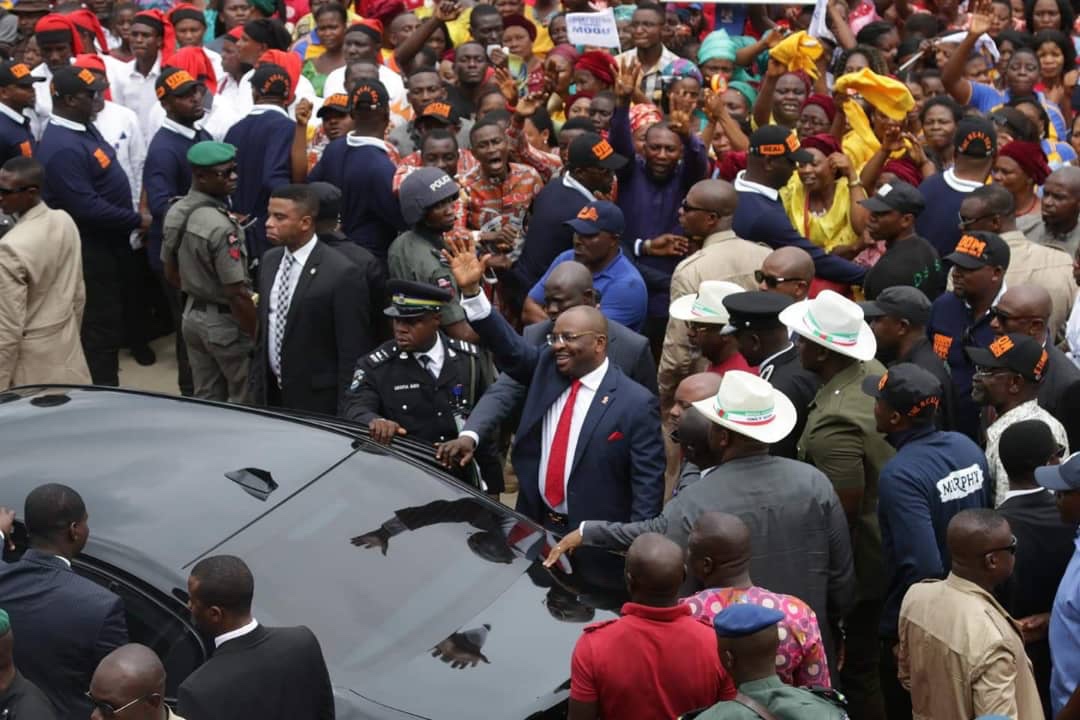 Those declarations drew strong criticisms from every part of the country but, unperturbed, the Senator dismissed those remarks on National TV as a joke and further announced his intentions to be a comedian after office. Who could possibly take such assertions as a joke considering the over 150 reported cases of politically motivated kidnappings and the dozens of people who paid the supreme price because they or their close relations dared to aspire for political office between 2007-2015 when he was Governor? Akwa Ibom people held on with bated breath, their fate solely in the hands of God.
Then came the manifestation of the Warsaw proclamation, illegal and violent invasions of the Akwa Ibom State House of Assembly, bloody APC party primaries, destruction of billboards, arrest, harrasment and intimidation of party supporters, and random changes in heads of key security agencies in the state.
Two days to the Governorship and State Assembly elections, the Akwa Ibom state Police Command confirmed the arrest of 153 political thugs allegedly hired from Edo state to cause violence in the elections. The police later said the thugs were youths who came for an APC rally in Uyo. They were released and driven to the APC campaign Secretariat.
All was set for a very bloody elections. The SSA to the Governor on Security, Captions Iniobong Ekong was arrested and detained for 13 days. This writer was arrested and detained on the eve of the elections assaulted, handcuffed, his residence ransacked, his wards arrested, gadgets and household items carted away.
What would have happened if God had not intervened? What would have happened if the details of the audio leak between a Candidate and a certain militant had been implemented? What would have happened if rocket launchers and grenades flew everywhere across the state? What would have happened if those boys from Edo had their way to unleash terror and havoc?
Dr Theodore Ekpe, a cleric and University Lecturer describes the nature of the 2019 elections in Akwa Ibom State in vivid imagery:
"I rarely dabble into political issues, not because it doesn't concern me altogether, but because I have a goal before me which far transcends all the realms and dimensions of political struggles of any kind.
'The truth is I did that to register my unrestrained and unreserved gratitude to the Most High God. Never in the history of our 31-year-old Akwa Ibom State (with 31 local government areas) has a people arisen to a high-powered conscious awareness as in the recent past and come together in one accord to seek the face of God as they did. Copious and lavish revelations were flying on all sides, almost in every home. People were divinely alerted about what was coming in the state.
'Revelations of wars, of violence, of bloodshed, of future invasion of aliens, of wanton massacres, and of the release of hordes of demonic forces, filled the air. These revelations were not limited to only citizens of the state: brethren and God's messengers from outside, both from neighboring and distant states, and even from abroad, especially from our brethren in Canada and the United States, signals were being sent warning us of what was coming. Some groups among them had already begun fasting and praying against the massive satanic interest in our state; I know of a particular Christian body in the United States that had reportedly fasted and prayed for 60 days before we even got wind of what was coming. So some of our brethren from Abuja, Enugu, Kogi and others who got the spiritual alert of the evil that was threatening us from the satanic realms, to be fanned into flaming actions and reality through a designated political party whose stakeholders and key players had sold themselves unto Satan to work evil with impunity, and who like Abimelech of old, Gideon's son from a Shechem concubine, had wickedly mortgaged the souls of his 70 brothers at the temple of Baalberith for a prize of 70 pieces of silver. To a normal ambitious politician, that is really nothing so far as his selfish ambition is achieved.
The struggle wasn't just between Udom and his opponents. It did transcend the bounds of all political parties or mere political struggles. It was beyond all natural or physical considerations. It was more or a less a spiritual struggle, a contention between the kingdom of light and the kingdom of darkness. It was a question of who claimed ownership of Akwa Ibom State, either Christ or the devil; and the effect thereof would transcend the four-year term of democratic governance to project into the future of decades and generations yet unborn.
'Now the prayers of these saints did something quite unique. They awakened the consciousness of Akwa Ibomites. Every church and religious group bought into it. Incredibly, prayers went on every day. Some churches and groups even tarried nights before February 23 and March 9. God responded astoundingly by frustrating the tokens of the wicked. All the evils and rigging plans that the oppositional stakeholders planned about our state were turned into futility, voided like votes, even when they were threatening with thuggish thunderbolts and were spitting fire into the air.
'This victory is not the victory of Udom Emmanuel but the collective victory of the church and people of Akwa Ibom State. The good and interesting part of the story is that Gov. Udom remained steadfast and refused to be lured into satanic activities by visiting the modern temples of Baalberith, thanks to his very godly wife. He said, "I will never go anywhere. It is ether God does it or I fail and return to my house." He with his wife joined in chains of prayers with groups and individuals, and the God who heard David, Jehoshaphat, Hezekiah, and countless others, vindicated him.
'It is to that God that I and my brethren pay homage and return all the praise and glory. For "Praise waiteth for thee, O God, in Sion: and unto thee shall the vow be performed. O thou that h
earest prayer, unto thee shall all flesh come," – Psalms 65:1-2″.
That is why the people of Akwa Ibom State are poised to storm the Godswill Akpabio International Stadium aka the Nest of Champions on Friday, 29th March, 2019 with songs of Joy and Thanksgiving. It is the Thanksgiving of our lives, it is a testimony of the most visible manisfestation of the power of God in the affairs of men in recent time.
We shall sing the songs of the magnifcat;
"My soul magnifies the Lord,
and my spirit rejoices in God my Savior;
Because He has regarded the lowliness of His handmaid;
for behold, henceforth all generations shall call me blessed;
Because He who is mighty has done great things for me,
and Holy is His Name;
And His mercy is from generation to generation on those who fear Him.
He has shown might with His arm,
He has scattered the proud in the conceit of their heart.
He has put down the mighty from their thrones,
and has exalted the lowly.
He has filled the hungry with good things,
and the rich he has sent away empty.
He has given help to Israel, His servant, mindful of His mercy
Even as He spoke to our father –
to Abraham and to his posterity forever".
Where will you be when the saints go marching in Thanksgiving?
Finbarr is Special Assistant to the Akwa Ibom State Governor on Media