In a historic victory at the Conference of Online Publishers Akwa Ibom State (COOPA) Convention 2023, Utitofon Morgan Ukpong, the Publisher of Sitippe, was elected Chancellor with 28 votes, defeating his opponent who polled 11 votes.
This triumph marks a new era for online publishers in Akwa Ibom State. The 2-day convention, held at the Eden Hotel in Eket from October 6th to 7th, 2023, provided a platform for industry leaders, experts, and enthusiasts to converge, discuss, and deliberate on the future of online publishing in the state.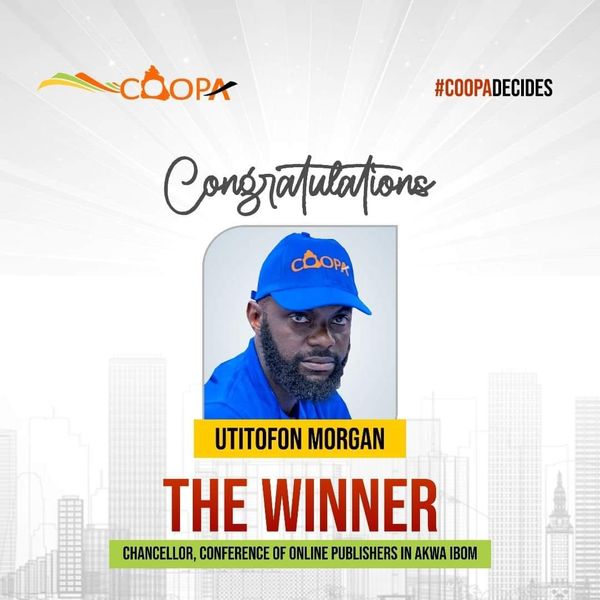 Ukpong's victory is a testament to the trust and confidence bestowed upon him by his peers in the field. The Conference Of Online Publishers Akwa Ibom State (COOPA) congratulates its new Chancellor and looks forward to a period of transformative leadership under his guidance.
Ukpong has articulated a compelling five-point agenda aimed at shaping the future trajectory of COOPA. His priorities include the improvement of human capacity development for its members, fostering a more united association, ensuring the financial independence of the organization, and promoting collaboration with industry stakeholders.
Akwa Ibom Trending extends warm congratulations to Chancellor Utitofon Morgan Ukpong. This victory elevates him personally and signifies a positive turn for the media landscape in Akwa Ibom State. As he takes the reins, we anticipate a period of progress, unity, and impactful collaboration within the online publishing community.
Ukpong's commitment to enhancing human capacity within COOPA aligns with the broader vision of empowering individuals within the media sector. A united association, coupled with financial independence, is poised to foster a more robust and resilient platform for online publishers in Akwa Ibom State.
In conclusion, the 2023 COOPA Convention was more than just an election; it was a celebration of the strength and potential of online publishers in Akwa Ibom. As Chancellor Utitofon Morgan Ukpong embarks on this new journey, the entire community eagerly anticipates the realization of the promised positive changes and advancements in the realm of online publishing in the state. Cheers to a new era, a united association, and a brighter future for Akwa Ibom's media landscape!