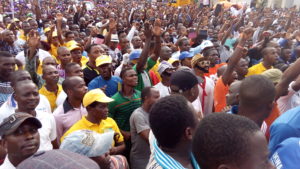 …Pass votes of confidence on Unyime Etim
A conglomerate of youths leaders, structures and socio-political groups in Ikot Ekpene Local Government under aegis of Ikot Ekpene Youth Stakeholders have called on the Commissioner of police to arrest and prosecute those causing mayhem, insecurity, killings, fear, pandemonium and harassment in the area, assuring total support of the entire youths and the people of Ikot Ekpene Local Government Area.
The youths stated this in a communiqué issued at the end of a meeting held on Monday 5th March, 2018 at the Local Government Council Hall where the youth stakeholders gathered to brainstorm on the security challenges in the area.
The communiqué which was made available to news men at the end of the meeting reads in part: "The stakeholders condemned in strong terms the activities of miscreants and hoodlums causing mayhem, insecurity, killings, fear, pandemonium and harassments in the Local Government
Area and its environs.
"The Stakeholders declared the perpetrators of this dastardly act as persona-non grata, resolved that they should be arrested and prosecuted accordingly.
"The group also commended the Commissioner of Police on the newly assigned Divisional Police Officer to Ikot Ekpene which as raised the hopes of salvaging the situation in the area, enjoined the Police Commissioner as a matter of urgency to declare the hoodlums wanted by announcing their names on Radio and Television.
"The- group assured the ne Divisional Police Officer of their unalloyed support, commitment and collaboration to return peace to the first experimental Local Government in the former British West Africa.
"It was also resolved that anyone found to be involved in the activities of these miscreants, hoodlums either directly or indirectly (sponsored) should be brought to book, as the previous attempt of peaceful resolution never produced the desired result, hence the decision as so resolved will be fire for fire, eye for an eye by the security operatives.
"The Stakeholder frowned at the proliferation and sales of hard drugs unabated in Ikot Ekpene and its environs, maintained that those involved should be arrested and prosecuted accordingly."
Further, the youth passed a vote of confidence on the Executive chairman of Ikot Ekpene over what they described as practical steps, consultations and efforts taken by the Chairman since his assumption of
office toward bringing peace and lasting solutions to the crisis
in the area.
While reiterating their support and confidence on the Government of Governor Udom Emmanuel in restoring peace in Ikot Ekpene and Akwa Ibo State, they youths promised to work with the Government and security operatives in bringing total peace back to the area.
In attendance of the meeting were youth leaders and heads of different youth groups from all the wards in Ikot Ekpene Local Government.
© NDANTI EKUH