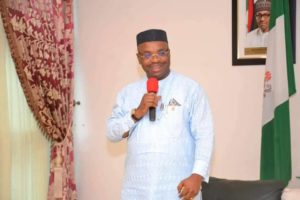 Leaders of Eket Senatorial District of Akwa Ibom State have expressed the belief that the abrupt defection of Senator Godswill Akpabio from the Peoples Democratic Party to the state opposition All Progressives Congress, and his abandonment of the government he helped to set up, is a blessing to the state.
The leaders including serving and former political office holders and stakeholders from the 12 local Government Areas of the district, said, "it is now time for you to express all the qualities in you unhindered by anybody."
Setting the tone during the rally, the leader of the delegation and former Minister of Lands and Housing, Chief Nduese Essien said since the announcement of Akpabio's defection, there has been celebration throughout Eket Senatorial District and in other parts of the state.
He said to prove that Akwa Ibom does not belong to a single individual, "a number of youths have come to me to say that, if they did not support you before, now they are going to support you fully."
Since the state belongs to everyone, Chief Essien said Senator Akpabio cannot deliver us to the APC, to go and be appointed Senate president because that is one of the incentives we understand he has been promised."
"You are now free to take charge of your administration, you are now free to work with whom you please and direct affairs without looking back to what the headmaster will say."
He maintained that as "a very good Christian, a polished gentleman, a trained technocrat, Governor Emmanuel will continue to deliver even better on his mandate to the people.
"We believe that God who has been with you through the very turbulent period will continue to give you that support and energy that will enable you get into your second term in office."
"We are  conscious of the fact that Uyo and Ikot Ekpene senatorial districts had given us their promise to support you. "We want to assure you that your senatorial district is solidly behind you, we are ready to organize ourselves to be able to deliver, " he added.
This position was further affirmed by speakers from the respective three Federal Constituencies, with Sir Etim Okpoyo, Former Deputy Governor speaking for Oron Federal Constituency, Chief Obot Etokafia for Ikot Abasi and Senator Helen Esuene for Eket.
They maintained that the voluntary exit of the former Governor from the party without any provocation spells a good omen for the state, as the people have obviously refused to follow him to his new abode.
Responding, Governor Emmanuel  thanked his senatorial district leaders for the show of love and solidarity, maintaining that he cherished all the pieces of advice to him.
"If your house does not support you, the outsiders will not support you.
Getting this support from my own strengthens me a lot more."
He said nothing takes God by surprise, and added that he was not shakened by the developments.
"I can only say what I keep telling the youths, no shaking. There is nothing here that happens that will ever be new. Everything happening in the world today had already happened in the past."
The Governor who admitted that the scenario could only be attributed to God's finger, upturning things to favour the state.
The Governor asserted that the country was witnessing the rebirth of the Peoples Democratic Party, adding that there has been, "no time there's going to be a rebirth that there won't be an upturn, from the beginning, from creation.
God deals with us on individual basis and if God sends you on a task, he gives you specific instructions.
He insisted that all his actions have always been in line with the instructions he receives from God, and assured that he will remain firm and continue to show resilience in providing good leadership in the state.