The Akwa Ibom state House of Assembly has passed into law a bill to establish Akwa Ibom State Signage and Advertisement Control Agency.
According to a report by the House' committee on environment, the law will "sanitise the practice of outdoor/indoor advertising and hoarding to the benefit of the state."
The law is also expected to protect the Akwa Ibom environment through "regulating indiscriminate and indecent display of non-approved posters in public places", the report states.
Speaker Onofiok Luke said on Tuesday during plenary that the bill, when signed into law, will enable the state government generate revenue from outdoor advertising as well as put in place control against environmental hazards occasioned by such marketing communications activities.
He said the law is a "concrete step towards putting the right people in place to control outdoor advertising in our state."
It would be recalled that Hon. Onofiok Luke had in 2012 moved a motion seeking government action against indiscriminate advertising especially on primary and secondary school walls across the state.
Recalling the motion on Tuesday, the speaker said "it was my humble opinion that our young children be spared the consumerist frenzy of such outdoor advertisements, at least within school hours.
"The house made recommendations urging government to act in line with that motion by ensuring that stringent control measures were put in place to check activities of advertisers.
"I am therefore delighted today that this honourable house has taken a bolder and more concrete step to make a law that will put the right people in place to control such and many other forms of outdoor advertising in our state."
The bill which was sponsored by Hon David Lawrence of Eket state constituency has May 8, 2018 as its commencement date.
The speaker expressed gratitude to stakeholders and members of the public who turned up at the public hearing on the bill to make their inputs.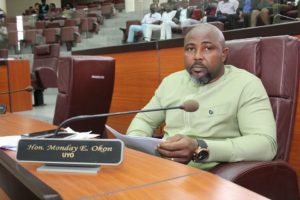 Stakeholders and industry experts who contributed to the bill at the public hearing held in June, 2018, included the honourable commissioner for environment, the head of service, the National Union of Micro, Small and Medium Scale Entrepreneurs of Nigeria, the Outdoor Advertising Agency of Nigeria among others.
He also commended members of the house for their "collective commitment to the success of the 6th assembly through the presentation of quality bills and expression of superior representation."
He assured that by the end of the 6th assembly in 2019, "we shall have solidly affirmed our spot in history as a true people's assembly."
Kufre Okon
Press Secretary to the Honourable Speake