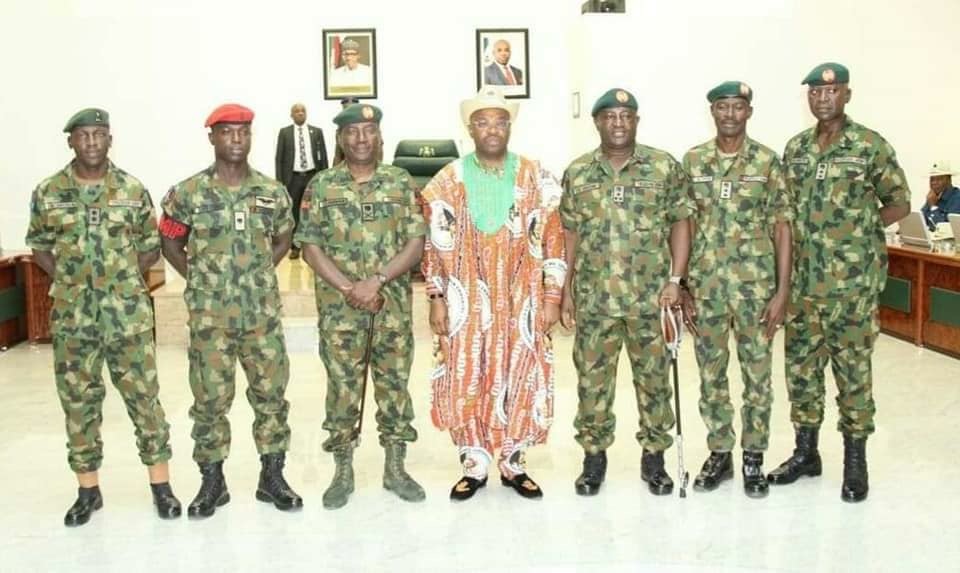 By Ima Akpabio (Govt. House)
The General Officer Commanding (GOC) 6 Division of the Nigerian Army, Maj Gen Jamil Sarham, has said that out of the 36 states of federation, Akwa Ibom has the lowest crime rate.
He hinted this during a courtesy call on the state Governor, Mr Udom Emmanuel, at the Executive Council Chambers, Governor's Office, Uyo, on Tuesday.
Mr Sarham commended Governor Emmanuel and the good people of Akwa Ibom State for the peaceful coexistence currently witnessed in the state, adding that if there is no peace, socioeconomic development cannot thrive in any society.
The immediate past Commandant of the Nigerian Army School of Infantry, Jaji, Kaduna State, who recently assumed duty as the new General Officer Commanding 6 Division, Nigerian Army, Port Harcourt, the Rivers State capital, noted that the visit was to register his presence in the State.
According to him, "The essence of my presence is to inform you that we will be conducting an exercise called "Operation Crocodile Smile" to drive peace and harmony in the state."
The State Governor, Mr Udom Emmanuel, in his response, thanked army general for the contributions to the special task force that helped sanitise some of the criminals particularly in Etim Ekpo and Ukanafun LGAs of the state, which has also sent signals of a zero-tolerance for criminal activities to other parts of the state.
He said "I'm happy that through the support of the entire Military and Joint Task Force (JTF), we have been able to sanitise and restore normalcy in those local government areas."
The Governor pledged the commitment and readiness of the state government to support the military in tackling insecurity. "You cannot measure peace by any material investment. Whatever I do in security, I see it as investment. For you to enjoy peace, you must invest something, so whatsoever we spend in security is an investment."
Governor Emmanuel however disparaged the recent report by the Nigeria Financial Intelligence Unit (NFIU) alleging that the state government draws cash from a security vote account, saying: "I've never seen where you spend cheque or transfer on security. We spent a lot of money to secure the pipelines here that we tend to enjoy full production of crude oil.
"I raised the issue during a National Economic Council meeting that states in the Niger Delta region will stop at nothing to spend for us to have peace, because if we don't secure the Niger Delta, the whole country will be in trouble. Where Niger Delta goes, that is where the entire nation goes."
Governor Emmanuel stressed that "There is no amount of money that we cannot spend in order to have peace in the state because without peace, we cannot have any meaningful investment or development. So, when they start writing negative reports, they can also, once in a while, stop to look at the character and integrity of the people who are in government. A lot of governors did not come to loot public funds but came to serve, and are doing that sincerely with all amount of intent and purpose.
"So, when they are trying to paint people black using political coverage, they should know what to say and when to draw a line, because if we all hands up, I don't think the federal government would be able to cater for the entire security agencies. We don't spend cheques or transfer on security, but we spend cash."
Welcoming the 'Operation Crocodile Smile' exercise, Governor Emmanuel promised to provide a conducive environment for the team and to lead them to those volatile areas in order for them to discharge their duties to help sustain peace and harmony in the state.