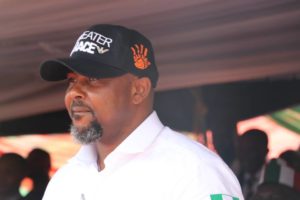 By Umoh-Obong Kingsley – 9jaecho
A seeming persistent hex put on Uyo Local Government Area of Akwa Ibom State was on Wednesday broken in a constituency briefing and empowerment programme of Hon. Monday Eyo Okon, member representing Uyo State Constituency at the Akwa Ibom State House of Assembly.
The four clans of Uyo had had turns of representation in the 6th Assembly without any empowerment programme or constituency briefing throughout their tenures. In what could be a 'true confession', the former (third) member representing Uyo, Hon. Ekere Affia, said: "It is true that all former members of the State House of Assembly, which I am one of, had never done this. Monday Eyo is the fifth member to represent Uyo State Constituency. I was the third.
"Uyo has four clans and none of us ever did constituency briefing during our tenures in the House. That is why Monday Eyo is called the Jinx Breaker. He is the first to begin the new phase of rotation. He deserves to be rewarded because he has done more than expected. He is the first to do constituency briefing and he will be the first to represent the good of Uyo for eight years."
Speaking on rotation, Hon. Affia noted that nobody is being cheated when it comes to rotation, saying that all the clans in Uyo Local Government took their turns in which they all served one term each. "This is a new phase which will begin with two terms. After Monday Eyo might have served for two terms, another person from another clan will run for two terms in order for Uyo to produce a ranking member."
Hon. Monday Eyo, in his speech, eulogised Governor Udom Emmanuel for his impressive developmental strides recorded in Uyo, especially the recently awarded contract for the construction of life-changing 8.5km Ndueotong Oku-Iba Oku-Ibiaku Uruan road, improved electricity supply and appointment of Uyo indigenes into various offices, saying that he is fatherly, friendly and listening to the plights of Uyo people.
The Jinx Breaking constituency briefing/empowerment programme tagged: "Greater Grace", took place on Wednesday, 7 March, 2018 at St. Joseph's Primary School, Afaha Oku, Ikpa Road, Uyo, had 11 new mini buses, six (6) salon cars in the constituency transport scheme; 11 sewing machines, 11 hair dressing equipments with power generating sets; 11 barbing kits with sterilizing machine and generators; and four (4) deep freezers.
Others include N1.1 million business support for 11 ward women leaders; N1,360,000 business support fund for youths in the 11 wards; N1,350,000 business support fund for women; N800,000 business support fund for ward women/youth leaders; and N2 million educational grant for 100 tertiary institution students.
The Speaker of Akwa State House of Assembly, Rt. Hon. (Barr.) Onofiok Luke, represented by the Leader of the House, Rt. Hon. Udoh Kyrian, poured encomiums on Murray, as the House Member is fondly called, for ending the era of ineffective representation in Uyo, saying that he has set the tempo for others to follow.
In his goodwill message, Uyo Local Government Chairman, Elder (Hon) Imoh Okon, stated that "It is good to work according to the directive of the Holy Spirit. Anybody that is not led by the Spirit cannot live a good life. Today's event has glorified God because it is a joyful thing. So when you are in a position of power, you have to allow the Holy Spirit to lead you.
"Those who thought constituency briefing is a taboo in Uyo Local Government, today, the door has been opened that it is a statutory function that must be done by any representative publicly. It must be done in the right way. No more secrete briefing, if any had ever been."
Eld. Imoh further stated that PDP is the leading light in Uyo Local Government and remains the leading light in Akwa Ibom State, saying that "A lion cannot give birth to a goat. If we have a good representation across the 26 State House of Assemblies and the leader is Mr Right, Akwa Ibom is right and we cannot do otherwise."
The Uyo PDP Chapter Chairman, Hon. Idorenyin Orok; Prince Ifiok George, and Obonganwan Mfon Udokpo, in their separate goodwill messages, thanked Governor Udom Emmanuel for the encouragement given the House member to organise the empowerment programme which has never been in the history of Uyo State Constituency. According to them, every good thing comes from God. We have witnessed various political occasions in Uyo but this is the first time a House of Assembly member representing Uyo State Constituency has publicly done a constituency briefing and empowerment programme both for men, women, youth, young and old.
Beneficiaries of the empowerment programmes thanked Murray for his kind gesture and good representation, and prayed God to grant him success in his second term ambition, even as they pledged their support for him and Governor Emmanuel come 2019 and beyond.
The auspice event was graced by State Governor, Mr Udom Emmanuel, ably represented by the Commissioner for Labour and Productivity, Hon. Ibanga Akpabio; State PDP Chairman, Obong Paul Ekpo; Commissioner for Information and Strategy, Mr Charles Udoh; members of the 6th Assembly; political leaders, royal fathers, traditional rulers, various women and youth groups, etc.