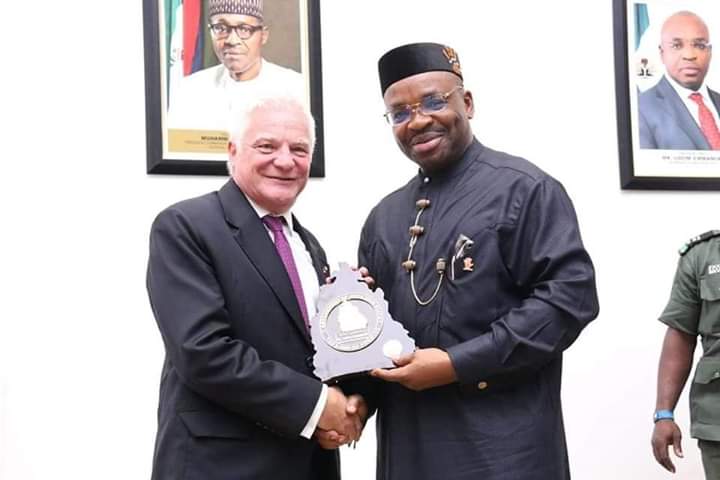 By Ima Akpabio
Despite the breakdown of law and order in Akwa Ibom within the last few days, Governor Udom Emmanuel has informed the investors that the state still retains its status as most peaceful in the country Nigeria.
He made the assertion while playing host to the Consul General of Switzerland to Nigeria, Mr. Yves Nicolet, at the Executive Council Chamber, Government House, Uyo, on Tuesday.
Governor Emmanuel reiterated that Akwa Ibom remains one of the most peaceful states in Nigeria, and that wherever peace is found, investors find their ways down there.
The State Executive informed Mr. Nicolet who was in the state to explore opportunities for economic cooperation with the federation of Switzerland, that there are lots opportunities for investors in the state ranging from tourism, agriculture, textile, manufacturing, etc and expressed the believe that domestic market can support a lot of investments that can serve daily human consumption.
He promised to create enabling environment to strike good business partnership that will enable the Nigeria in general and Akwa Ibom State in particular to have some bilateral business relationships.
Governor used the opportunity to inform the Consul General of Switzerland to Nigeria of the activities of the Nigeria police staging a subtle siege against democratic governance which the people of the state resisted, adding that there are certain selfish elements, but this is the era that every single Nigerian must resist those selfish elements who took the resources of everybody just for their personal use and allow a lot of people to wallop in abject poverty.
Mr. Yves Nicolet, in his remarks, thanked the Governor and the good people of Akwa Ibom State for peaceful atmosphere despite the rift in the State House of Assembly, as well as the numerous projects executed by the Governor.
He was visiting the state to explore opportunities for economic cooperation with the federation of Switzerland, and that his task is to support the existing companies in the state and to bring new investors to the country as well as stimulate the economic change.
Deputy Governor Moses Ekpo, Head of Civil Service, Mrs. Ekereobong Akpan; Commissioner for Women Affairs and Social Welfare and Dean of Commissioners, Dr. Glory Edet; Commissioners, Chairmen of Boards and Technical Committee, Permanent Secretaries, among others were present at the event.