As ALGON XI defeat Selected XI in a novelty match
By Emmanuel Akpan
The maiden edition of Akwa Ibom State Chapter of Association of Local Governments of Nigeria (ALGON) was on Sunday, February 3, 2019 officially kicked off.
The opening ceremony which took place at the Uyo township stadium was followed with a novelty match between ALGON XI and selected XI.
Declaring the tournament open, the Chairman, Local Organizing Committee (LOC), Hon. Imoh Okon said ALGON
in collaboration with Grassroots Sports Federation (GRASOF) decided to put together a grassroots based football tournament with the theme "play right, vote right".
He said the competition is aimed at mobilizing grassroots across the length and breadth of the State for Governor Udom Emmanuel's second term bid.
The LOC chairman noted that sports is a unifying factor and that the competition is also aimed at unifying the Akwa Ibom people to speak with one voice for the reelection of Governor Udom Emmanuel and that the tournament is also targeted at discovery of local football talents.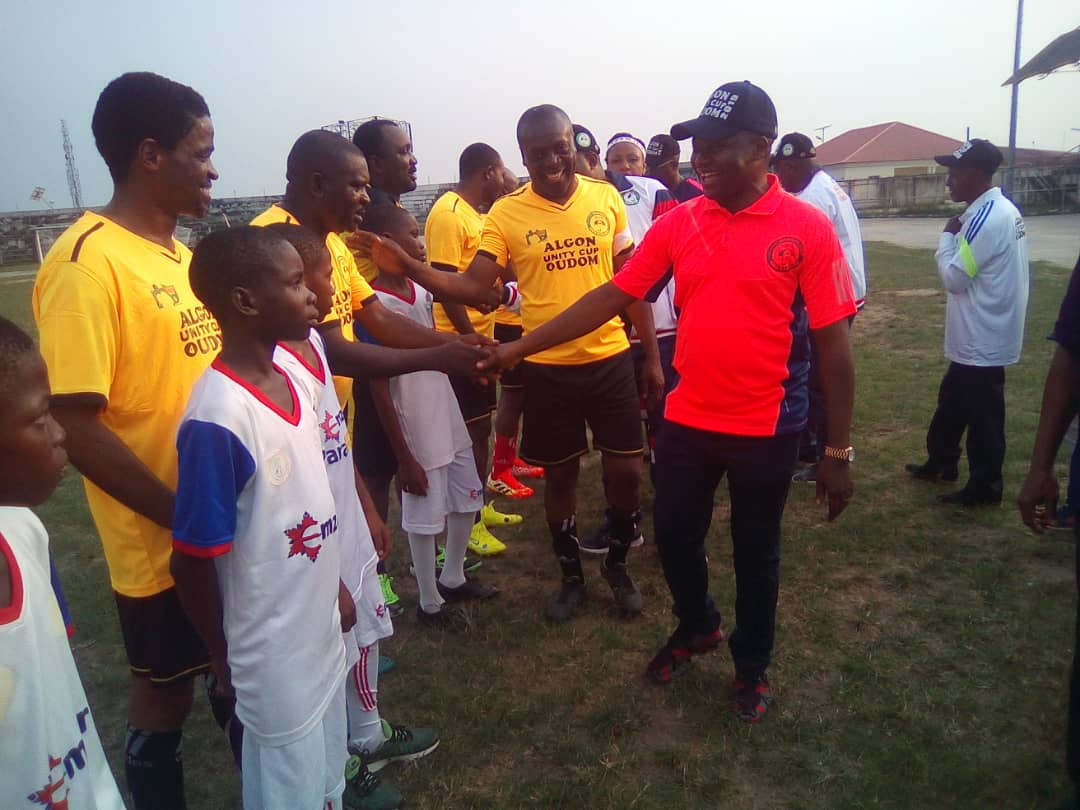 Okon informed the spectators that the preliminary stages of the competition will hold at the Federal Constituency centres, while the second round will be at the Senatorial District Headquarters, semi finals as well as finals will hold in Uyo.
Imoh Okon, who is the Executive Chairman of Uyo Local Government Area, called on the people to approach the entire exercise with maturity and respect for human life deviod of bloodshed and violence of any kind even as he charged relevant stakeholders to give maximum support and co-operation before, during and after the tournament.
Meanwhile, a novelty match took place as part of the opening ceremony between ALGON XI and selected Xi. The ceremonial game ended 1: 0 in favour of ALGON X1.