ANGRY MARKET WOMEN PROTEST UNDUE EXTORTION BY TICKET DEALERS
…insist on seeing Governor Emmanuel
A group of angry market women drawn from the popular Itam Market has today appealed to Governor UDOM Emmanuel to address the issue of unlawful collection of money from the traders.
The angry traders swinging different sizes of placards with bold inscriptions "NO MORE TICKET", "WE NEED FREEDOM", GOVERNOR HELP US" launched a protest to the government house, asking the government to liberate them from conscienceless people.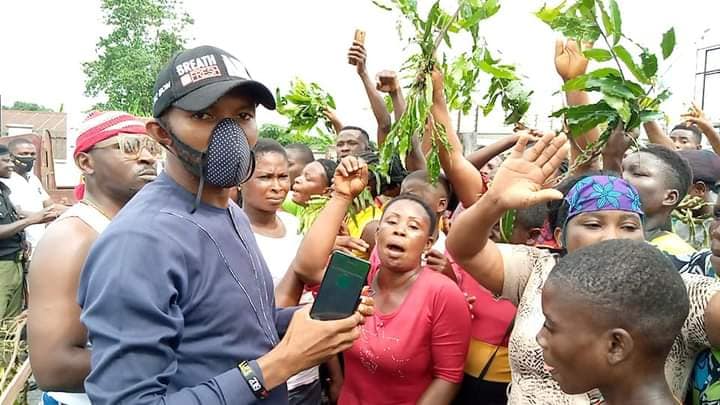 Accosted by a joint task force team, the women through their leader, Mrs Esther Victor Ekott after describing the Governor as a friend of the traders narrated how they have daily lost their fortunes to some unlawful group of people who milk them dry of their monies amidst bullying.
Ekott stated that despite the declaration of six(6) months free tickets to the traders by the Governor through his Special Assistant on Trade and Market Matters, some people still find it pleasurable to "forcefully collect from them the little they make, sometimes from sales of water leaf".
Addressing the angry mob, the Special Assistant to the Governor on Trade and Market Matters, Akparawa Idorenyin Raphael expressed dissatisfaction with their resolve to lead the protest to the government house despite his numerous attempts to placate the situation at the market. Raphael, who disowned knowledge of their ordeal assured the women that actions to end such inhumanity are already on ground, adding that the Chairman of Itu LGA, Barr. Etetim Onuk will liaise with the market authorities to proffer a solution to their cry.
Also speaking with the peeved market women, the Chief of Staff to the Executive Governor of Akwa Ibom State, Engr. Ephraim Inyang-eyen bemoaned the unjustifiable extortion of monies from the traders despite the hard economic realities occasioned by the coronavirus pandemic.
The Governor's Chief of Staff who told the angry women that he was sent by the Governor assured them of the government's prompt response to their appeal, after a phonecall with Barr. Onuk, asking him to call at the government house immediately. Inyang-eyen advised the women to go back to the market as the Government will immediately intervene and give them justice.