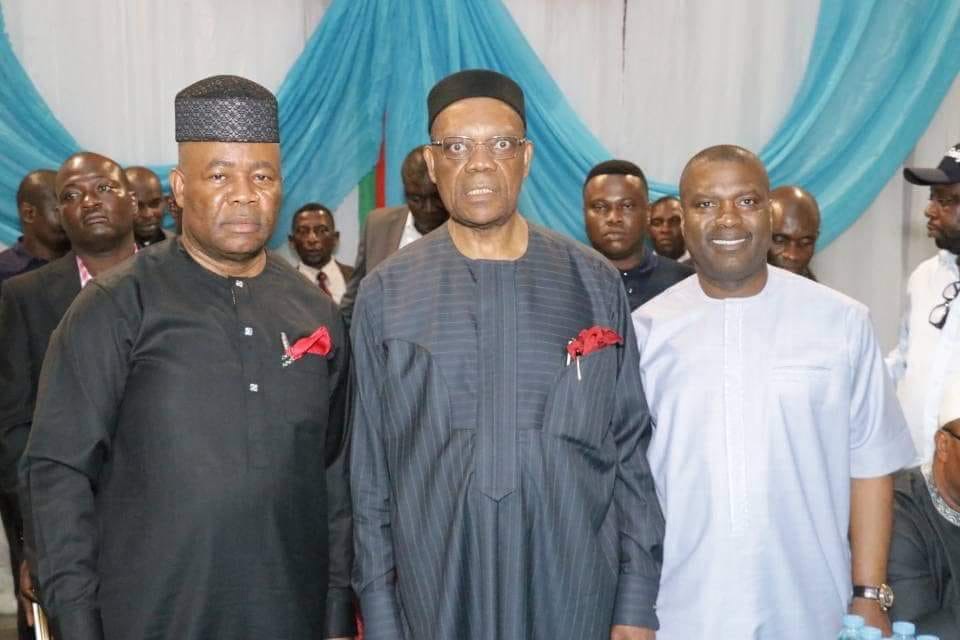 Ahead of the coming general elections especially the gubernatorial, the former Governor of Akwa Ibom State Chief Godswill Akpabio and leaders of his APC at the National level have concluded plans to replace the leaders of the security formations in the state and the Resident Electoral Commissioner, Igini.
The plot, THE INK gathered is to ensure that the ex Governor and his APC faithfuls rig and install a governor of their choice come 2019.
Amongst those to be redeployed are; the State Director of DSS, the commandant of the Ibagwa Army and his counterpart along Udo Udoma Avenue and the commissioner of Police.
It was learnt that the plot to get rid of these officers and the INEC REC was conceived at a meeting held at the instance of Akpabio with some major players of the APC who are top shots of the coming general election.
It was opined at the meeting that the ex Governor believes and drummed it into the consciousness of his party faithfuls that if the officers and the INEC REC are not dislodged, that it won't be easy for the APC to defeat the PDP especially as the men are said to have developed soft spot for Udom Emmanuel because of the Governor's humane and kind disposition to governance.
THE INK can report matters of fact that security operatives say Governor Emmanuel's style of leadership have made it possible for them to work very effectively as the rave of crime in the State has gone down to an all time low.
The REC who is known to be straightforward and upright in his dealings is said to be a target of removal by the APC because of the man's refusal to accept the rigging of the election. Planned by Akpabio and members of his new Party.
The final decision to consolidate on the removal of the security chiefs and the INEC REC, THE INK gathered was said to have been arrived at shortly before Akpabio joined the NEC meeting of the APC where it was confirmed that he will be on the President's trip to China.
A top source in the APC confirmed this development and said, it is federal might and we have to use it very correctly and wisely.
As at when our reporter interacted with some leaders of the APC at the venue of the burial of Iyanam, most of them acknowledged that anyone who intends to stand on the way of victory of the APC must be pushed aside irrespective of such person's place of origin.
One of the Elders said, Da, there is no sympathy for PDP and Udom Emmanuel. Every Arsenals must be deployed to bring down PDP gaskia
Culled from Ink Newspaper