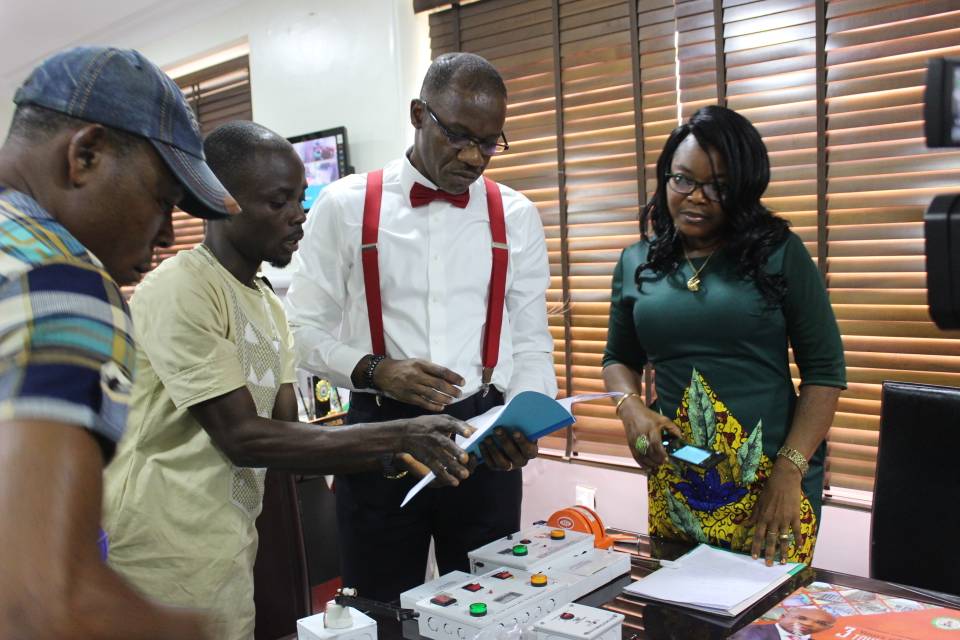 The Commissioner for Information and Strategy, Charles Udoh is to present ten electrical fabrications of a budding inventor from Udung Ukpong, Okobo LGA to government for patronage, from among the entries received at Udomcares Citizen Centre.
Satisfied with the demonstration by the fabricator, today in his office, the Information Boss who described the youth as a wizard in the field, said, he was ready to take up the inventions with appropriate government authority to ensure patronage and utilization of the facilities by both government and members of the public.
Charles Udoh who took out time to interface with some citizens who sent-in different inventions and products for government support and patronage through the Citizen Centre as well as respondents to his numerous sensitization Live Radio interactive programmes, lauded the initiatives of the youths who have keyed into the Dakkada initiative of Governor Udom Emmanuel by engaging in positive ventures and skills acquisition rather than idle away aimlessly or indulge in criminality and social vices.
He called on other members of the public especially unemployed youths to join the train and arise to the faith of greatness by emulating many other young Akwa Ibom indigenes who are showcasing their talents in different fields and vocations to better their lots and also contribute to the development of the state at their different levels.
According to the Information Commissioner, Udomcares Citizen Centre was opened to enable the public send feedback, views and suggestions towards participatory governance to government through sms or whatsapp to phone nos 09076173782 or email to citizen@akwaibomstate.gov.ng and urged members of the public key into the development processes of government.
Among those who made presentations to the Commissioner or benefitted from the interface were: a budding inventor who made a demonstration of a fabricated Digital Security Traffic Lightening System, an artist from Mbierebe Akpawat who presented his graphic designs, a digital marketer who presented his plan and a bereaved youth, Peter Jude who received a cash donation of N50,000 towards the burial of his late sister, which the commissioner promised during a Radio phone-in programme.
#Udomcarescitizencentre!!!
#Charlesudoh!!!
#aksmoist!!!