These used to be common questions thrown to children in times past. What course do you intend to study in the University or what career would you pursue when you grow up?.
These questions to children have lessened in recent times, probably due to the fact that those courses or careers do not solely impact much on the person's livelihood as were, in a struggling economy like ours in Nigeria.
The reduced confidence on career support has reduced the importance of career counseling; and this has affected the Nigerian child, who now lacks guidance to what best courses or career suites his/her natural or academic capabilities.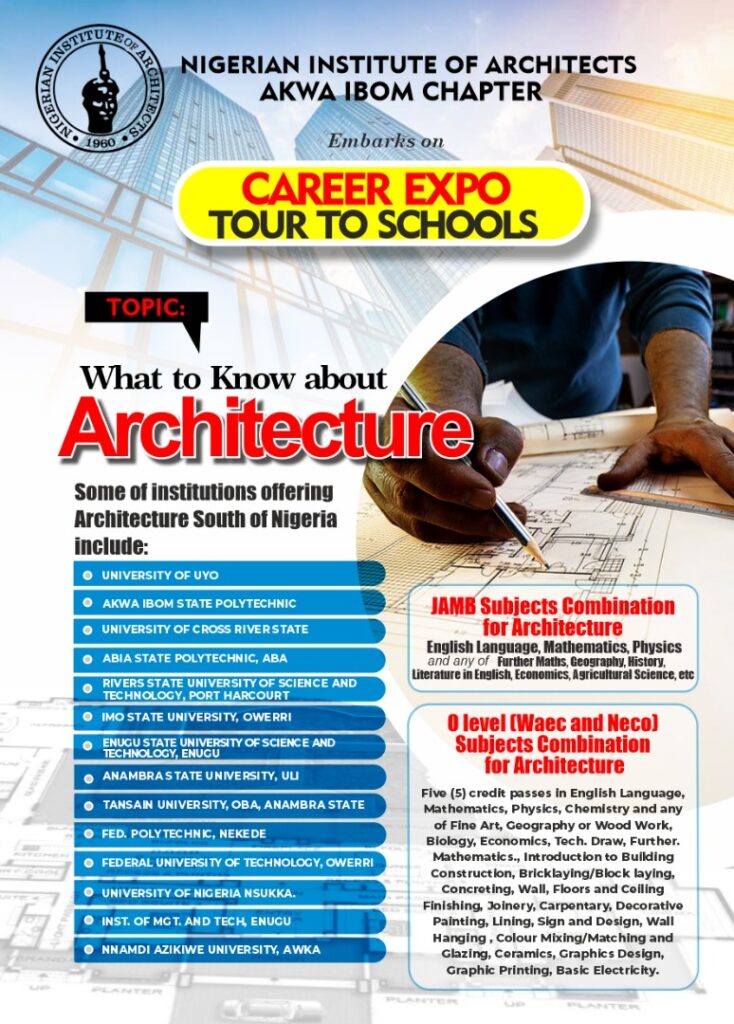 Many other factor such as societal pressure, peer pressure, family pressure etc push students into career routes that are not suitable for them. Moreover, the child goes ahead to take up subject of study in school, that are not related.
But all hope is not lost, as the Nigerian Institute of Architects (NIAAKSC), Akwa Ibom State Chapter embarks on career tour in schools across the three senatorial districts to address the situation.
The event begins Tuesday, 25th May, 2021 at Government Technical College, Ewet Offot, Uyo LGA. Akwa Ibom State at 11am.
In a release by the Chairman of
The Nigerian Institute of Architects, Akwa Ibom State Chapter (NIAAKSC), Architect Enobong Equere, she stated that the career counseling tour to schools in Akwa Ibom State would serve as an opportunity to give advice to the students on the career routes best suited for them. Cited instances where students have to go through routes that are not suitable to their natural or academic flair thereby put a strain on the students, and make them appear not intelligent enough; whereas the students would have possibly excelled in academic/ career routes attuned to his passion.
The chairman further stated that NIA AKSC would remain committed to building a better living environment, under the employment of qualified professionals
©️Arc. Akwaowo, Dianabasi
PRO
NIAAKSC