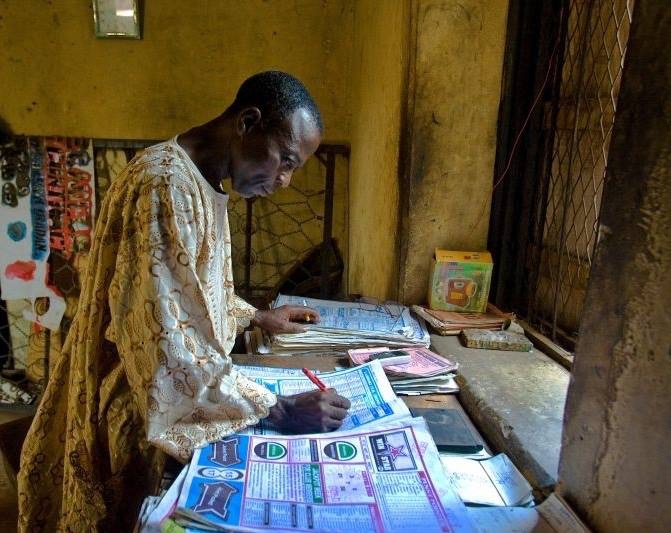 Mr. Matthew Owoimaha Ikotidem is a household name in Obio Idung Community. Popularly known and addressed as Mr. Coupon, this father of ten has successfully carved a niche for himself in sports' betting. Living in a rented two room apartment in the outskirts of Uyo, Mr. Coupon's days are interwoven with cringing worries: inability to afford three square meals for the family, inability to pay house rent, inability to pay children's school fees, and most importantly, inability to win a hefty sum of money in betting.
Tuesday, April 10, 2018, began like every other day, but for Mr. Coupon, the day offered hope of a changed fortune. Seated on a rickety wooden chair which is the only furniture in his living room, Mr. Coupon is busy forecasting results of football matches to be played around the globe. He is busy flipping through pages of coupon booklets normally heaped in a corner of his bedroom which he shares with his wife and children.
With the aid of foolproof system and keys, Mr. Coupon penciled down nine matches on a sheet of paper and headed to the nearest betting shop to place the bet with 1,000 Naira which he stole from his wife's purse. Mr. Coupon's wife is a food hawker (Mama-Put) – she uses proceeds from the business to feed the family.
"Eyo, I have come again today o! Abeg, stake these games for me, I want bet with this N1,000", said Mr. Coupon as the shop attendant, Eyo wasted no time in doing as told. Receiving a printed slip from Eyo, Mr. Coupon sauntered away en route a local bar.
Hours later, he drank himself to stupor from drinks bought by a certain House of Assembly aspirant. He fell into deep sleep and unconsciously remained there till the next morning.
Passersby shrugged their shoulders as they saw him muddled in dirt, staggering home after the previous day's exploits.
Fierce hunger notwithstanding, Mr. Coupon mustered strength to yell at his youngest son, Umoabasi: "Da Owo, bring your phone." Umoabasi did as commanded.
(pulls out the printed paper slip from his pocket) "Check the results of the matches on this ticket", said Mr. Coupon as he handed over the slip to his son.
Umoabasi couldn't believe his eyes. His father's prediction panned out accurately. Through his countenance, his father decoded that good news has arrived. He snatched the phone from his son and perused the results. Behold, every prediction delivered!
Ecstasy compelled Umoabasi to perform somersaults at the frontage of the house. Mr. Coupon grabbed a bottle of locally refined gin and drank copiously. He dashed outside mouthing statements like: 'e don happen, I am a millionaire, Mr. Coupon has become Mr. Million, God punish poverty, I don hammer' et al.
His utterances attracted neighbours who thronged into the compound to enquire what happened to Mr. Coupon.
Facing the crowd, Mr. Coupon sang: "He's a miracle working God, He's a miracle working God, He's the Alpha and Omega, He's a miracle working God." Neigbours joined in the rendition which was interwoven with frenetic dance moves.
Half an hour later, Mr. Coupon paused singing and addressed his visitors: 'wonderful neighbours, I welcome you all. The fact is that I've won 20 Million Naira. That's my simple message to you now, but be prepared to hear more from me by tomorrow evening. You can now retire to your respective houses.'
The time was 7:45 pm. The late evening's rain had drizzled to a stop. Mama Umoabasi was returning from the day's sales when neighbours approached and broke the news to her. Pronto, she abandoned her wheelbarrow and ran straight to her husband.
"Hallelujah", shouted Mama Umoabasi in quick succession.
Mr. Coupon barked: 'woman, calm down. Thank God you know that our season of Nairalessness is over. Now, listen to me, woman! You must apologize for all the insults on me during the years of hardship.'
'Papa Umo, my love, you know I respect you a lot. Okay, forgive me. I am sorry', she apologized.
'This financial breakthrough calls for celebration, we must throw a party for our neighbours. I will receive the jackpot later, but before then, you must cook a sumptuous meal for our visitors. Tomorrow is the D-day. You will also provide money for the purchase of drinks. Woman, do that with immediate effect', Mr. Coupon ordered.
Mama Umoabasi wasted no time in walking into the bedroom. She came out with a black nylon bag containing N100,000 –her one-year savings. With the money, a sumptuous feast was organized.
Friday, April 13, 2018, the D-day arrived. Quests were seated before 5pm. The locals entertained quests with traditional music. Everyone turned up. Mr. Coupon's drinking peers didn't miss the treat. Effefiong, the notorious drunk was the first to arrive followed by Idung-Imaha, the chronic smoker whose tooth is painted by huge layers of tobacco stains. Edet Mkpatat, with his trademark torn jean trousers which Effefiong once joked to be as old as Nelson Mandela, arrived moments later. Everyone arrived before the celebrant in rented suit accompanied by wife and children emerged from the house amidst cheers from the crowd.
Dancing ensued for an hour before Mr. Coupon gave his speech:
"Ladies and gentlemen, I believe by now you must have known why we are gathering here. Well, for the sake of those who just arrived from Jupiter, I am proud to announce that I have become a multi-millionaire through sports' betting. You are permitted to talk, laugh and have fun with me for the last time in your lives because I will soon leave this enclave of poverty for Abuja where I will settle down close to Aso Rock. President Buhari will soon be my neighbour…"
Edet Mkpatat interjected, "You know we were friends o. Don't forget me o. Don't leave me here o."
Mr. Coupon ignored his friend's statement but commended his friends for celebrating his achievements and 'advised' them not to relent in placing bets because one day "your day of joy will arrive."
Night fell, the quests dispersed; Mr. Coupon and family retired to their house.
Saturday, April 14, 2018, the D-day for Mr. Coupon. He hired a police officer who accompanied him to the betting shop. His friends: Effefiong, Idung-Imaha and Edet Mkpatat followed closely uninvited.
Mr. Coupon flaunted the betting slip, and Eyo, the betting shop attendant, received it and conducted checks on it on his computer system. The system revealed that all nine but one matches were accurately predicted. Liverpool defeated Manchester City at the Etihad Stadium in the UEFA Champions League but Mr. Coupon had mistakenly selected the code of the same fixture in the UEFA Youth League where both teams played a goalless draw.
Eyo relayed the information to Mr. Coupon who stared at the roof of the shop in disbelief. His legs gave way as he slipped into coma. The Police escort escaped into thin air even as the trio of Effefiong, Idung-Imaha and Edet Mkpatat, mustered courage to carry their friend shoulders' high to a nearby General Hospital. And he has been in coma ever since.
by OFONIME Honesty