The Akwa Ibom State Police Command wishes to inform the general public that the Inspector General of Police, IGP Mohammed Abubakar Adamu, NPM, mni, has posted a new Commissioner of Police to Akwa Ibom State Police Command. He is CP AMIENGHEME INOBEME ANDREW, fdc. The new CP took over from his predecessor, CP. Imohimi Edgal as the 30th Commissioner of Police deployed to the State.
The new Police Boss holds a Masters Degree in Public Administration (MPA) from Lagos State University and a Bachelor of Science (B.Sc.) Degree in Economics from Bendel State University, now Ambrose Alli University.
The Senior Officer was appointed into the Nigeria Police Force as a cadet Assistant Superintendent of Police in 1988. He has served the force meritoriously in various capacities within and outside the country, among which are:
– Divisional Police Officer, Oshodi, Lagos;
– Area Commander, Auchi, Edo State;
– Director, Field Training, Police Staff College, Jos;
– Deputy Commissioner of Police, Department of Operations (DOPS), Bayelsa State Command;
– Deputy Commissioner of Police, Zonal Criminal Investigation and Intelligence Department (ZCIID), Calabar.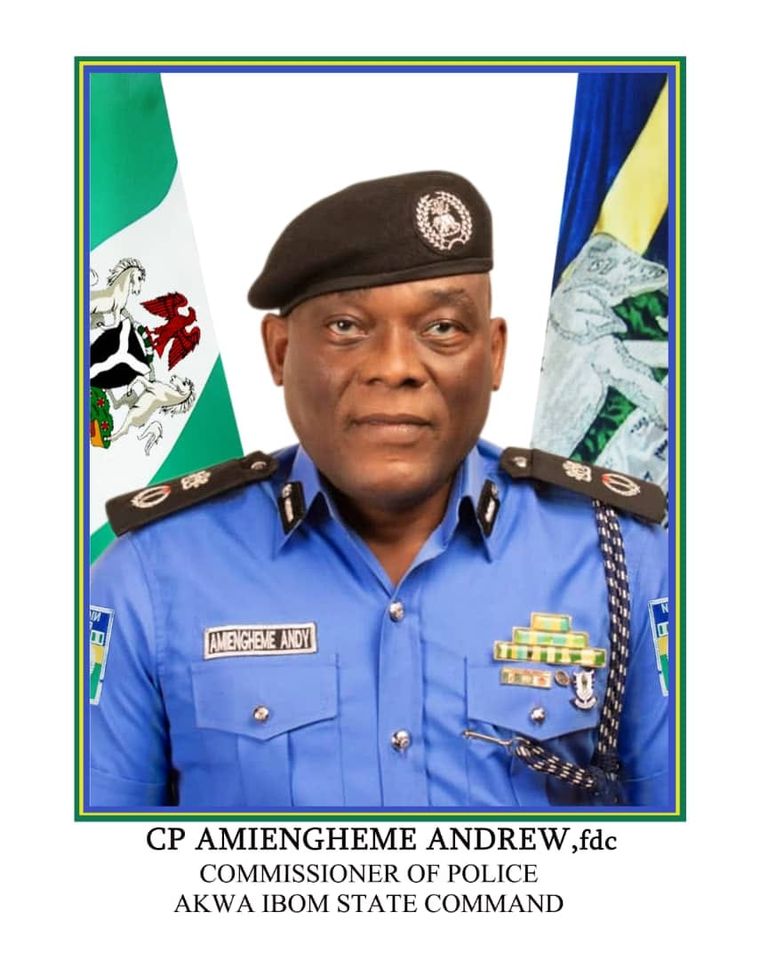 Internationally, CP Amiengheme Andrew, fdc has served in two United Nations Missions as IPTF Station Bugojno and Gradisca Station Commander in Bosnia Herzegovinia. Also, he served as a pioneer peace keeper under United Nations Mission in Kosovo; and Peace Keeping in the African Mission, Dafur, Sudan (AMIS), where he was in charge of Maintenance at Joint Logistics (JLOC) of the Missions Headquarters, El-Fashir.
The Commissioner of Police, who is a reputable Administrative and Operational Officer, has affirmed the need to strengthen visibility and community based partnership in policing in line with the policy thrust of the Inspector General of Police and international best practices to bring crime to the barest minimum in the State. He therefore requests the good people of Akwa Ibom State to accord him the needed support for effective and efficient policing of the State.
*CSP N-NUDAM K. FREDRICK*
POLICE PUBLIC RELATIONS OFFICER,
FOR: COMMISSIONER OF POLICE,
AKWA IBOM STATE.