Barely few weeks after the first made in Akwa Ibom Syringes were rolled out into the market, another made in Akwa Ibom product, "ENIN'S Shoes" are set to hit the market in two weeks.
This was made known early today when the State Governor, Mr. Udom Emmanuel represented by the Secretary to State Government, Dr. Emmanuel Ekuwem, undertook a tour of projects in Mkpat Enin as part of activities marking the first 100 days in office of the Chairman of Mkpat Enin, Hon. Ekanem Brown.
Enin's shoes, is the trade mark for shoes produced in the first Shoe making factory in Akwa Ibom State located within the premises of Mkpat Enin local government headquarters and owned by Mkpat Enin local government.
Enin's shoes label, producing all types of foot wear, such as Canvass, Sandals, Force boots and fashion shoes, have a warranty of two years, very affordable and made for all age grades and classes of people.
Speaking at the Occasion, the representative of the Governor said with factories such as the Mkpat Enin shoe factory, the industrialization-drive of Governor Udom Emmanuel was receiving a boost adding that, the future of Akwa Ibom is bright.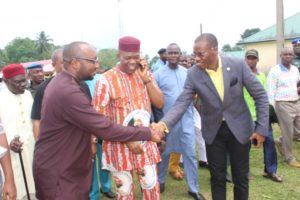 He commended Mkpat Enin Chairman for undertaking the venture, which is gearing at the development of the local government and also expressed delight at the demonstration farm of the local government while urging other local government areas in the state to emulate the initiative of Mkpat Enin by engaging in Agriculture.
Speaking also on the shoe factory, the Commissioner for Information and Strategy, Mr. Charles Udoh said the projects undertaken by Mkpat Enin are in line with the development blue print of Governor Udom Emmanuel in the areas of job creation, poverty alleviation and wealth creation and urged youths in the area to take advantage of the opportunity to better their lots.
The Chairman of Mkpat Enin who took the Governor's representative, the Information Commissioner and other members of the state executive council present at the occasion on tour of the projects said, the driving force for the ventures is the power supply from the Ekim electricity sub-station of Governor Udom Emmanuel-led administration.
He therefore expressed appreciation of Mkpat Enin people to the state Governor for the power sub-station and other projects executed in the local government including; the Coconut plantation and Coconut Refinery.
Members of the State Executive Council at the projects' tour were: the Commissioner for Finance, Mr. Linus Nkan, the Special Adviser, Political and Legislative Affairs and Water Resources, Barr Ekong Sampson and the Special Assistant on Technical Matters and Due Process, Elder Ufot Ebong.