Last August, Nigerians were stunned when FIFA announced a life ban from football and 50 000 Swiss francs (about N18.6 million) fine on former Super Eagles coach Samson Siasia.
At the time, the world football governing body did not elaborate on what the 51-year-old former striker did to justify the heavy punishment, apart from a statement saying that he was "guilty of having accepted that he will receive bribes in relation to manipulation of matches in violation of FIFA Code of Ethics."
Siasia was subsequently found guilty of having breached art. 11 of the FIFA Code of Ethics (2009) and banned for life "from all football-related activities (administrative, sports or any other) at both national and international levels."
There was no mention of the specific match or matches that Siasia had agreed to receive bribes to manipulate.
A FIFA circular has now emerged explaining what Siasia did to fall foul of the Fifa Code of Ethics.
Here is the full text of the circular:
The case of Samson Siasia, head coach, Nigeria Football Federation
Matches: general conspiracy
FIFA proceedings
Mr Siasia engaged in email exchanges with the convicted match-fixer Mr Wilson Raj Perumal between March and April 2010, which came to the attention of FIFA and led to the opening of a preliminary investigation into the matter by FIFA Integrity.
The investigation found that Mr. Siasia had conspired with Mr. Perumal in order to be recruited as a coach of an unidentified Australian club allegedly under the control of Mr. Perumal. Mr. Siasia agreed to follow the instructions of Mr. Perumal and engage in match manipulation activity once recruited by the unidentified Australian club, and to enroll players who were willing to cooperate with Mr. Perumal in the first-team squad of the club.
Furthermore, Mr Siasia allegedly agreed to ignore and accept the match manipulation actions of the unidentified players conspiring with Mr Perumal.
Conclusion
The conclusion of the preliminary investigation resulted in the opening of formal proceedings against Mr Siasia. On 16 August 2019, the independent Ethics Committee imposed a lifetime ban and a fine of CHF 50,000 on Mr Siasia for having breached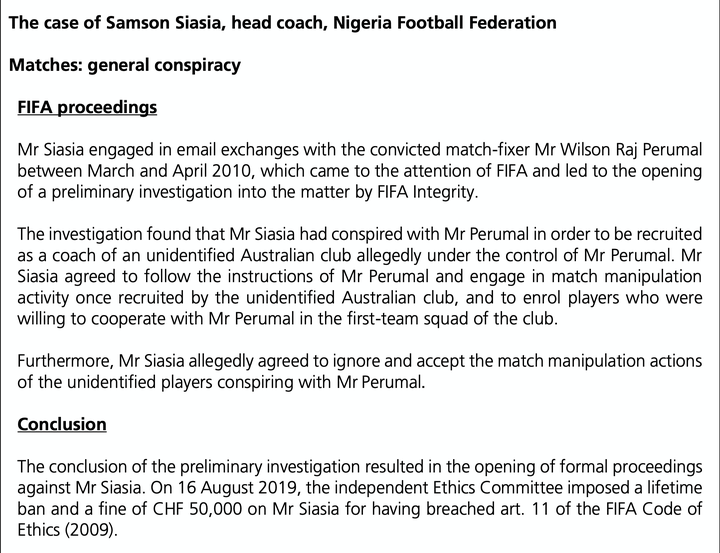 Siasia has however denied that the agreed to accept bribes from Mr Perumal, saying his discussions with Mr Perumal were limited to regular, benign payments
"What we discussed was my sign on fee and salary. All those other things, I don't know anything about it," he said.
Siasia, who did not get a chance to defend himself in front of the FIFA Adjudicatory Chamber because he missed the emails inviting him to appear, has now appealed the case to the Court of Arbitration for Sport and has been scheduled to appear on March 19.
"I am innocent and I will fight to clear my name," he said.
The former Nigeria striker also set up a GoFundMe page last week with the goal of raising $250 000 for his defense. Uptake has been slow, with only $225 raised as of Thursday afternoon.
Click here to donate to Siasia's GoFundme
However, according to Segun Odegbami, some well-meaning Nigerians are donating offline, and two of them have already pitched into the tune of $15 000 so far with more expected to join in.