By Umoh-Obong Kingsley
Akwa Ibom State Governor, Mr Udom Emmanuel, Saturday took the campaign rally for his second term, to Ikot Ekpene local government area.
The Ikot Ekpene Township Stadium, venue for the rally was filled to its capacity with indigenes of the Raffia City in appreciation of the numerous developmental strides of the Governor in the area within the three and a half years of his administration.
Addressing the people, Governor Emmanuel he did not come to campaign in Ikot Ekpene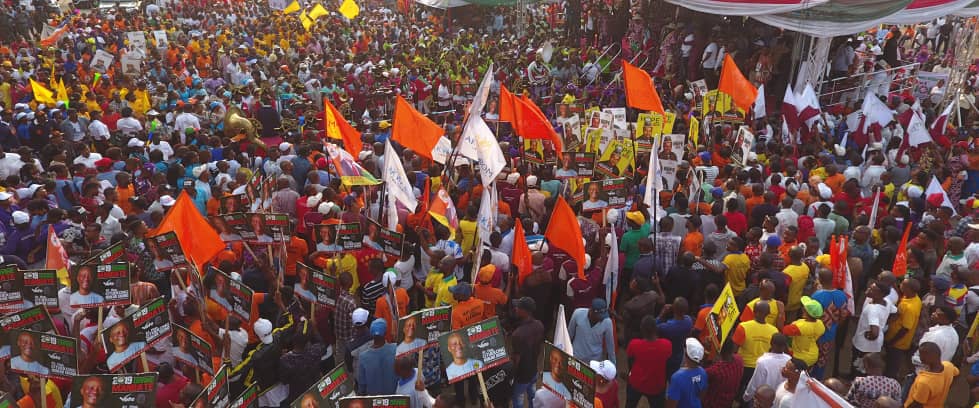 He said people have tried but are unable to enumerate all thst have been done in Ikot Ekpene.
The Governor of the dualization of 25.0km Uyo–Ikot Ekpene Road, saying that deserves an applause having constructed 21km of the road in just three years, after only 4.3km was constructed in 8 years and abandoned by the immediate past administration.
Governor Emmanuel further disclosed that he had had to pay 72.2 million US Dollars in order to maintain the name 'Four Point By Sheraton Hotel', and everything has been put in place for operations to commence in the hotel.
He stated that a set of people wanted to convert the hotel, which he said was never a hotel until after an agreement was sign recently, to their personal property but he fought because it is a property of the entire Ikot Ekpene people.
The state Chief Executive pledged to consolidate his industrialisation drive in area as encapsulated in his 8-point Completion Agenda.
The Director General of Divine Mandate Campaign organisation and former military governor of the state, Air Commodore, Otuekong Idongesit Nkanga, informed the people that anybody can build any road provided you mobilise contractors to the sites. "But it takes integrity which is more than money to attract investors into a state.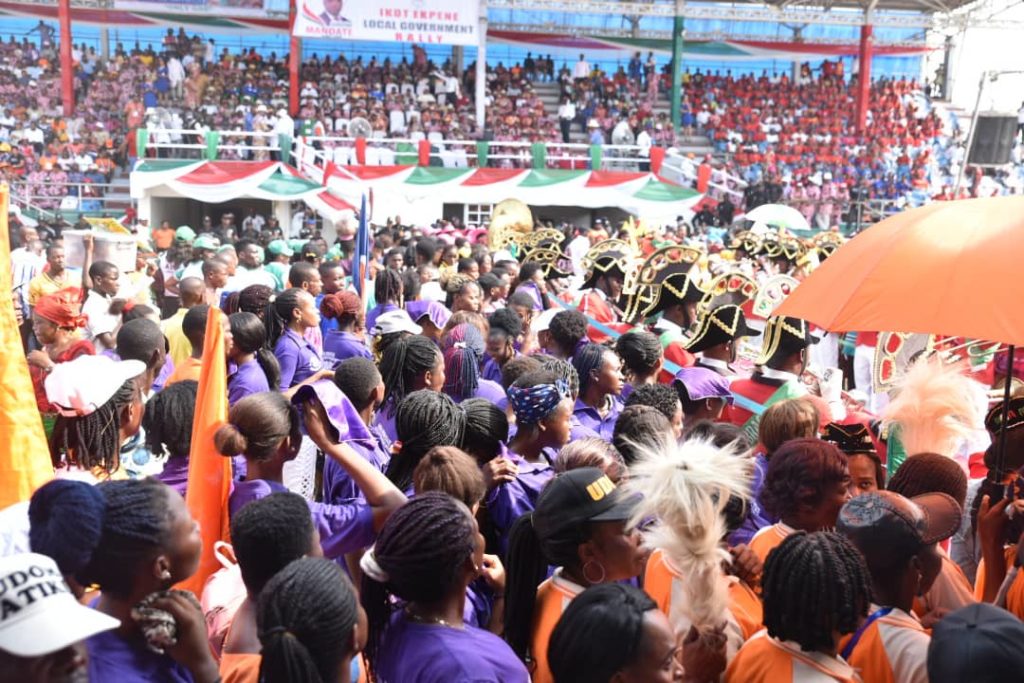 "Governor Emmanuel, the most sought after Governor in Nigeria, has done exceedingly well."
Ikot Ekpene Chapter Chairman said Ikot Ekpene people have refused to be led by sentiments but decided to be led by conscience, saying "Because you have led us with conscience, we will vote you. What is happening today is about the future of Annang and we will stand to protect our future.
"Private sector drives the economy of any society and you have given the private sector a boost. You have our supports."
Congratulating the Governor for the victory awaiting you in the forthcoming elections, Mr Leo Leo Umanah, who spoke for the youths, said God is with the Governor and that nothing can stop him.
According to him "if they try to stop you, God will stop them because nothing can stop the righteous man with a right vision from succeeding.
Chairman of Ibom Power, Engr. Etido Inyang, said Ikot Ekpene is intact and will deliver Governor Emmanuel 100 percent because he has liberated them, and that they will never return to the dark days.
He said Governor Emmanuel is not a matching mate with the APC candidate who he said could not even succeed in virtually all the offices he had occupied.
Speaker after speaker, the people eulogised the Governor and enumerated some of the achievements of Governor Emmanuel in Ikot Ekpene to include dualization of 25.0km Uyo–Ikot Ekpene Road; construction of 4.2km Abak Ifia–Ikpe Mbak Eyop – Ikot Abia Osom – Nko road and Spurs in Ikot Ekpene and Obot Akara Local Government Areas; and takeover of Technical College, Ikot Udoe, Ikot Ekpene.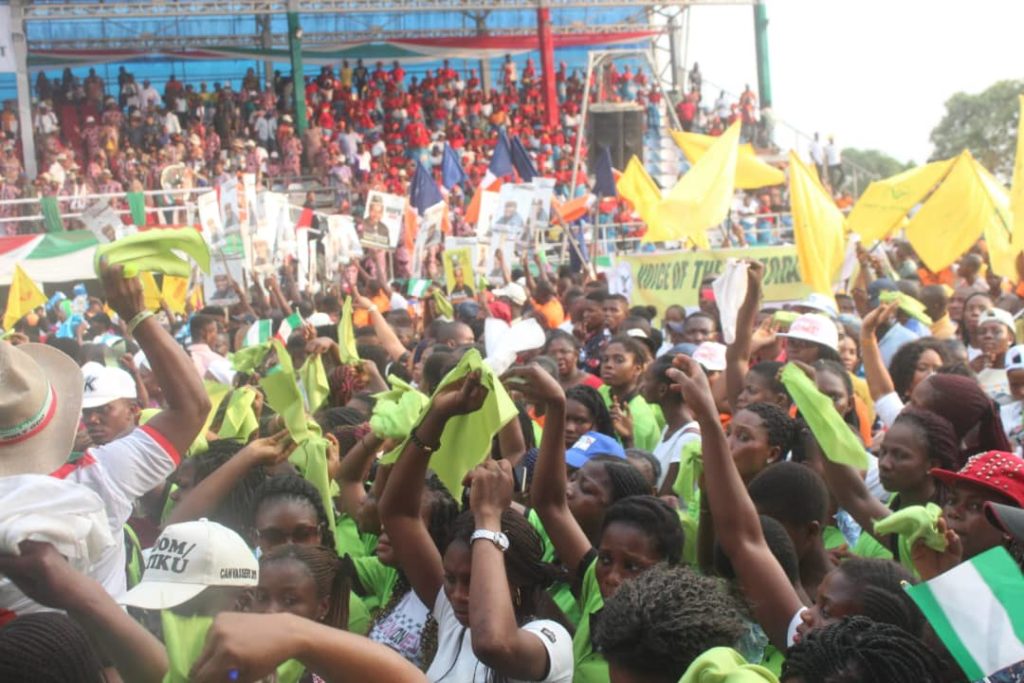 Others are takeover of Community Secondary School, Urua Obo/Ikot Ata-Usung/Ikot Obong Odoro; Construction of Emergency Operation Centre at Infectious Disease Hospital; Electricity at Essien Road; and Renovation of Exam Hall at Goretti Juniorate, as well as the renovation/reconstruction of 2 No. 3 Classroom Block/Office at P/S,
Esa Atan; VIP Toilet/Borehole at Ikono Park, and production of 500 Dual Desks.
Similarly, the people of Obot Akara gave a colourful show of support and unparalleled solidarity for the PDP led by Gov Udom Emmanuel.
The tone of the speeches showed the LGA is happy Udom has touched lives after years of neglects.