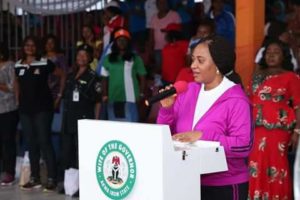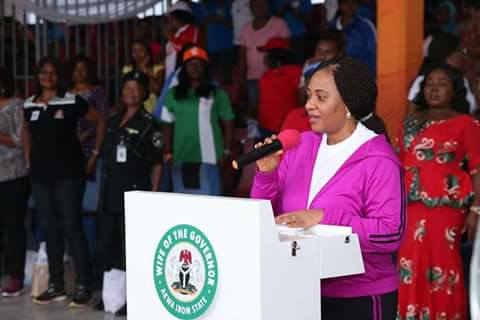 To usher in the 2018 International Women's Day in the state with the theme : Press For Progress, Legislators Wives Association (LEWA) today locked horns with Forum of Female Appointees at the Uyo Township Stadium.
The match which had the Wife of the State governor, Mrs. Martha Udom Emmanuel in attandance saw her perform the symbolic kick off.
In her remarks at the novelty football match, Mrs. Emmanuel urged the women to continue to exhibit the spirit of sportsmanship, saying the theme of the year is a call for a harmonious peaceful coexistence at all levels.
She asserted that for progress and development to take place in a society, unity remains the bedrock.
The governor's wife further admonished the women to eschew divisive tendencies especially as the general elections draws nearer.
The match which signaled the start of the weeklong activities ended 2-0 in favour of LEWA.
Koko Udonquak reports