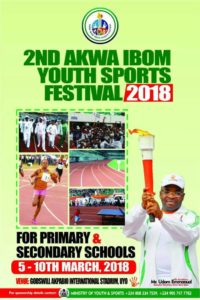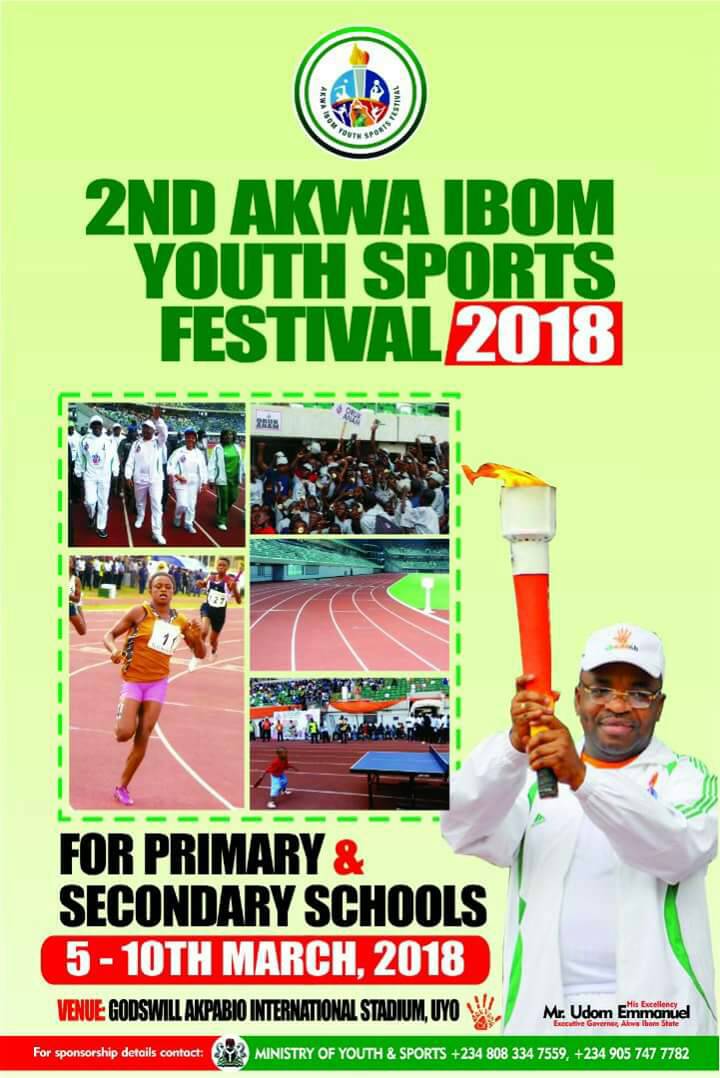 By Osondu Ahirika
As the Second Akwa Ibom Youths Sports Festival goes into full trot on March 6, 2018, all well meaning Akwa Ibom people should rally support for our children as they engage in healthy competition.
On March 1, Governor Udom Emmanuel presided over the draws for the historic event.
Represented by his Deputy, Mr Moses Ekpo OFR, all is now set for the epic sports fiestas beginning March 6-10, 2018 in various venues within Uyo, the Akwa Ibom State capital.
Several events are in the offing of including
Indoor and outdoor games. As Promise Etim, a Sports analyst writes,
Over 12,000 athletes will be participating in 25 sports within eight venues around Uyo.
The Godswill Akpabio International Stadium will host Athletics, Chess, Karate, Kung-fu, Scrabble, Para-Athletics, Para-Table Tennis, Table Tennis, Taekwondo and Wrestling.
Boxing, Judo, Trado(Mbok), Para-Powerlifting and weightlifting will hold at the Uyo Township Stadium. The magnificent West Itam Sports Centre will host Volleyball, Handball and Basketball.
Squash Rackets and Tennis will be played at Uyo Club, while Badminton will be played at the University of Uyo Community Centre. Meanwhile, Baseball/Softball, Cricket and Cycling participants will be competing at Aka Community Secondary School, Four Towns Secondary School, Abak Road and Udo Udoma respectively. However, Football will be played simultaneously at Godswill Akpabio International Stadium, Uyo Township Stadium, West Itam Sports Centre and other centre.
We must commend the innovative Hon. Sir Monday Uko, Commissioner for Sports, Akwa Ibom State, for reviving grassroots sports in the State and giving our youths a platform to not only showcase their talents, but develop their competitive edge and acumen and experience while eyeing the world stage. Sir Uko has recorded many firsts as Commissioner for Sports in Akwa Ibom State and has surpassed all that have held that office in performance and results. We shall do justice to this assertion in due course.