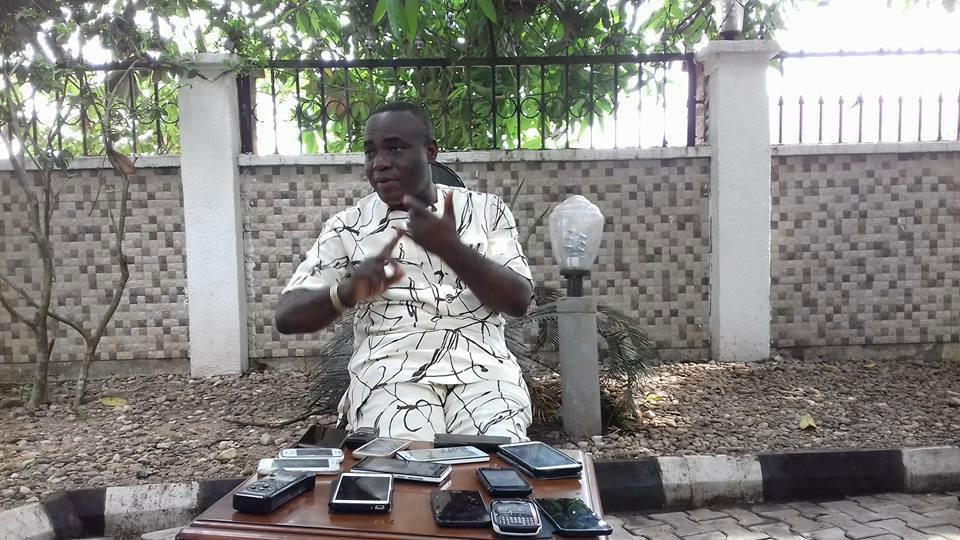 By Aniekeme Akpan
Every Akwa Ibom person is now familiar with his chorus.
These days, once he sets his foot in Akwa Ibom State and drops his bag, the first place he would head to would be  a radio station – PlanetFM, most preferably to repeat his familiar chorus "Akwa Ibom, people, what is the Government spending your money on?"
His younger colleague in the law profession, Barr Inibehe Effiong was perhaps the first to come out publicly to call Ita Enang with the name befitting of him – A shameless, selfish (former) lawmaker who is driven by his stomach.
In an article, Inibehe Effiong had echoed the consensus opinion of millions of Akwa Ibom people on the hypocrisy that defines Ita Enang's political commentaries when he wrote elaborately on Sahara Reporters that:"….Ita Enang is a very selfish, unprincipled and greedy politician…Enang had practically mortgaged the rights of those he was elected to represent for personal political aggrandizement. What a wicked, hypocritical and shameful cacophony of an expired politician! Our people are no fools; they know that his vituperations are self-centered and utterly frivolous. We cannot carry placards for him because he was never, he is not, and will he will never be our hero. Let him suffer the afflictions brought on him by the ghost of stewardship alone.  As a proud indigene of Itu Local Government Area of Akwa Ibom State that Ita Enang has been "representing" since 1999, I know how unpopular he is. Ita Enang is known and celebrated in Abuja but hated at home. He has never won in a free and fair election. Effective representation is more than speaking fanciful and seductive English in Abuja; it encompasses defending the interests of the constituents.  Ita Enang is claiming that he has given out scholarships to his constituents and that he will never be tempted to publish names of the beneficiaries. But that is a big lie. Throughout my university days in the Faculty of Law, University of Uyo, I never heard of any such scholarships. I did not just passed through the university, the university passed through me. So there is no way such scholarship scheme would have existed for students of my constituency that Ita Enang has been "representing" for the past 15 years without my knowledge. Ita Enang is completely out of touch with his constituents. He should first account for the huge constituency allowances he has received since 1999 as a National Assembly member."
For a lawyer of Sen Ita Enang's standing, it is rather shocking to hear him sound like a broken record on the issue of Akwa Ibom State finances.
It is common knowledge that the Governor Udom Emmanuel-led administration had published the approved budget for the year 2017 on the state's website  where it can be accessed from anywhere in the world.
Funds accruing to Akwa Ibom State as monthly allocation from the Federal Account Allocation Committee (FAAC) are published on National Dailies and on the website of the Federal Ministry of Finance.
Unlike other states in the Federation, The Governor Udom Emmanuel administration is not failing in its primary responsibility of workers welfare through prompt payment of salaries and other entitlements. The administration is investing heavily on building new infrastructure and revamping old ones. On the flank of industrialization which was one of the agendas of the present administration, there has been an inflow of investors to the state. Turbines of new industries are currently running.
I am sure that Ita Enang knows all these  and is secretly impressed with the trajectory of development in Akwa Ibom under the Governor Udom Emmanuel's administration.
Sadly, since his soul is connected to his stomach, he owes himself a duty to ensure that he fights for his stomach; even if it means telling outright lies and whipping false sentiments to do so.
This is the same Ita Enang who genuinely endorsed Mr Udom Emmanuel as Governorship candidate on Saturday 8th November 2014 under the selfish hope that endorsement will cause him to be favoured by members of his party then – the PDP to return for a Second term as Senator. For Ita Enang, his loyalty is to his stomach first before anyone else around him. His mantra seems to be "As long as it is connected to my daily bread, going out of my way to get it or keep it, can never be a wrong move!"
For a former lawmaker at the National Assembly who never held constituency briefings or executed a single constituency project, one would have thought that Ita Enang would be silent and learn from the likes of Senator Godswill Akpabio and Bassey Albert who are charting newer courses in putting funds they have received for constituency projects into good use. One would have also thought that he would be moving around with deep regrets on how he enriched himself from the funds meant for the people who graciously gave him a mandate to serve.
But the hypocritical and Shameless Ita Enang (to borrow the words of Barr Inibehe Effiong) would not do any of that. He would prefer to jump at any chance to insult the sensibilities of Akwa Ibom people by denigrating the Public office holders in Akwa Ibom who are making efforts at fulfilling their leadership obligations to the people, as a way of distracting them.
From the anger he displays when he goes about to say the things he says, could it be that Ita Enang most times silently wishes that these selfless Akwa Ibom leaders were not making efforts to stay accountable to the people by fulfilling their electioneering promises to them?  Is the misery he is feeling through his selfish act of profiteering from constituency funds when he served as a National Assembly lawmaker in need of company?
If yes, how come this misery has not disconnected his soul from his stomach? Will he survive this disconnection if it were to happen?
Too many Questions!
Aniekeme Akpan , Port Harcourt-based Medical Laboratory Scientist is also a Public Affairs commentator.