Two years after the Managing Director of NDDC, Mr Nsima Ekere laid the foundation stone for the construction of a permanent NDDC State office in Uyo, the project has been abandoned and taken over by reptiles.
Funds earmarked to give Akwa Ibom a permanent NDDC state office have allegedly been diverted to fund the managing director's governorship election.
The project site located at Commercial Layout, Atan Offot, Uyo has been abandoned with workers complaining that neither the contractor who was awarded the contract nor any NDDC staff has visited the site in the past three months.
Workers at the site who spoke to our reporter said the contractor, Brett Nigeria Limited, has complained bitterly that since Ekere left after laying the foundation stone, no money has been released to his company for the job while officials of the commission insist money for the project was released and the contractor mobilised in full.
The NDDC office in the state is located in a rented apartment in Ewet Housing Estate.
In contrast, Ekere's predecessor, Ibim Semenitari, gave Rivers State a brand new NDDC state office in less than ten months in office as Acting MD while Akwa Ibom, which is the highest contributor to NDDC has no permanent state office even with an indigene of the state as Managing Director.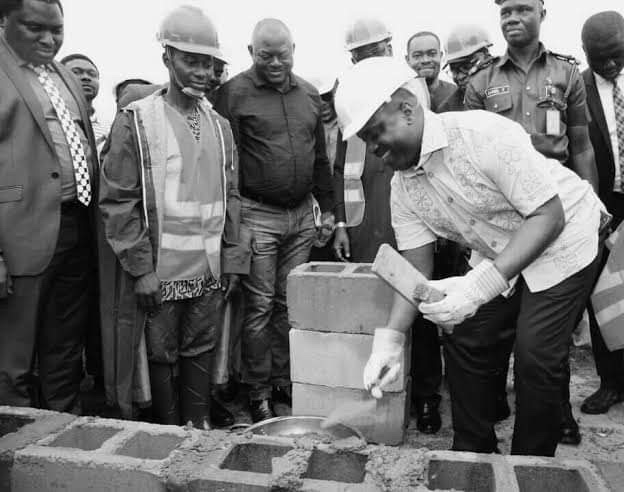 A Director of the Construction company handling the project lamented that the NDDC approved the release of the funds but Nsima Ekere diverted and converted the money to his personal use and all attempts to have audience with the NDDC boss towards resolving the financial crisis to enable the project kick off have been abortive.
He said that each time he goes to Mr Ekere's office or lodge to see him, his security aides insist Mr Ekere does not want to see him, a situation he said has affected the company's ability to continue with the project.
Contrary to Mr Ekere's claim of not having the support of the Akwa Ibom State Government, the land for the NDDC office Project was allocated by the State Government in early 2017 to support the state government's willingness to partner with the Commission for the good of the state.