THREATENS TO SHUT DOWN MTN, DSTV, AND OTHER SOUTH AFRICANS COMPANY OPERATING IN NIGERIA.
The National Association of Nigerian Students Joint Campus Committee (NANS-JCC) Akwa Ibom State Axis, on Monday, decried the continued killings of Nigerians in South Africa.
Chairman of the Association, Comrade Edidiong Ita who led over 100 students on a peaceful protest to MTN Offices and other South African owned companies in Uyo, Akwa Ibom State Capital, said the students will shut down South African businesses in Nigeria, should the inhumane treatment against Nigerians continue in South Africa.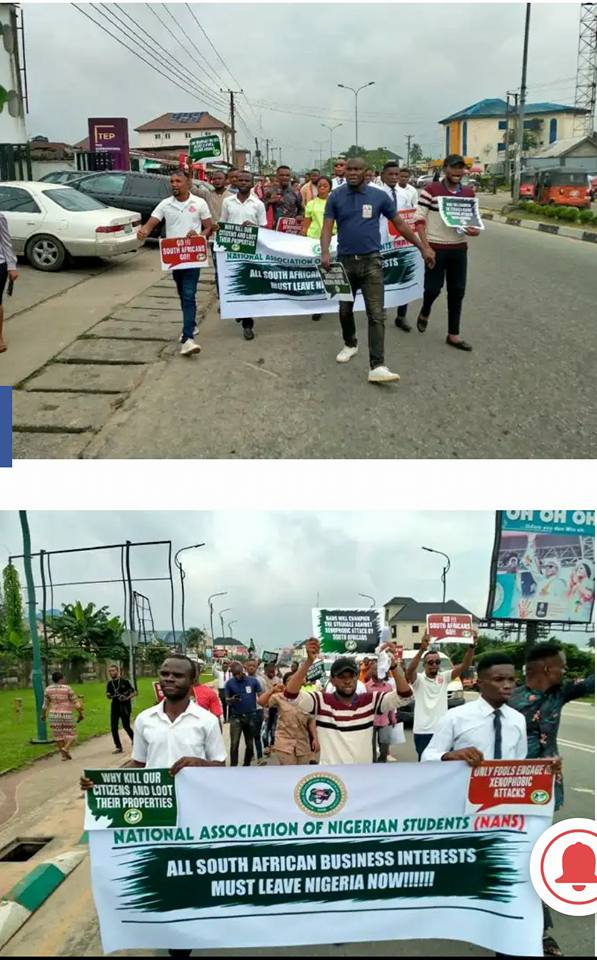 Also Read: Kumuyi Come Under Fire for Advising Christians not to Attack Buhari
Ita, while speaking to newsmen during the protest, said "we will not take it, if the federal government has refused to do something, Nigerian Students will stand up and speak for Nigerians. MTN and DSTV are South Africans owned companies, and Nigerians are the highest subscribers, so why are you killing them? It is only cowards that kill out of jealousy, and we want you to know that we are not cowards."
In his warning, he said, "We have been silent for too long, enough is enough as we will take it no more. Talk to your government and countrymen that if any Nigerian blood is shed again on South African soil, we will cripple and shut down every South African owned business here in Nigeria, as well as their citizens."
Also speaking, a former Students' Union Government President in the University of Uyo, Comrade Lucky Umoinyang who was also part of the protest commended Edidiong Ita for his concern and speedy move in tackling the attacks against Nigerians in South Africa.
He said, "our message today is simple; stop the killings of Nigerians in South Africa. They are humans and also have loved ones back here. Any more killings of Nigerians in South Africa will be met with reprisal by the Nigerian Students."
However, the News Agency of Nigeria in its reports disclosed that since the outbreak of the xenophobic attack about 130 Nigerians have lost their lives in different attacks in South Africa, over the years.