#FreeUtitofonMorgan It's my Anniversary
4th December 2018 will forever remain very fresh in my memory. A trip to the State Police Headquarters, Ikot Akpan Abia on the orders of Sen. Godswill Akpabio and Obong Nsima Ekere. Remember the duo?
This trip landed me at the State Magistrate Court but after being granted bail, Sen Akpabio ordered the case to be transferred to the Federal High Court in January 2019.
Another rounds of litigation began. I almost registered my absence at the naming of my son as the arraignment date coincided with the naming ceremony. For escaping the walls of Uyo prison and seeing God's hand in our lives, we named him ToyoMfonAbasi.
Lessons:
I learnt a few lessons while in detention and on trial. One of such is that with a petition from any politician or highly placed person, anyone can be in jail. No matter the validity of the claims whether frivolous or justified.
Another lesson was that if you do not know the reason for invitation to the police station never honour such invitation. I was tricked by a government official that it's a minor issue. Never you honour their invitation unless you have a full dossier of the petition. Send a lawyer to get the information first.
The most absurd lesson was from so call "owo mmi". The likes of Saviour Udoh who came to see me in the station, i explained everything to them that I wasn't aware of the article written against Sen. Akpabio, but he wrote rubbish against me that night, not knowing I was browsing the internet all night with my phone. Na dem.
Another owo mmi is one of Akpabio's aide who claimed he didn't know I was the one petitioned since the brain behind it was one Wole but after the police investigation, they knew I was innocent but he sent screenshots from my Facebook page and website to the police officers which was used as a new case against me. Someone I chill with alot. Hmmmm. You get the drift?
Last one, maybe the most important lesson. Never fight a cause blindly. Never support a politician who does not have your interest at heart. If you know, you know.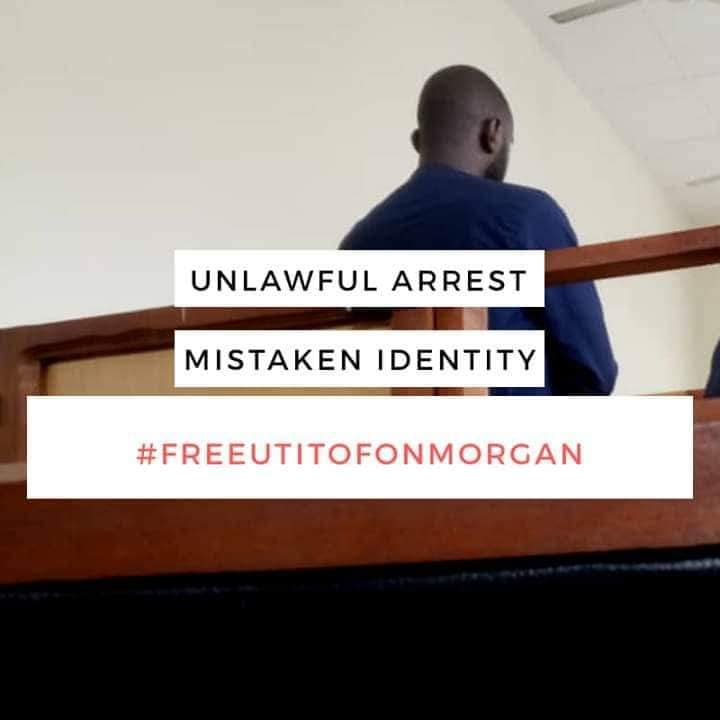 So many other lessons but let's end there.
Appreciation:
This is the most difficult part of the scene. Having spent 3 days in detention, 2 months at the State Magistrate Court, 4 months at the Federal High Court, a lot of contributions here and there. I will never get this right, I'm sorry I will only do a few I can just remember now.
Let's say the first person who tried all he could to get me out and stayed with me all day was Mr. Uko Umoh an amazing elder brother.
I will do a chronology in no series of importance. Thank you to the following persons, my friends on Facebook, Rt. Hon. Onofiok Luke Barr. Ini Ememobong Obong Paul Ekpo, Mr. Essien Ndueso, Mr. Nana Udom, Mr. Aniekeme Finbarr Mr. Charles Udoh Barr Dennis Akpan, COOPA members led by my brother Ifreke Nseowo-Connoisseur, Catholic Priests who made my case an intention during Holy Mass, Pst (Mrs). Blessing Offiong of The Eagles Assembly, Old boys CARDESCO, Mr. Cletus Ukpong of Premium Times, all bloggers, social media influencers and you who made my case your case.
I can not forget Barr. Morgan Ekanem, Barr. Ekemini Udim Barr. Toyo Jimmy Barr. Abas and Barr. Watchout Naija Ewa who was always in court before me. Also Barr. Austin Ekpo who gave me the encouragment and several others who offered their services for free. Thank you learned friends.
Now family; Cavil Uduak Inwang Cavil Uduak Inwang thank you so much for your contribution, God forbid it happened now that you are far away, it would have been more difficult calming down my wife.
To my beloved Uncle, Comrade Unyime Usoro who staked a lot on the case, thank you, If not for your Certificate of Occupancy, I would have wallowed in Uyo Prisons. In this life have somebody, none of the politicians would have done that for me.
To my brothers, sisters, uncles and aunts, I thank you for the support especially the prayers. To my wife, thank you for being strong, sorry that was just one month into your marriage, just like we won, we will always win together.

Let me also thank Barr. Barr Japheth O Japheth Police prosecutor who handled the case professionally without favour or pressure, Officer John, IPO Johnson, Oc Antivice Eze, and all the Court clerks. I appreciate you all.
Let me also thank Sen. Akpabio for giving me this life lessons. Though we might have used this scenario to curry votes for PDP in our communities, let's be consoled that God alone rewards.
God bless God