…Grave, Coffin ready, awaiting Corpse .
By Etieno Ibanga
There is a man in Ikot Ekpeyak Ikono in Uyo Local Government Area of Akwa Ibom State.
He is Mr Clement Usoro , about 72 Years Old and holds a Doctorate Degree in Urban and Regional planning.
He is well and kicking but has taken care of aspect of his funeral whenever he will pass on.
The aspects which his family members would not need to bother about whenever he dies are many.
From what I gathered during a visit to the well appointed country home of Dr Usoro in the Serene Community of Ikot Ekpeyak Ikono, his family will not worry about laying- in -state, the grave , the coffin, the tombstone, embalming as well as entertaining the village because Dr Clement Usoro said he has already taken care of them during a ceremony he organised on 28th December 2018 tagged " Sitting -in -State.
He disclosed this during a visit to "Dr Clement Usoro mausoleum" which is part of the elaborate preparation.
He said the idea of planning for the eventually of death came to him while he sojourned in the United State of America, specifically New York City where undertakers there had proposed that he pay out some dollars to pick a plot at a cemetary and acquire a casket for his final days , supposing they would be in God's own Country.
Dr Usoro said that the idea sounded nice but the pull of his motherland told him to make such preparations for his burial among his kit and kins in Ikot Ekpeyak so he returned with what he considered to be lofty ideas to his native place.
He explained that his plans for his funeral future are undertaken for specific reasons as he doesn't want to be buried 'the way people wanted and his children to pass through unnecessary planning' when he passes on.
He pointed out that his friend has willingly supported him with a casket which is kept at his showroom pending the moment he will die , stressing that he has instructed his family not to embalm him ,or perform last office 'i don't want people to put cotton wool in my nose when I die because to me ,it doesn't look nice and I've told them to bury me within three hours' and I have settled the Community, I gave everything that should be given during funeral ' Dr Usoro Stressed.
The fact that Dr Usoro had settled the village in lieu of his future funeral was confirmed by the Village Head of Ikot Ekpeyak, Eteidung Edet Michael Ekanem.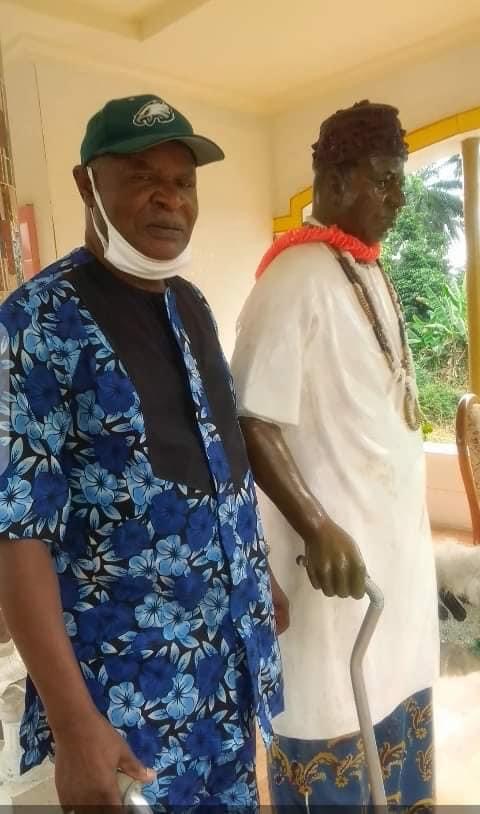 According to Eteidung Ekanem, Dr Usoro had in 2018 during his sitting in state presented cow and others things to the village during the celebration but the village loves him because of his philanthropic disposition to the downtrodden and other Community development initiatives and though he has planned for his funeral while alive, he may not die now.
No one knows whether the village would like another round of entertainment when Dr Usoro's funeral would take place when he eventually passes on.
The Retired Teacher Mentor himself has not ruled out feting his kinsmen , perhaps for another time when the occasion demands.
If and when a Retired Teacher Mentor and 'Enyin Ekpe of Ikot Ekpeyak' goes to be with the Lord, his stature as a man who prepared for his end will not be diminished and will live on in his deeds of philanthrophy.
Such deeds include Scholarship for bright but indigent students, support to widows and the less privileged as well as other aspects of Community development.
Dr Clement Usoro may have made all the plans he has for his funeral, but like any other mortal , he does not know when he will die.
'i do not know the day, the week, the month, and the year I will die, i would have told you that is why I have not included it on headstone' Dr Usoro reacted .
Envisaging the future, making plans for death are not out of the way ,and the Story of Dr Clement Jimmy Usoro regarding these may well bear some valuable lessons.
You can now even conduct a remote medical consultation to check if your health allows you to take the pill. viagra pill If the answer is positive, you can buy Cerazette online.