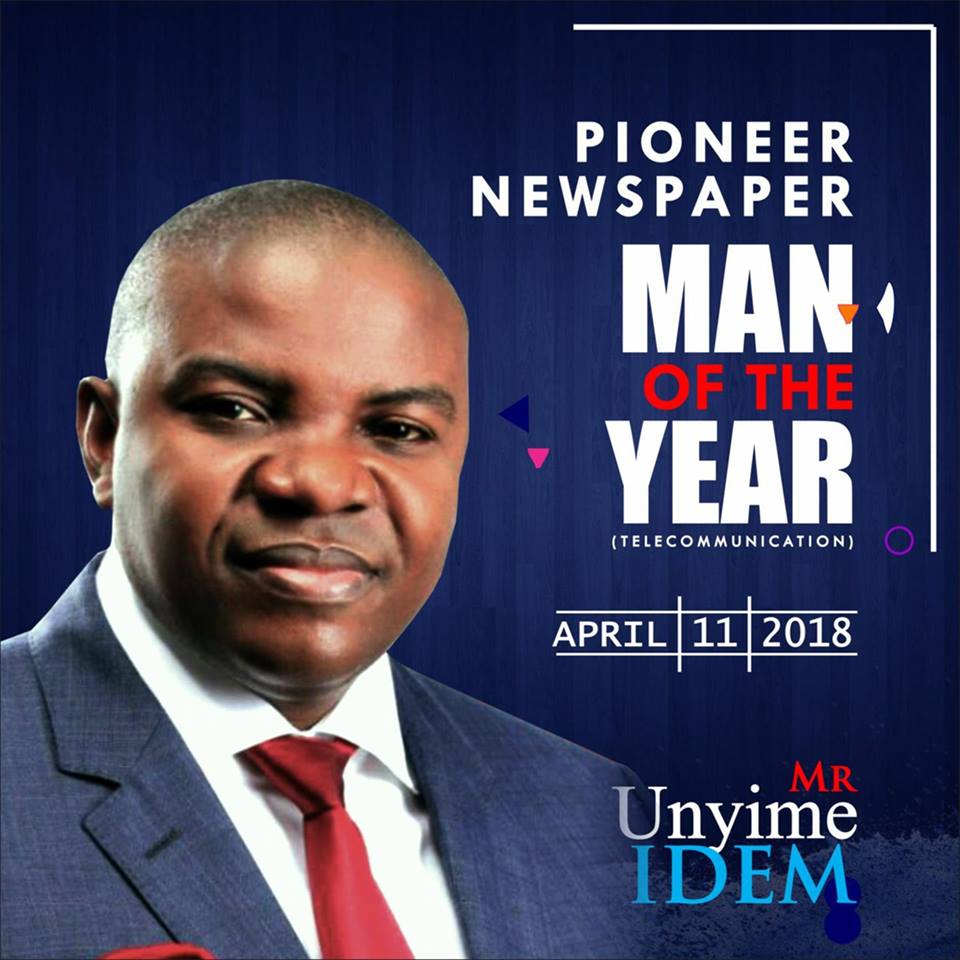 Akwa Ibom State Tabloid The Pioneer Newspaper is set to honour one of Akwa Ibom's illustrious sons and Business Mogul Mr Unyime Idem who is the MD/CEO of Idems Ultimate, Chairman, Stanford Micro Finance Bank and Chairman, Standard Express with an Excellence Award of PIONEER NEWSPAPER MAN OF THE YEAR (Telecommunications and Banking) on Wednesday, April 11, 2018 at Emerald Event Centre, Edet Akpan Avenue, Uyo.
This award is to be conferred on Mr Idem in recognition of his Outstanding Entrepreneurial Acumen and contribution to the society in the areas of Telecommunications, Banking and other spheres of economic endeavours. The award according to Pioneer Newspaper is one of the events scheduled to mark her 30th Anniversary as a State owned Tabloid.
According to Mr Umoette Umoette who is the General Manager/Editor in-Chief of Pioneer Newspaper and Elder Patrick Albert(JP) who is the NUJ State Chairman and Chairman of the Planning Committee, the event shall have the Governor of the Akwa Ibom State, His Excellency, Mr Udom Emmanuel as the Special Guest of Honour, Senator Tunde Ogbeha, Pioneer Military Governor of Akwa Ibom State, Otuekong Idongesit Nkanga, former Military Governor of Akwa Ibom State, Obong Victor Attah, Former Governor of Akwa Ibom State, Senator Godswill Akpabio(CON), Senate Minority Leader and former Governor of Akwa Ibom State and Mr Moses F. Ekpo(MFR), Deputy Governor of Akwa Ibom State and the Pioneer Commissioner for Information, Social Development, Youth, Sports and Culture as Guests of Honour.
However, this will be one of the many Awards conferred on the Akwa Ibom's most consistent and leading Entrepreneurs, Mr Unyime Idem in recent times in recognition of his outstanding role in business and social/community development gestures in the State and beyond.
Congratulations to Mr Unyime Idem.