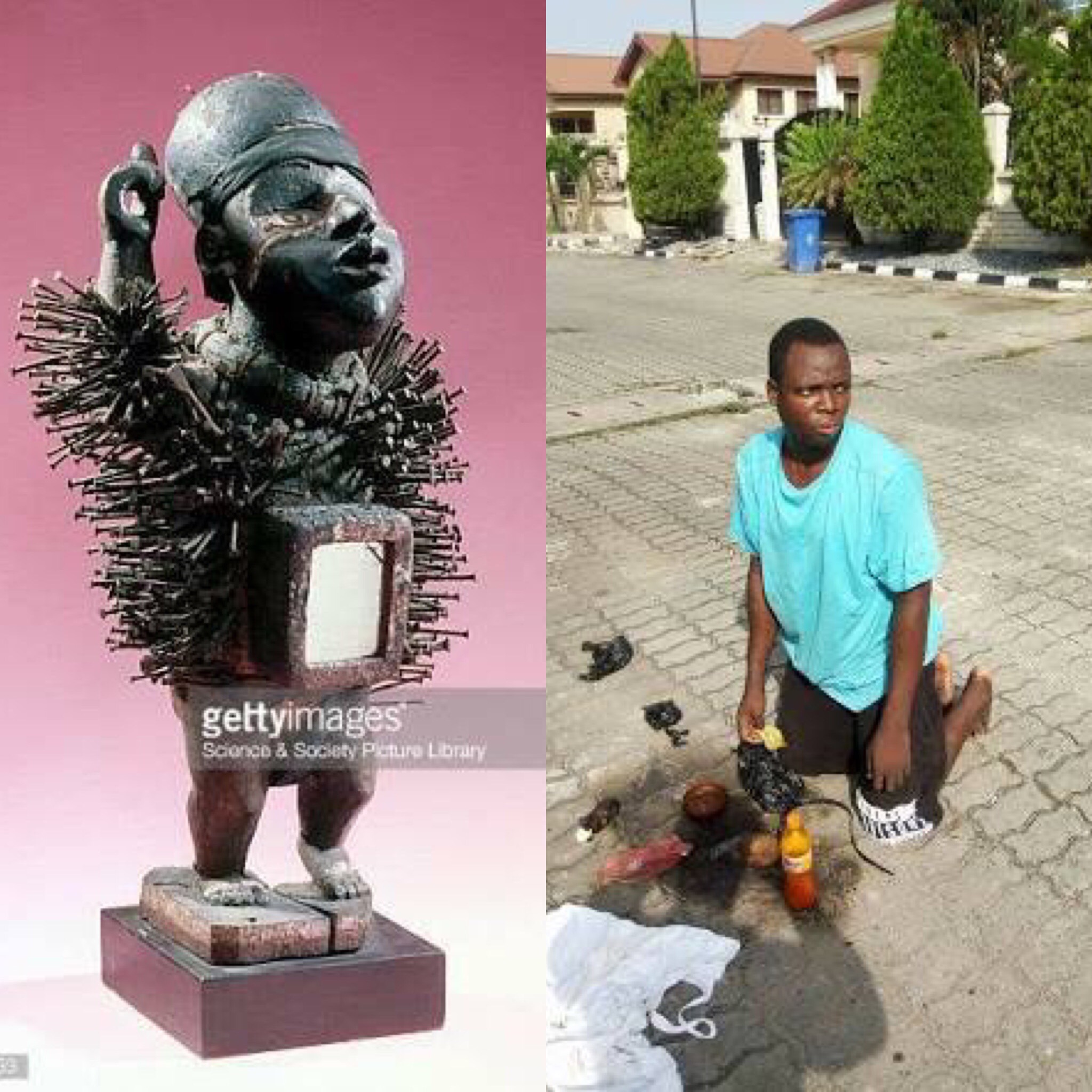 by Osondu Ahirika
Finally, Akwa Ibom State Governor, His Excellency, Mr Udom Gabriel Emmanuel wielded the big stick. On May 27, while delivering his speech to mark the Children's Day celebration, he pronounced as, Cursed, any politician, who henceforth, causes supporters, Party delegates, or the electorate, to swear to fetish oaths, known in Local parlance as, 'Mbiam', as a means of obtaining assurance of their bond to his political ambition.
Have you ever heard of, The Curse of the Pharaoh's? The "mysterious" deaths of a few of those who excavated Tutankhamen's(known as Tut) tomb, has been popularly attributed to that curse of death and sudden destruction, pronounced on anyone, who will disturb the mummified remains of the Egyptian King.
On November 26, 1922, King Tut's tomb was discovered, after more than 3000 years of uninterrupted repose. The 5th Earl of Carnarvon, George Herbert, funded the excavation of his tomb. Herbert died after he scratched open a mosquitoe bite while shaving and died of blood poisoning. It was widely believed, he succumbed to the curse unleashed by the Pharaoh.
Another mysterious death was traced to the curse. American railway executive, George Jay Gould, visited the tomb of Tut in 1923 and fell sick almost immediately afterward, dying of pneumonia a few weeks after.
History records about eight others, who were afflicted by the curse of the Pharaoh's, including, George Herbert's half brother, Aubrey Herbert, his Secretary, Richard Bethell, a radiologist, Sir Archibald Douglas Reid, who simply x-rayed the body of King Tut, before the Mummy was handed over to the Museum authorities, and died three days after, among others, who, for the sake of brevity, I withhold mentioning, in this essay.
If that sounds like folklore, then let's review the Curse of Jericho. Joshua, who succeeded Moses in leading the Isrealites, condemned to a perpetual desolation, the City called Jericho. He pronounced as accursed, anyone, that, at anytime, after the fall of the Walls of Jericho, exerts to rebuild it. Joshua decreed, it will imperil the posterity of such a man(see Joshua 6:26).
The curse did come upon Hiel of Bethel, who, long after, rebuilt Jericho. When he laid the foundation, his first son, Abiram died. He lost his second son, Segub, when he finished the project(1 Kings 16:34).
Folks ', I dropped these anecdotes to stress that, the potency of a Leader's curse is undiminished by your cynicism or opposition to his reign. More so, if the decreed curse, is fuelled by righteous rage. Whenever a leader wields the big stick, it is not void of consequence.
In Romans 13, the fourth verse asserts that, "… the one in authority is God's servant for your good. But if you do wrong, be afraid, for rulers do not bear the sword(stick) for no reason. They are God's servants, agents of wrath to bring punishment on the wrongdoer."
For all those politicians, who have lured their vulnerable supporters, delegates, constituents or electorate, to swear to Mbiam, Governor Emmanuel's curse will certainly unsex and haunt them. Believe me, if you will, there will be no hiding place for them. The Governor reiterated the warning against the practice of administering Mbiam on gullible citizens at the State Secretariat of the Peoples Democratic Party, during an interactive session with his party men on Monday the 28th. Now that's serious.
Recall that, at the inception of this democratic dispensation in May 1999, the scandal of Okija shrine in Anambra State rocked our nation. Politicians began to cultivate patronage of the notorious Okija shrine deity 'Ogwugwu', and her Priests. Godfathers dragged political office seekers before Okija to extract the pledge of loyalty, swearing allegiance to their dictates, should they assume political office.
Former Anambra governor, Dr Chris Ngige became the biggest act from that sorry history, as he was reportedly caged by his godfather, Chief Chris Ubah, having sworn before Okija to be subservient to him before becoming governor. The rest is chequered history.
Currently, Edo State is grappling with the same vexed issue as victims of human trafficking were held bound by feared dire consequences of oaths administered on them by slave merchants, as a precondition, for taking them abroad.
On March 9, 2018, reverred Benin monarch, HRM, Oba Ewuare II, at a special meeting in his palace, caused hundreds of native doctors in Bini land to reverse the oaths, which, traffickers often engaged them to administer.
An oath taking process, according to victims, involves the invocation of parts of their bodies as collateral to force them, commit to pay back the money spent by the agents, to take them , mainly to Europe, where they end up in forced prostitution.
Oba Ewuare 11 said Governor Godwin Obaseki had pleaded with him to help stem the spate of human trafficking in the State. The Oba warned that, while the palace has nothing against the practice of native medicine, it will not condone a situation where it is used to "perpetrate evil in the land through aiding and abetting human trafficking."
He charged native doctors, who made brisk business of subjecting trafficked victims to oath of secrecy, thereby encouraging such evil acts in the land, to repent and refrain from doing it. Oba Ewuare II, placed a traditional injunction on them, proclaiming as accursed, anyone who thereafter, engages in the evil of oath administration on citizens.
By inspiration, Governor Emmanuel has initiated this process of halting that evil practice in Akwa Ibom State. He has awoken the religious ethos of the State and revoked the propensity of our youths to hooligan traits and cultism. He redirected their youthful energies and passion to God and the abhorrence for violence. Under his seal of Executive order, he proscribed more than 30 Cult groups in the state .
At the end of his full tenure, I wager that, Governor Emmanuel's greatest reform will be: the overthrow of cultism as a hobby and the forbidding of 'Mbiam Politics'. The light of his principled politics will remain undimmed. I am confident, he is laying a new foundation for our succeeding era of new political narrative and adventure.
I now make this appeal as an advisory to every doubting Thomas, who will look to try breaching this prohibitory on the Politics of Mbiam, holding it, as an empty talk. Don't be the one, whose affliction, will be the footnote of the effect of Governor Udom Emmanuel's Curse. Of a truth, through that curse, Governor Emmanuel has wielded the big stick. Flee from the evil called Mbiam politics for good.