Residents of Uyo and its environs are set to witness yet another edition of the World Changers Conference (WCC) this Saturday, March 24th 2018. The conference is known to have had two editions hosted in the state and with this coming edition, it promises to raise the bar above the previously hosted editions.
Tagged "UNASHAMED", WCC 2018 is putting the focus on rising away from setbacks that can affect one's business or life in general.
According to a release by its convener, Udeme Etibensi, "This edition is indeed a special one. We are delving into issues that can deter entrepreneurs from pursuing/growing their businesses and giving practical tips on how to overcome them. It is also special because it will put the light on issues like domestic violence, abuse, and other emotionally crumbling occurrences that can affect us personally and our businesses or careers."
Below are the profile of the speakers of this year's WCC: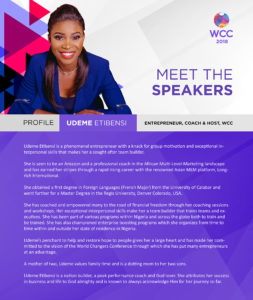 Udeme Etibensi is a phenomenal entrepreneur with a knack for group motivation and exceptional interpersonal skills that makes her a sought-after team builder.
She is seen to be an Amazon and a professional coach in the African Multi-Level-Marketing landscape and has earned her stripes through a rapid rising career with the renowned Asian MLM platform, Longrich International.
She obtained a first degree in Foreign Languages (French Major) from the University of Calabar and went further for a Master Degree in the Regis University, Denver Colorado, USA.
She has coached and empowered many to the road of financial freedom through her coaching sessions and workshops. Her exceptional interpersonal skills make her a team builder that trains teams and executives.
She has been part of various programs within Nigeria and across the globe both to train and be trained.
Over the years, she has championed enterprise boosting programs which she organizes from time to time within and outside her state of residence in Nigeria.
The World Changers Conference is one of such programs and can be said to be the mother platform for all her live events.
Udeme's penchant to help and restore hope to people gives her a large heart and has made her committed to the vision of the World Changers Conference through which she has put many entrepreneurs at an advantage.
A mother of two, Udeme values family time and is a dotting mom to her two sons. She is also a minister in her local congregation and has been seen to balance her faith, career and motherly responsibilities thereby keeping her business afloat while still being a loving mom and minister of the gospel.
She attributes her success in business and life to God almighty and is known to always acknowledge Him for her journey so far. Udeme Etibensi is a nation builder, a peak performance coach and God lover.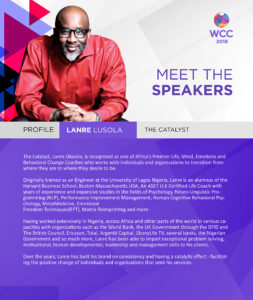 LANRE OLUSOLA | The Catalyst
The Catalyst, Lanre Olusola, is recognized as one of Africa's Premier Life, Mind, Emotions and Behavioral Change Coaches who works with individuals and organizations to transition from where they are to where they desire to be.
Originally trained as an Engineer at the University of Lagos Nigeria, Lanre is an alumnus of the Harvard Business School, Boston Massachusetts USA, An ASET U.K Certified Life Coach with years of experience and expansive studies in the fields of Psychology, Neuro-Linguistic Programming (NLP), Performance Improvement Management, Human Cognitive Behavioral Psychology, MetaMedicine, Emotional Freedom Techniques(EFT), Matrix Reimprinting and more.
Having worked extensively in Nigeria, across Africa and other parts of the world in various capacities with organizations such as the World Bank, the UK Government through the DFID and The British Council, Ericsson, Total, Argentil Capital, EbonyLife TV, several banks, the Nigerian Government and so much more, Lanre has been able to impart exceptional problem solving, motivational, human developmental, leadership and management skills to his clients.
Over the years, Lanre has built his brand on consistency and having a catalytic effect – facilitating the positive change of individuals and organizations that seek his services.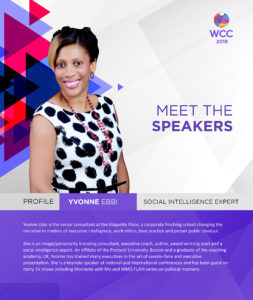 YVONNE EBBI | Social Intelligence Expert
Yvonne Ebbi is the senior consultant at the Etiquette Place, a corporate finishing school changing the narrative in matters of executive intelligence, work ethics, best practice and proper public conduct. She is an image/personality branding consultant, executive coach, author, award-winning poet and a social intelligence expert. An affiliate of the Protocol University, Boston and a graduate of the coaching academy, UK, Yvonne has trained many executives in the art of savoire-faire and executive presentation. She is a keynote speaker at national and international conference and has been guest on many tv shows including Moments with Mo and Nn4's FLAIR series on political manners.
WCC 2018 is scheduled to hold on the 24th of March 2018 at Emerald Event Center by 12:00noon. Entry to the event is free.
There will be an unveiling of Udeme Etibensi's brand new book, "The Futurist (An Entrepreneurial Journey" at the program as well as exclusive sessions by experts and professionals around the theme of the event.
Make plans to attend. Entrance is FREE.
BONUS: Be among the first 500 to register to attend and get a free sourvenir via www.wcc.org