FC ONE Rocket of Abat, Onna, Akwa Ibom State has acquired a new bus, ahead of the 2020/2021 Nigeria National League season.
The Indomitable Ambassadors who recently got a slot to play in the NNL through a swap deal with Edwin Collins Football Academy of Lagos, has added a new Toyota Coaster Bus to their fleet of official cars: a development geared at easing transportation challenges in honoring matches in the soon to begin new football.
The debutants in the NNL come next football season owe so much to their passionate, determined, committed, pragmatic and serious minded proprietor, Rt. Hon. Nse Essien, who is leaving no stone unturned in ensuring that the team is never found wanting. The newly acquired 32-seater Toyota Coaster bus, is added to a 16-seater Toyota bus and a Toyota Sienna SUV.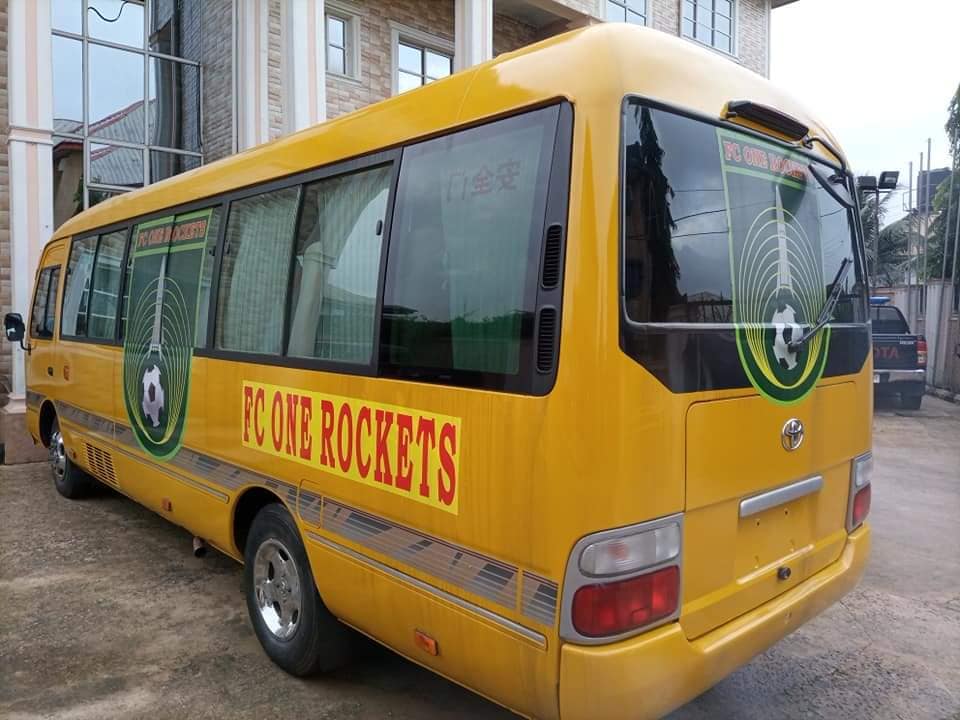 Earlier in the month, a 7-man competent Technical/Management crew was released by the hierarchy of the team to pilot the affairs of the Indomitable Ambassadors, headed by experienece Coach Emmanuel King (a.k.a Emu), assisted by Coach Attat Itoro Xavier, with Coach Olatunji Baruwa as the goalkeeper trainer and veteran Suleiman Abubakar (MON), as the Sporting Director. Also on the list, is Mr. Uwem Linus (Karika) as Team Coordinator, Barr. Linus Ukpong as General Secretary and renown broadcast journalist and blogger, Mr. Johnpaul Ukpong, a Media Director.
With the 2020/2021 NNL proposed to begin in October, FC ONE Rocket is putting their house in order ahead of the new season. And, understanding the significance of early and effective planning, the Indomitable Ambassadors, are making their intentions ahead of the soon-to-begin season well known.