Not many Nigerians know that the first person to register in the Nigerian Army was a man of Akwa Ibom origin. Wellington Umoh Bassey is on record as having the number NA 1.
Bassey joined the Royal Band Corps of the Royal West African Frontier Force (RWAFF) in 1933, despite opposition from parents and the community, which saw his interest in the white man's army as a novel and risky adventure for a 25-year-old. But he had a dream, and was determined to pursue that dream.
He wanted to be the first to enlist in the army in that part of the country. He ended up not just the first in that part; not just the first in Nigeria, but also the first in the entire West Africa, occupying a prominent place in history.
Bassey held different positions in the colonial force, including warrant officer two; company sergeant major and weapons instructor, performing so well in the latter that he was posted to train troops in the Gold Coast (now Ghana), from 1945 to 1949.
A successful completion of an officers' training course in Warwick, England, earned him promotion to the rank of Second Lieutenant as an infantry officer by King George VI in April, 1949, a position that made him the first West African regular commissioned officer with service number WA1.
At the attainment of independence by Nigeria in 1960, the Nigerian Army was established, from the Queens Own Regiment, with Bassey as the first Nigerian soldier. Before then, he had served as aide-de-camp to the Governor General of Nigeria, Sir Stuart Macpherson.
Over a period of about 11 years, Bassey held several command positions, including first commanding officer, Boys Company (now Nigerian Military School), Zaria; first Nigerian commandant, Lagos Garrison, Apapa; first commanding officer, Federal Guards (later Brigade of Guards), Lagos; commanding officer, Nigerian Army Depot, Zaria and brigade commander, first Brigade (now first division), Kaduna.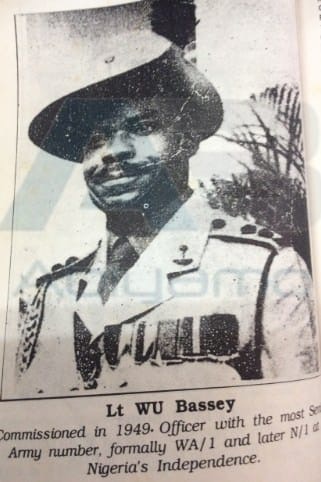 Army Barracks Camp WU Bassey and the Wellington Bassey Way in Uyo are named after him.