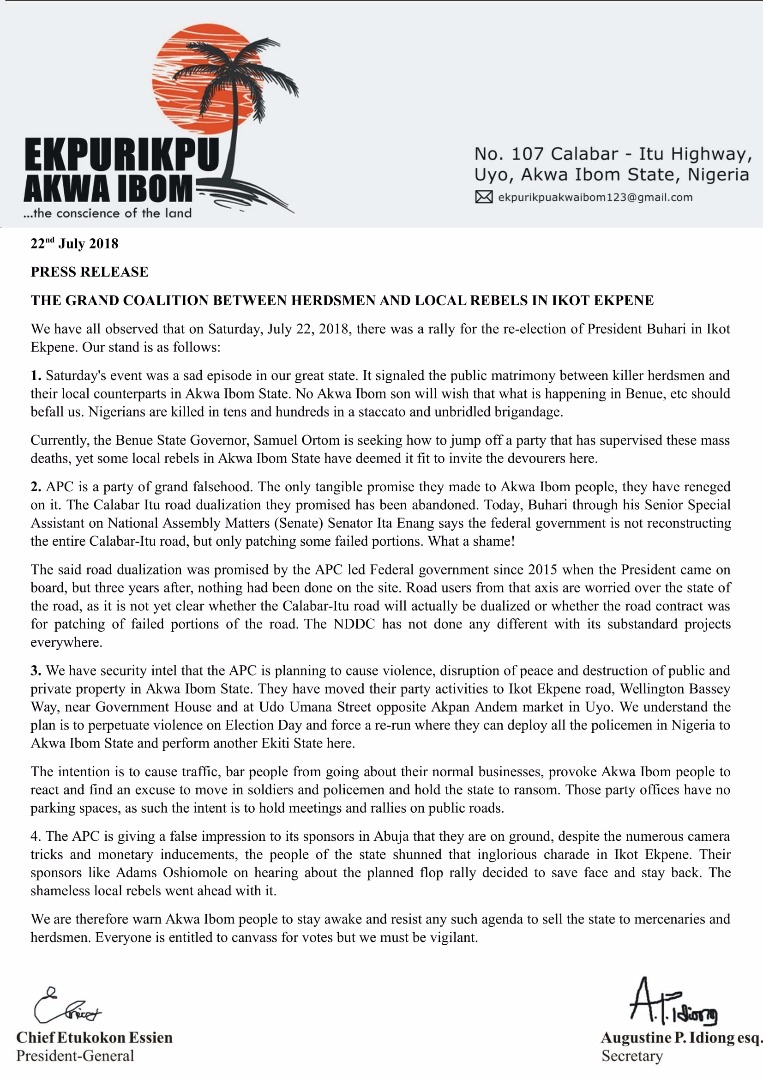 22nd July 2018
PRESS RELEASE
THE GRAND COALITION BETWEEN HERDSMEN AND LOCAL REBELS IN IKOT EKPENE
We have all observed that on Saturday, July 22, 2018, there was a rally for the re-election of President Buhari in Ikot Ekpene. Our stand is as follows:
1. Saturday's event was a sad episode in our great state. It signaled the public matrimony between killer herdsmen and their local counterparts in Akwa Ibom State. No Akwa Ibom son will wish that what is happening in Benue, etc should befall us. Nigerians are killed in tens and hundreds in a staccato and unbridled brigandage.
Currently, the Benue State Governor, Samuel Ortom is seeking how to jump off a party that has supervised these mass deaths, yet some local rebels in Akwa Ibom State have deemed it fit to invite the devourers here.
2. APC is a party of grand falsehood. The only tangible promise they made to Akwa Ibom people, they have reneged on it. The Calabar Itu road dualization they promised has been abandoned. Today, Buhari through his Senior Special Assistant on National Assembly Matters (Senate) Senator Ita Enang says the federal government is not reconstructing the entire Calabar-Itu road, but only patching some failed portions. What a shame!
The said road dualization was promised by the APC led Federal government since 2015 when the President came on board, but three years after, nothing had been done on the site. Road users from that axis are worried over the state of the road, as it is not yet clear whether the Calabar-Itu road will actually be dualized or whether the road contract was for patching of failed portions of the road. The NDDC has not done any different with its substandard projects everywhere.
3. We have security intel that the APC is planning to cause violence, disruption of peace and destruction of public and private property in Akwa Ibom State. They have moved their party activities to Ikot Ekpene road, Wellington Bassey Way, near Government House and at Udo Umana Street opposite Akpan Andem market in Uyo. We understand the plan is to perpetuate violence on Election Day and force a re-run where they can deploy all the policemen in Nigeria to Akwa Ibom State and perform another Ekiti State here.
The intention is to cause traffic, bar people from going about their normal businesses, provoke Akwa Ibom people to react and find an excuse to move in soldiers and policemen and hold the state to ransom. Those party offices have no parking spaces, as such the intent is to hold meetings and rallies on public roads.
4. The APC is giving a false impression to its sponsors in Abuja that they are on ground, despite the numerous camera tricks and monetary inducements, the people of the state shunned that inglorious charade in Ikot Ekpene. Their sponsors like Adams Oshiomole on hearing about the planned flop rally decided to save face and stay back. The shameless local rebels went ahead with it.
We therefore warn Akwa Ibom people to stay awake and resist any such agenda to sell the state to mercenaries and herdsmen. Everyone is entitled to canvass for votes but we must be vigilant.
Chief Etukokon Essien – President-General
Augustine P. Idiong esq. – Secretary