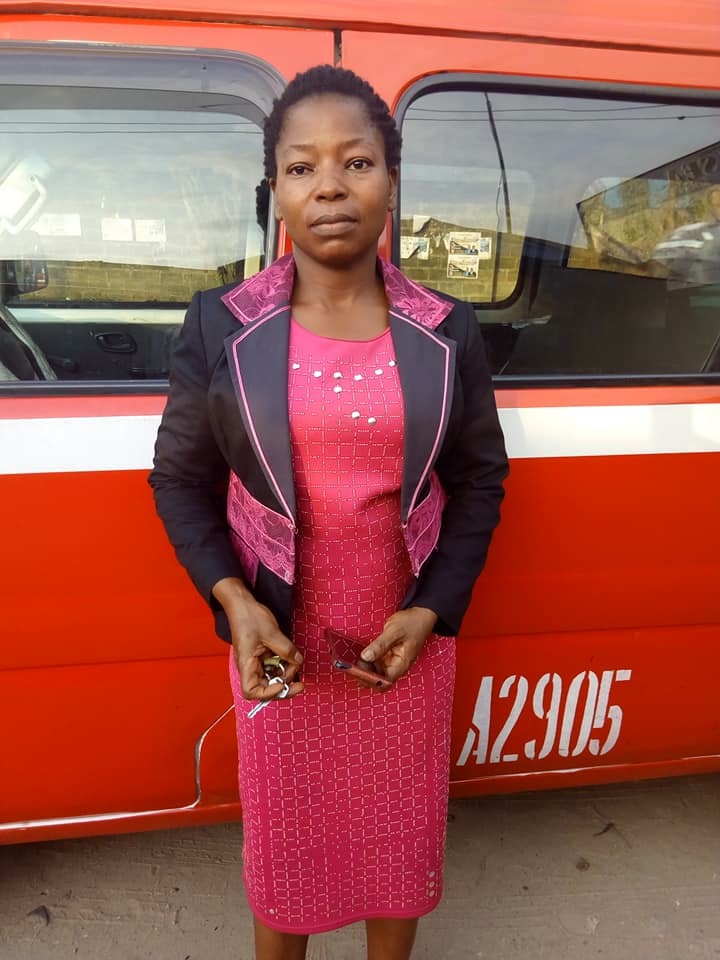 Thursday, August 2, 2018. The late morning's rain had drizzled to a stop. Activities were in full swing in the city of Uyo, the Akwa Ibom capital. The streets wore usual demeanor as pedestrians, traders and drivers meandered to and fro. Seated behind the steering wheel of mini-bus was Mrs. Uduak Godwin Ndah, who is arguably the first female commercial bus driver in Akwa Ibom State.
As this reporter alighted from her vehicle at Ikot Ekpene Road beside the Town Campus of University of Uyo, he introduced himself to her as a journalist, and sought for an interview on a convenient date. Saturday, August 2, 2018, was fixed.
Meeting her at the close of work on Saturday evening birthed a no-holds-barred chat. She opened up on the good, bad and ugly ramification of the business.
Uduak, who is in her early 30s, hails from Nung Obong in Nsit Ubium Local Government Area. According to her, the loss of her parents did not enable her go far educationally. Her highest educational qualification is a Senior Secondary School Certificate.
She is married to Mr. Godwin Ndah, a building contractor from Aka Offot in Uyo Local Government Area of Akwa Ibom State.
The Prognosis
She gave her reason for choosing driving:
"I am married but while waiting for fruits of the womb, I have this responsibility of ensuring that my family is financially stable. I've been driving for seven years on a private capacity but I decided to venture into this business this year to complement the finances of my husband- contracts don't come often for him as a building contractor."
Breaching The Gender Barrier
Female cab operators ply their trade in Lagos, Abuja, Port Harcourt and other major cities. They are few, though; the business is dominated by men who are naturally configured for the hassles of the job.
For Uduak, he isn't deterred by the perceived stereotype.
"Women are into various trades and professions. Some are doctors, pilots, engineers, and even journalist like you.
I believe that what a man can do, a woman can do as well. I had to convince my husband that this is where my passion, he is in support of my work. Governor Udom Emmanuel told Akwa Ibom people to Dakkada (arise). Instead of being idle, I decided to start this driving business, and I am not doing badly", she noted.
Acquiring a Vehicle
The mini-bus was procured with a bank loan, she revealed. "I had no money to buy a bus. A bank offered me loan (amount withheld by reporter) to buy this bus. I pay 15, 000 Naira every week to the bank.
A Lone Ranger
When this reporter mentioned that he had hitherto not seen a female commercial cab operator in Akwa Ibom State, Mrs. Uduak Godwin concurred: "I have no female colleague at the moment, I would like to have at least one, but I must tell you that I relate well with my male colleagues."
Her Schedule
"I work from Monday to Saturday. I wake up as early as 5:30am and start preparing. By 6:00 am or 7:00 am, I leave the house and work till 12:00 noon when I take a break to rest; sometimes, I don't take a break. I close by 6:00 pm."
Challenges
She mentioned harassment by street urchins (agberos) as her only challenge.
"Well, I am getting used to the system. The agberos harrass me a lot. They seek to exploit me through extortion because since I am a woman, I won't be able to fight them. Most of them treat me well but others are always rude. All they need is money every time. Some of them throw abusive words at me", she decried.
The Gains
"I've been able to support my husband financially with this job. I can't afford to fold my arms and wait for manna to fall from heaven, it won't happen. Though, it is a little bit stressful, I feel happy to hustle for money.
I meet people who appreciate what I do and encourage me – gestures like this keep me going."
Message To Ladies And Young Girls
Mrs. Uduak Godwin Ndah urged females not to seek excuse for not fending for themselves.
"The era of waiting for white collar jobs is over. Ladies should realize that if they have a source of livelihood, they won't be totally dependent on their husbands, parents, and boyfriends. Our young girls should pursue education or learn a trade, through this, the rate of unemployment, prostitution and crimes will drop", she advised.
Culled from Sun Newspaper