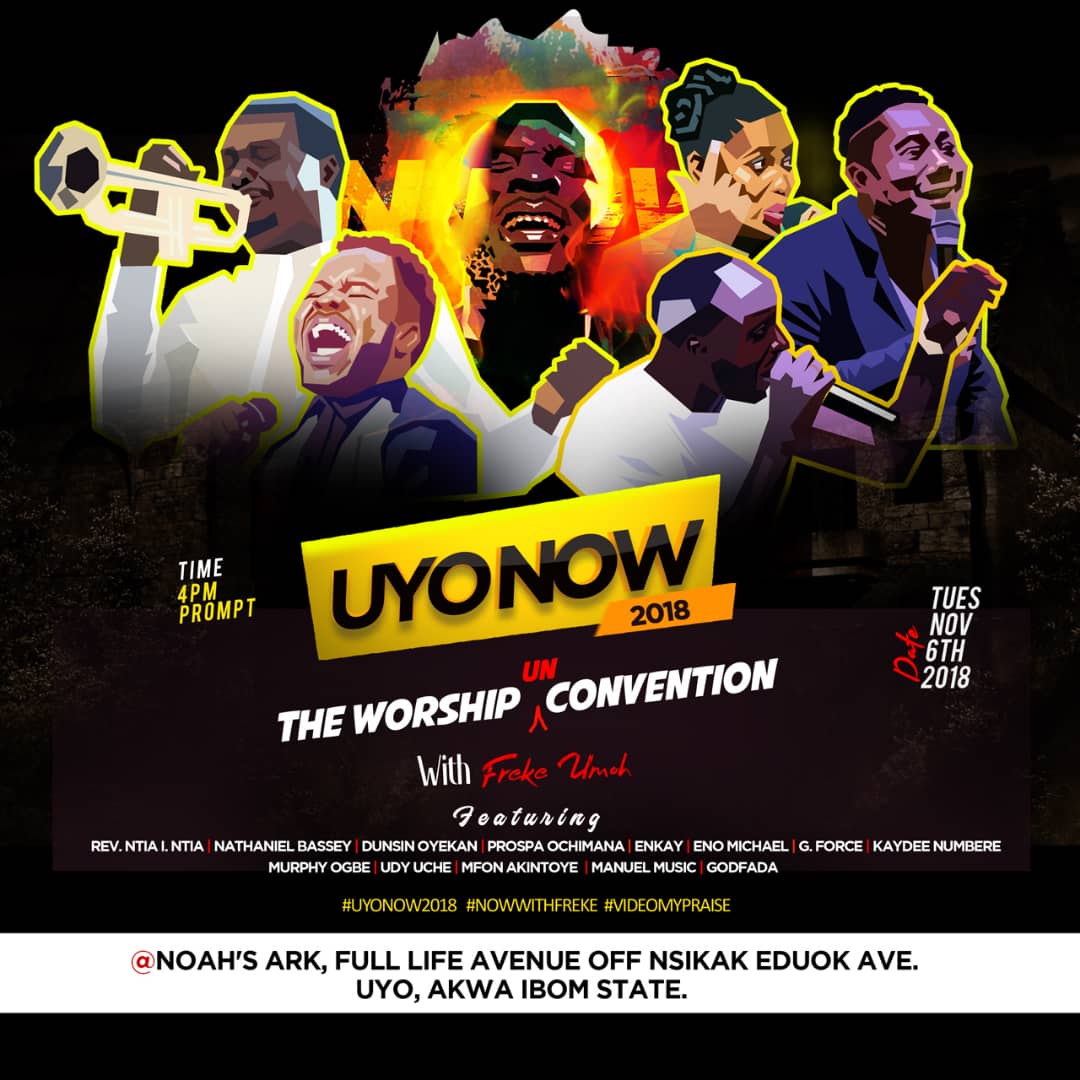 When in Psalm 50:5, God exclaimed "Gather my saints together unto me; those that have made a covenant with me by sacrifice" and when He said in verses 8, 14, 15; "I don't find fault with your acts of worship… Serve High God a feast of kept promises, and call for help when you're in trouble – I'll help you, and you'll honour me",
We saw an unusual gathering,
We saw untraditional manifestations,
We saw atypical worship,
We saw Worship [un] convention!
This year's edition of Uyo NOW is called *Worship [un]convention*, an unusual gathering of unusual people who are expressing their passion for God in an unusual manner. Only one kind of outcome can result from a phenomenon like this and that will be Unusual miraculous breakouts.
Joining Freke Umoh to minister at the Uyo NOW 2018 edition will be Nathaniel Bassey, Prospa Ochimana, Dunsin Oyekan, Kaydee Numbere, Eno Michael and many other good friends.
A peek into our expectations:
– Revival will go viral. God's people will boldly share their testimonies with the world beginning right in the arena. The extraordinary things they will see of God's goodness will energise them to go vocal with their praise by themselves.
– From the city of Uyo, a generation of excellent, firebrand believers will emerge to affect culture and blaze the trail in different sectors of society as a result of this divine visitation in Jesus name.
Join us at the event on Tuesday November 6th, 2018 at Noah's Ark auditorium of Full Life Christian Centre on Nsikak Eduok Avenue.
Addm:
You may need to choose, not just a seat in advance, but a venue. This will be a 2-in-1 venue arrangement, never before seen in Uyo!
Find us through the hashtags #UyoNOW2018 #WorshipUnConvention and #NOWwithFreke.